ISSUED: (Friday, March 13, 2020 17:00 PM)
CAMPUS ANNOUNCEMENT
UNO campus remains open; classes moving to remote learning mode March 30.
More Information
CLOSE

X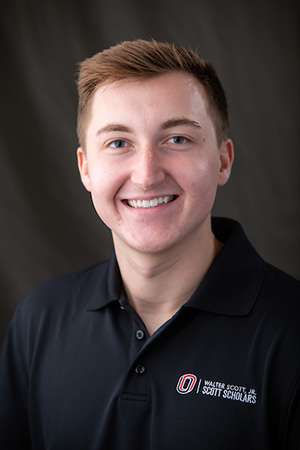 Jacob Hansen
Scott Scholar
UNO, Information Science & Technology
---
Additional Information
---
Bio
Jacob is from Omaha, NE and is studying computer science and cybersecurity. His leadership experience includes serving as a delegate on the Scott Scholars Leadership Council. In this role, he has created an open line of communication between students and scholarship faculty. Also, Jacob was the director of, Balanced Man Scholarship for the Sigma Phi Epsilon Fraternity. The Balanced Man Scholarship is a nationally recognized scholarship. His responsibilities as director included marketing, interviewing, and training. His internship experience includes working at ACI Worldwide as a financial software intern. He was responsible for conducting global security audits to ensure compliance with the latest regulations. He also interned at Gallup on the cyber security team, where he assisted with security audits and automated complicated security processes. His career interests include software development and security, with a focus around machine learning and AI. He eventually wants to start his own cyber security consulting firm.