ISSUED: (Friday, March 13, 2020 17:00 PM)
CAMPUS ANNOUNCEMENT
UNO campus remains open; classes moving to remote learning mode March 30.
More Information
CLOSE

X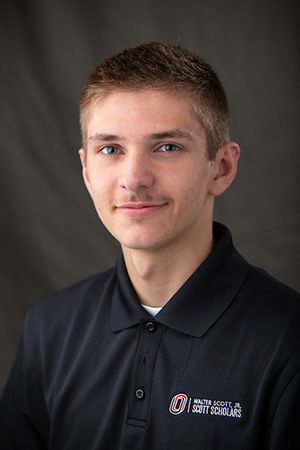 Grayson Stanton
Scott Scholar
UNL, College of Engineering
---
Additional Information
---
Bio
Grayson is from Papillion, NE and is studying computer engineering, computer science, and mathematics. His leadership experience includes serving on the Scott Scholars Leadership Council. In this role, he was a representative for his cohort, providing an open line of communication between scholars and support staff. As a member of the council, he was able to attend the 2019 Aspen Ideas Festival, where students were given an opportunity to hear experts debate about current topics in all different fields, including artificial intelligence and different ethical implications. His internship experience includes interning for the Scott Scholars AppJam, where he developed proficiency in mobile application development using Apple's Swift programming language. This project culminated in being deployed in teams to begin developing a mobile application, that meet the needs of researchers at UNMC and the Fred and Pamela Buffett Cancer Institute. His career interests include software engineering, with a focus in mobile application development.