Greener Brake Cleaners Project
Greener Brake Cleaners Project

Project Purpose
Industrial cleaners and degreasers, including brake cleaners used in automotive repair shops, contain volatile organic compounds (VOCs), which contribute to smog and air pollution, as well as hazardous air pollutants (HAPs) known to cause a variety of health issues for workers who are chronically exposed to them. P2RIC is working with small businesses to improve Omaha's air quality and reduce employee health risk. 
Trial of Green Cleaners and Degreasers
Brake cleaners and degreasers are some of the most commonly used solvents in auto shops, and typically contain VOCs and HAPs. To improve Omaha's air quality and keep auto shop workers safe, P2RIC offers education on the impact of current brake cleaners and degreasers and a free trial of safer alternatives.
Auto shops that participate will receive cans of the top three "green" brake cleaners/degreasers to try them in their shops. P2RIC will follow up for feedback on what products worked the best. If the shop likes one of the greener brake cleaners, P2RIC will purchase a case of the "green" degreaser they choose, to allow for a longer trial period. After this extended trial, P2RIC hopes the shop will continue to purchase the greener brake cleaner – contributing to cleaner air and a healthier environment for workers. 
Changing to greener cleaners is one way businesses can take little steps for big impact in Omaha's air quality and worker's health. This project is supported by the Nebraska Environmental Trust.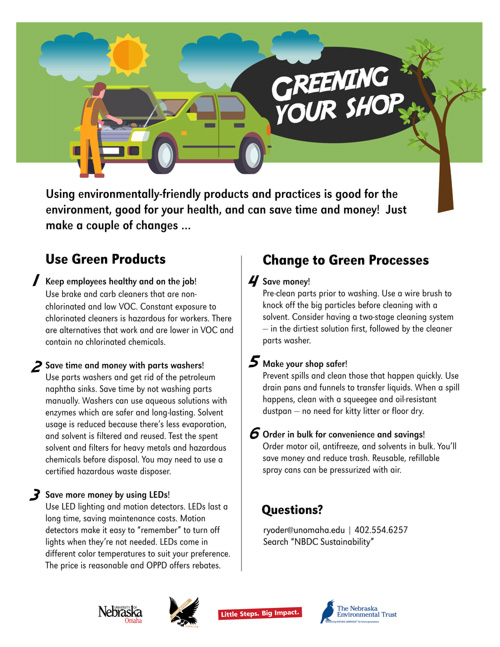 Click here to see a larger version.
  

Contact:

Rick Yoder
Phone: 402.554.6257
College of Business Administration
67th and Pine Streets, MH 200
Omaha, NE 68182
Email: ryoder@unomaha.edu