NCITE Student Eva Burklund Wins Research Award at International Conference
This summer, Burklund's research poster examining extremist rhetoric won first prize from the judges at the U.K.'s Behavioral and Social Sciences in Security conference.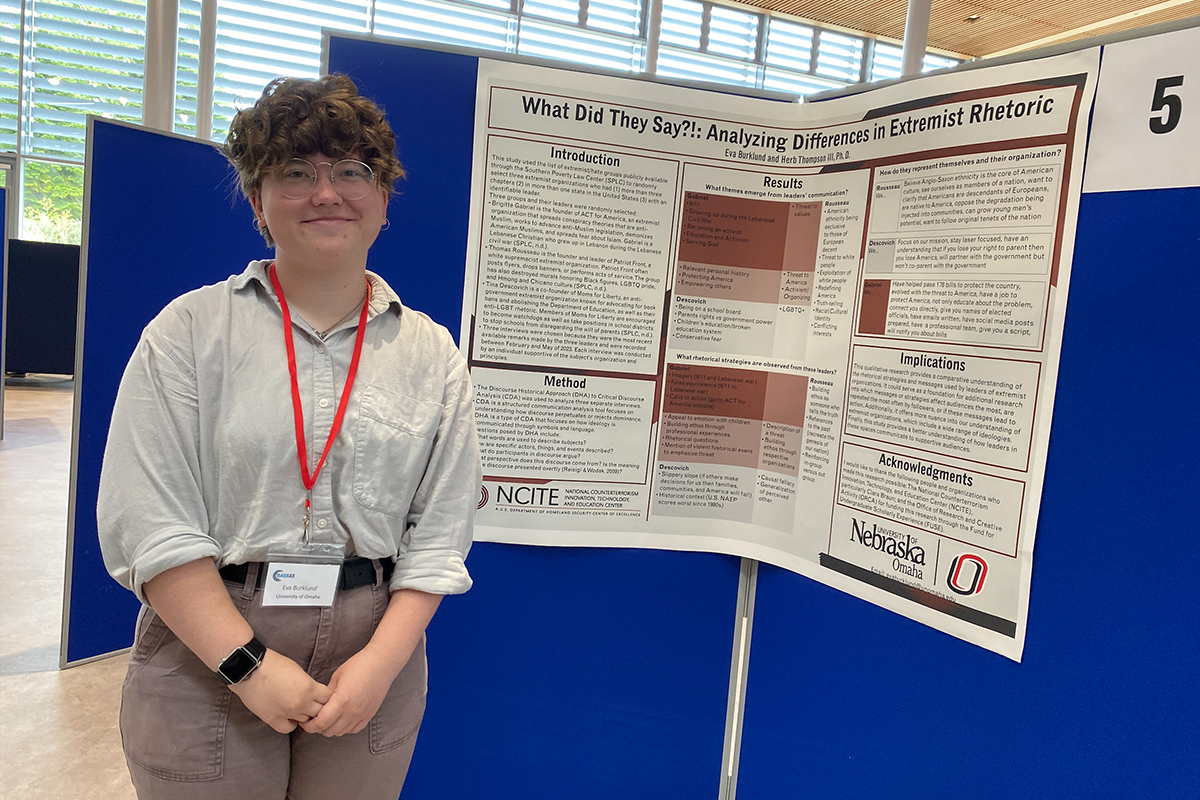 Eva Burklund, UNO junior and NCITE student communications assistant, poses with her research poster at the BASS conference in the U.K.
By Ben Battafarano
NCITE student worker
The word rhetoric, in the classical sense, evokes arguments by Cicero, Plato, and Aristotle – thoughtful appeals presented to persuade a reasonable audience. In modern politics, though, rhetoric can have an insincere edge – a lofty spin on what cynics would say amounts to a collection of empty buzzwords.
University of Nebraska at Omaha (UNO) junior Eva Burklund examines the subject through yet another lens – the language and arguments of people who are posting hateful, violent content on social media.
"Narratives can change how you act – how you think of the world changes how you act," said Burklund.
Burklund, a double major in UNO's Department of Political Science and School of Communication, works part-time as a student communications assistant at UNO's National Counterterrorism Innovation, Technology, and Education Center (NCITE). In July, she traveled with a team of NCITE faculty and staff to the United Kingdom for the Behavioral and Social Sciences in Security (BASS) conference.
There, she won first prize from the judges for her research poster examining extremist rhetoric.
The examination of extremist narratives has shaped Burklund's time at NCITE. On her first day in May 2022, the center had arranged a last-minute event with an official at the Department of Homeland Security to discuss the recent mass shooting in Buffalo, New York, in which 10 people were killed.
"The shooter had this manifesto talking about why he had the gun he used, his body armor, that kind of stuff," said Burklund. "It was a white supremacist killing where the shooter cited the Great Replacement Theory."
Burklund's research takes a critical eye to comparable narratives. Her research poster – "What Did They Say?!" – focuses on the rhetoric used by the leaders of several domestic extremist groups.
Using a method of critical discourse analysis and three interviews, she analyzes, among other things, what each is arguing for and identifies key words and events referenced in various speeches.
In October 2022 Burklund applied for and received a $2,000 grant from the UNO Fund for Undergraduate Scholarly Experience (FUSE) to pursue this line of study. She had heard of the grant from others at NCITE, including doctoral criminology student Clara Braun.
This past spring, Burklund received an email that NCITE was offering the opportunity for students to present posters at BASS. They had two days to turn around a proposal.
"We were at an outing with some work friends – we were bowling," she said. "And Clara was literally helping me type up my abstract in this bowling alley."
With additional mentoring from her FUSE advisor Herb Thompson III, Ph.D., assistant professor of communication studies in UNO's College of Communication, Fine Arts, and Media, Burklund turned around an abstract and was accepted.
"The current spike in social volatility combined with the ever-widening polarization of public opinion urges us to research and understand contemporary rhetoric in public discourse," said Thompson. "Eva is a fast-emerging researcher who demonstrates incredible insight and commitment to academic excellence. I have no doubt that we will be reading about her research efforts for years to come."
Burklund said Thompson was "foundational" to the development of the project and her personally as she weighs whether this is something she wants to pursue.
While Burklund's interest in extremist rhetoric grew during high school, she credits her poster's success to her communications background – she was formerly the editor-in-chief of her Papillion-La Vista high school newspaper. Prior to joining NCITE, she worked in UNO's Office of Strategic Marketing and Communications.
While the posters at BASS all consisted of security-related research, the competition specifically valued presentation – the effective design and structure of the poster and how well the researchers engaged with their audience.
"Because there are a ton of practitioners around who may not know the research lingo, they judged based on how well you communicated your research," Burklund said.
She was thrilled to win the poster competition but found interacting with other researchers just as exciting.
"You can see all the things that people are doing, and you can say, 'Oh my God, I'm doing something similar – what can we both take away from this exchange?'" she said. "It just broadens your perspective."
Burklund said that the NCITE community's support was crucial in building her research.
"You have a lot of really smart people around here that can act as resources," she said. "Without that, it would have been way harder for me to be able to do the project and to get to the point where I'm at right now."