Threat assessment, Nebraska-style: NTER visits NCITE
A team from the National Threat Evaluation and Reporting (NTER) Office visited NCITE this summer to share capabilities and challenges. And to get a taste of gameday at Memorial Stadium.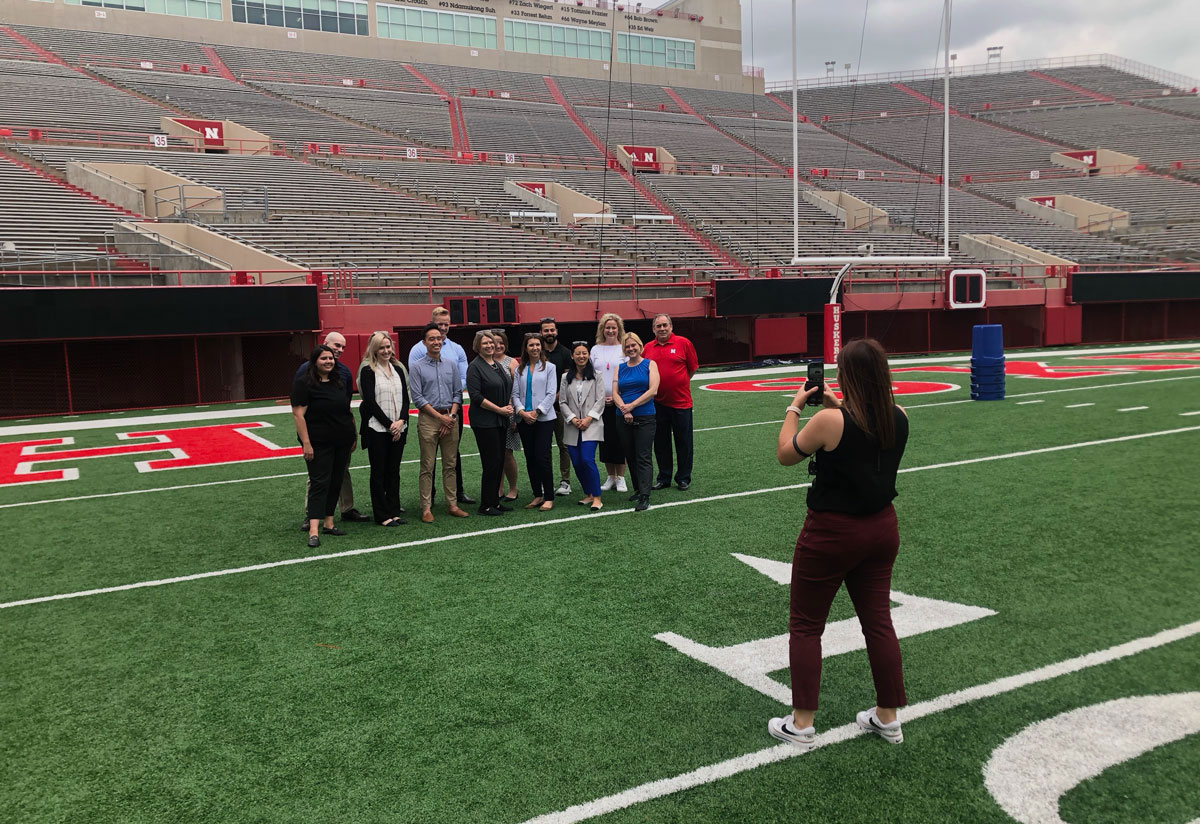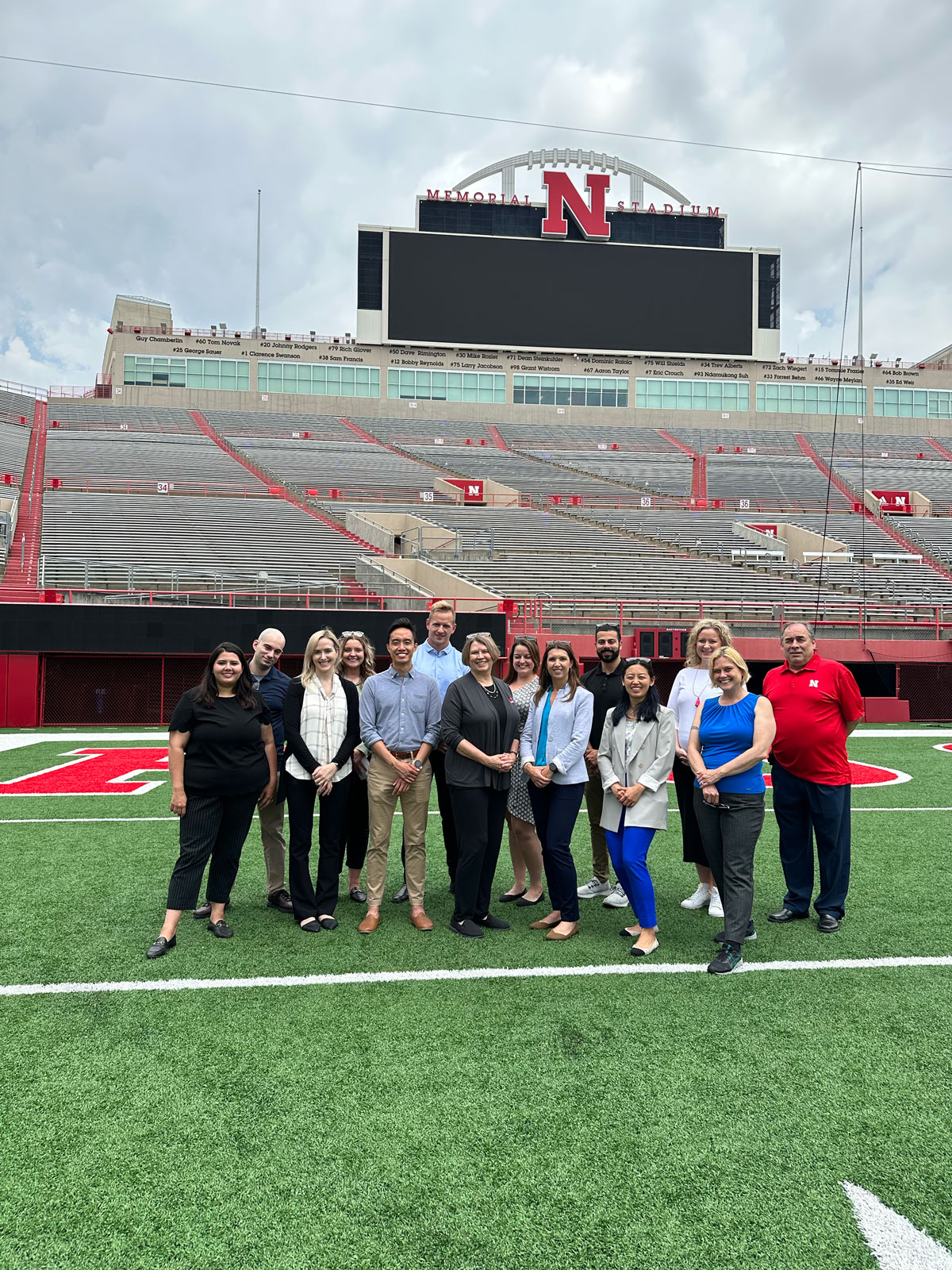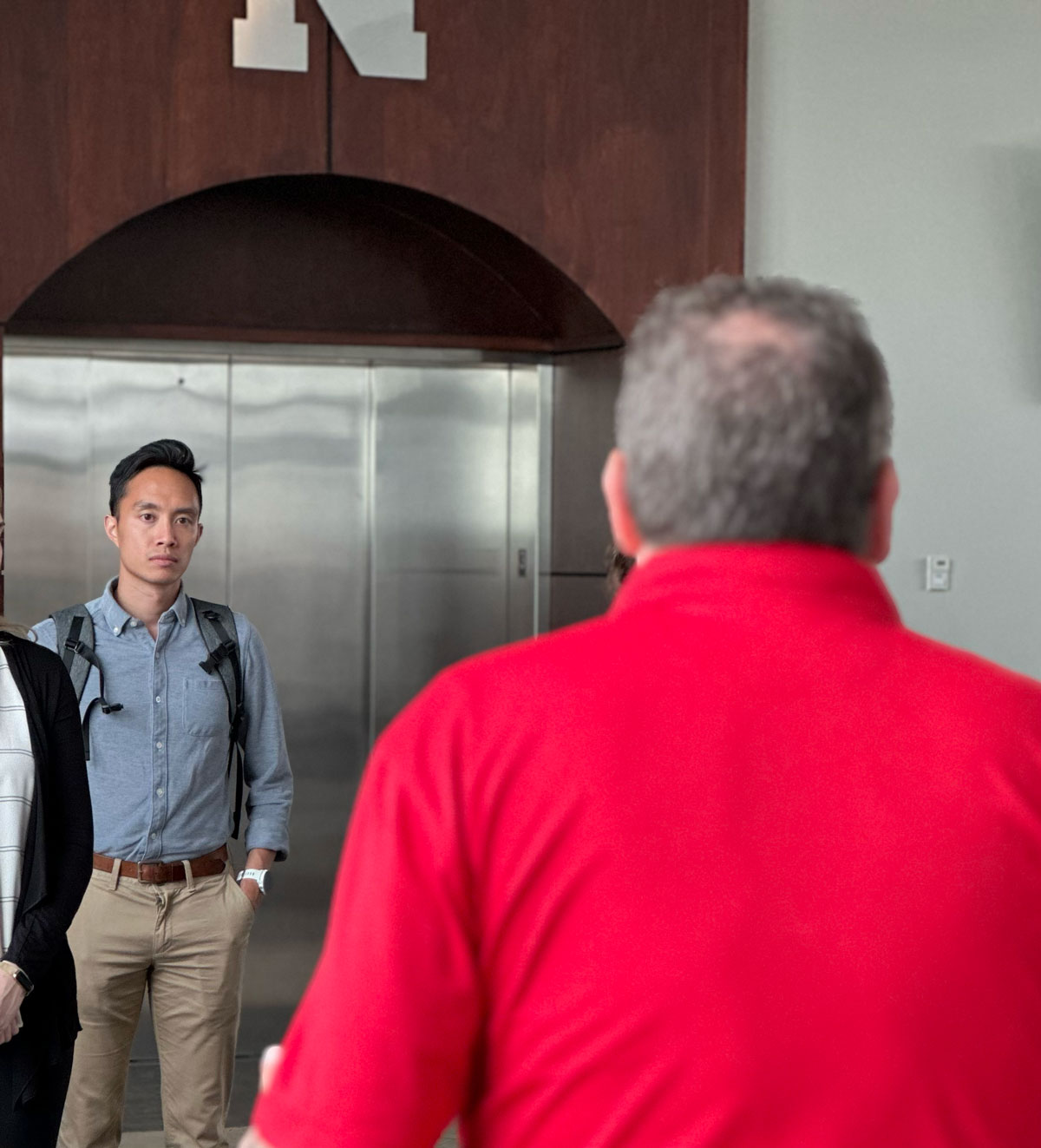 LINCOLN — All was quiet at Memorial Stadium.
On a warm day this summer, a group of out-of-town visitors snapped selfies in the end zone while their tour guide attempted to paint a picture of a typical Nebraska gameday. Tens of thousands of screaming fans. Unpredictable weather. Packed parking lots.
This, explained Mario Scalora, is not just college football. It's midwestern college football.
And that, he said, requires a certain level of vigilance.
This green turf, Scalora said, and the stadium encircling it, "are supposed to be the safest part of Nebraska during those two hours."
It was a sentiment of special interest to Scalora's audience – a team of visiting officials from the Department of Homeland Security's National Threat Evaluation and Reporting Office (NTER).
Melissa Zisler, NTER chief and NCITE board member, had come to Nebraska with two of her lieutenants: Mark Fahmy, program manager of the Nationwide Suspicious Activity Reporting (SAR) Initiative, and Jennifer Cohen, a psychologist who is helping to develop the Behavioral Threat Assessment Integration team.
The trio toured Memorial Stadium in Lincoln as part of a three-day visit to NCITE to share capabilities — and challenges. NTER is seeking to further its mission of bolstering federal, state, and local capacity to identify and mitigate threats by boosting its own operational research and creating new training and resources for its partners. NTER is looking to leverage NCITE's expertise.
Recognizing concerning behaviors
Launched in 2019, NTER is a relatively new office within DHS that is charged with important, information sharing functions like the Nationwide Suspicious Activity Reporting Initiative, which focuses on tips pertaining to terrorism. NTER is also helping partners process tips that may be indicative of targeted violence through behavioral threat assessment and management.
This is a newer area of focus as NTER, like DHS, also works to combat targeted violence, defined in the department's 2020 public action plan as any incident of violence that implicates homeland security in which a known attacker, regardless of political or ideological motivation, selects a particular target prior to the violent attack. Many mass shootings fall into this category.
That's why behavioral threat assessment is critical.
Because many perpetrators have no preexisting profile but may exhibit concerning behaviors, such as fixation on prior attacks and unusual acquisition of weapons and expertise, NTER has launched an instructor development program for public sector partners, such as law enforcement and school safety personnel, in which applicants get certified as "master trainers" to teach interdisciplinary teams how to assess concerning behaviors and decide on action while protecting civil rights and civil liberties. NTER's Master Trainers then help teach community members how to identify concerning behaviors, emphasizing the importance of reporting those behaviors to keep their communities safe.
The program is so popular there is a wait list. At a recent address in Las Vegas, Homeland Security Secretary Alejandro Mayorkas praised the program for training over 200 trainers, who themselves have trained over 7,000 people in this specific set of techniques to identify, report, and assess threats.
Overcoming challenges together
NTER faces some institutional hurdles within DHS. It's a small office, housed within the larger Intelligence & Analysis (I&A) component, which can make NTER seem invisible to colleagues. Differing Congressional authorities within DHS and differing views of NTER's roles in intelligence sharing and prevention are a challenge. NTER is tasked with demonstrating that its efforts work, something inherently difficult when it comes to any prevention-oriented activity.
That said, NTER has embarked on ambitious goals to update law enforcement training videos and 16 behavioral indicators for suspicious activities associated with terrorism. NTER has formed an executive steering committee to refresh its Nationwide Suspicious Activity Reporting Initiative efforts. Members include prominent law enforcement organizations. And it's working on a dashboard to better track SAR information.
NTER has already tapped NCITE to help — Scalora, a clinical psychologist and director of the University of Nebraska-Lincoln's Public Policy Center, has proposed a research project analyzing Suspicious Activity Reports received by state fusion centers. Scalora's proposal aims to help identify factors that could prevent an attack.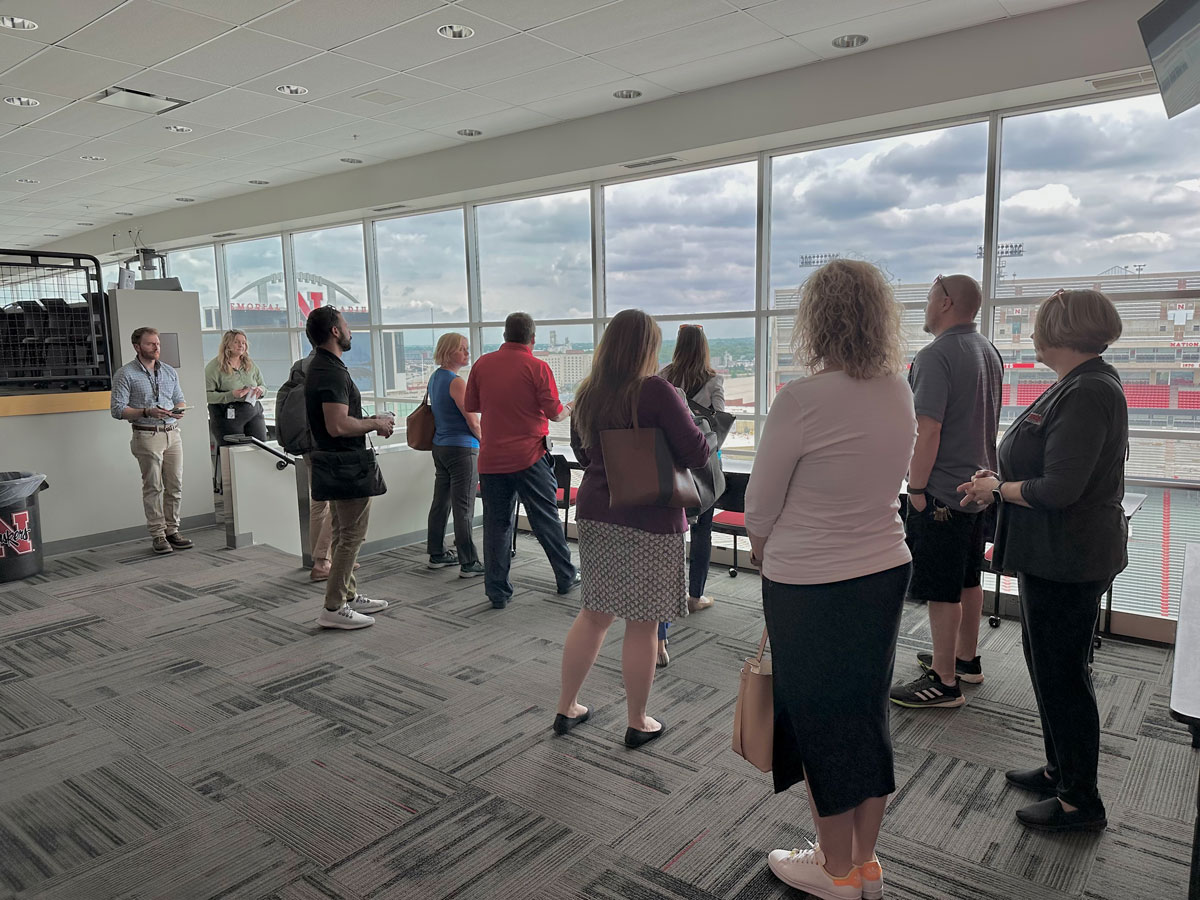 As a nationally recognized expert in threat assessment, Scalora is well-positioned to contribute to the safety of a Husker gameday. As he explained to his NTER audience at Memorial Stadium, he and his team work with law enforcement and athletics officials to survey the crowd for suspicious activity, keeping a close eye on high-profile, high-traffic areas.
"We're looking for friction points," Scalora said. "We try to teach every employee (at the stadium), if you see something, say something."
Erin Kearns, a criminologist on faculty at the University of Nebraska at Omaha and NCITE head of prevention research initiatives, said NCITE's subject matter experts, like Scalora, can address various NTER goals, such as improving public awareness of suspicious activity and individual threat assessment, and improving cohesion among teams that receive and analyze threats.
"We need people to understand, recognize what these suspicious activities are and to report them to authorities who have the expertise to evaluate and act on them to prevent violence from occurring," Kearns said.
Committed to the mission
Zisler and her colleagues shared passion about NTER's mission: to help mitigate threats of terrorism and targeted violence by giving federal, state, and local partners tools and resources.
"We want to get in front of problems, to see if there are ways to help stop potential violence," said Cohen, whose years treating clients at the Veterans Health Administration put her in close contact with people who were grappling with traumatic experiences. It was then she sought a professional change to see if she could help more from a prevention standpoint and help get people off the pathway to violence.
Fahmy, who joined NTER four years ago beginning with an internship at DHS, comes from a family whose ethos is to serve the government. His parents and siblings all work for various federal agencies.
For his part, Fahmy "found my voice" at NTER.
Zisler, who had worked for DHS previously in border security analysis, was tapped in 2020 to go to NTER. She has her doctorate in conflict analysis and resolution, which makes her uniquely positioned to manage the complexities of the mission-critical office of NTER.
"What we're looking to do is help our partners adapt to an evolving threat environment," she said. "The more we can do as a department and within NTER to help our partners mitigate some of these threats, and offramp individuals from the pathway to violence, the safer our communities will be."