National Counterterrorism Center Director Christy Abizaid visits NCITE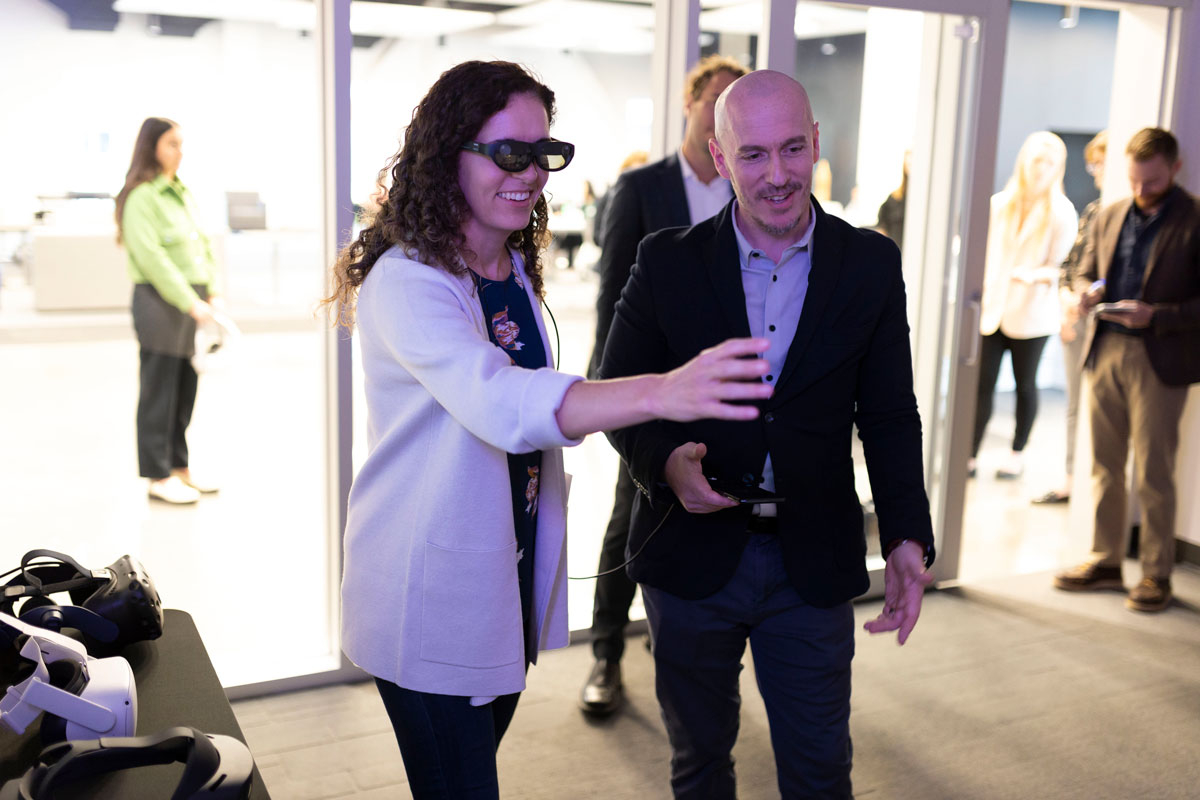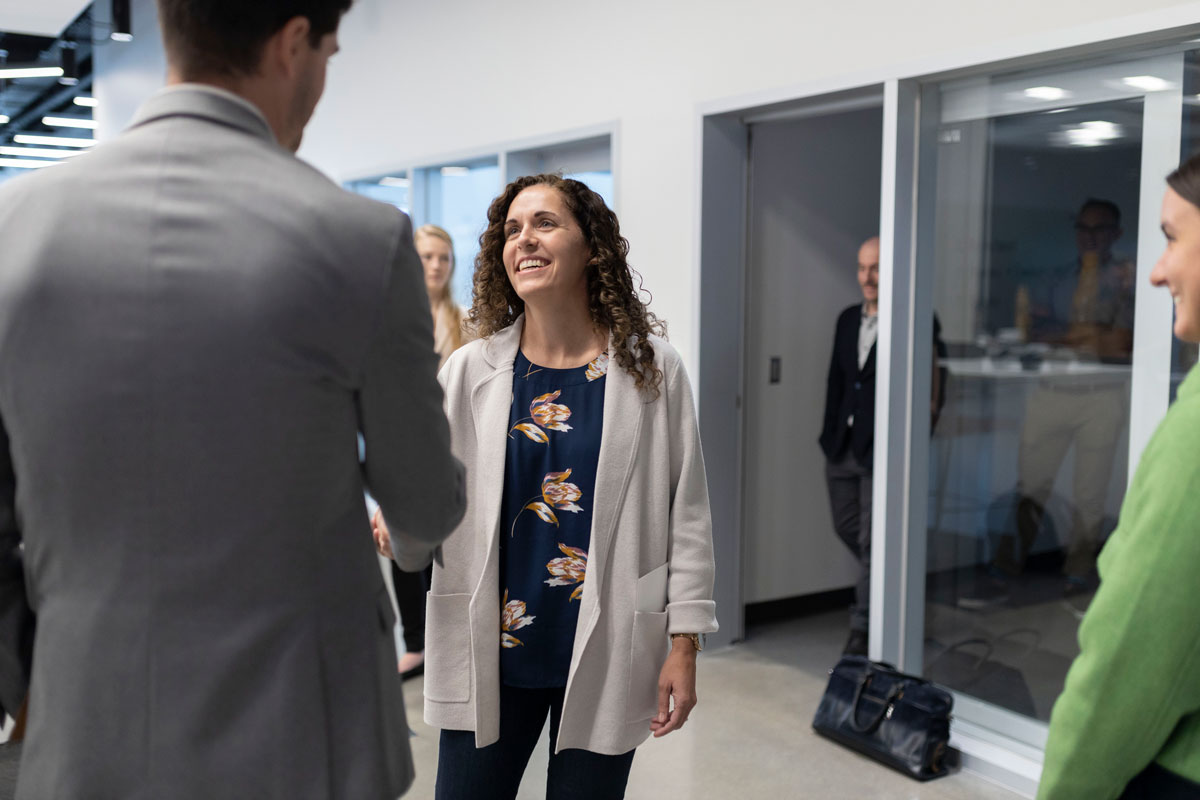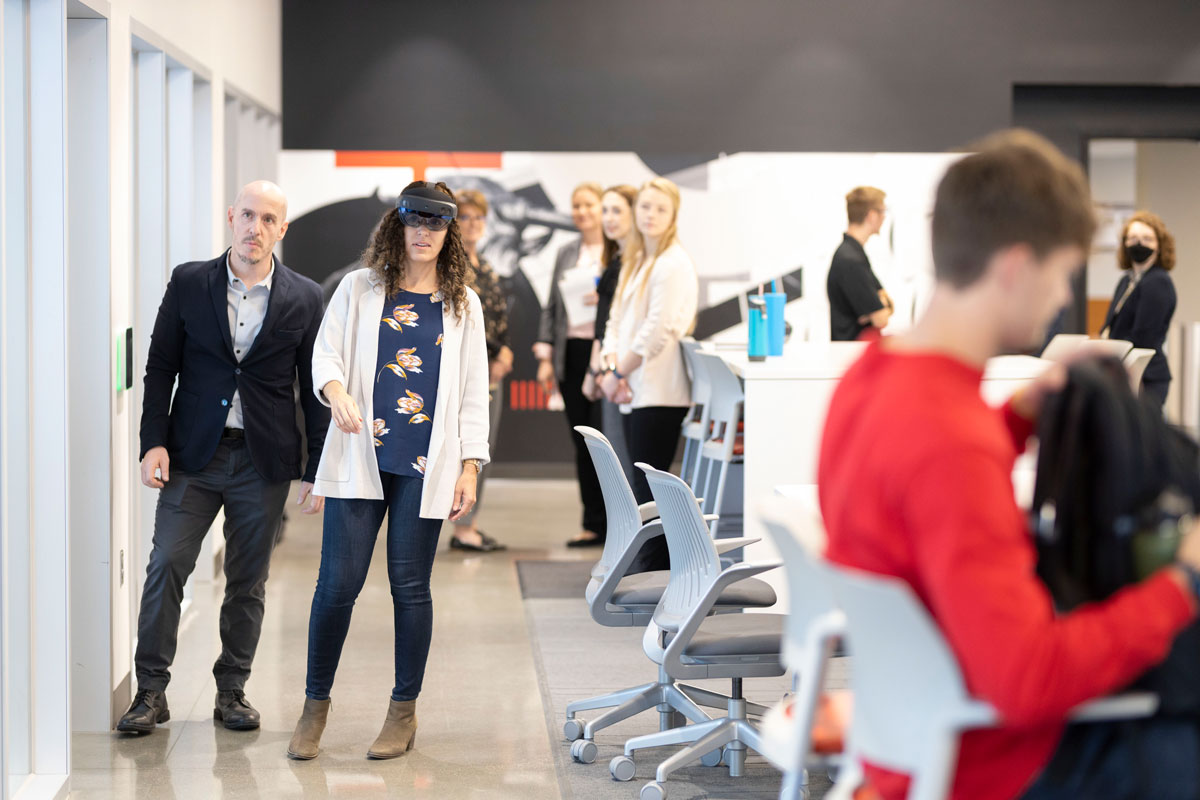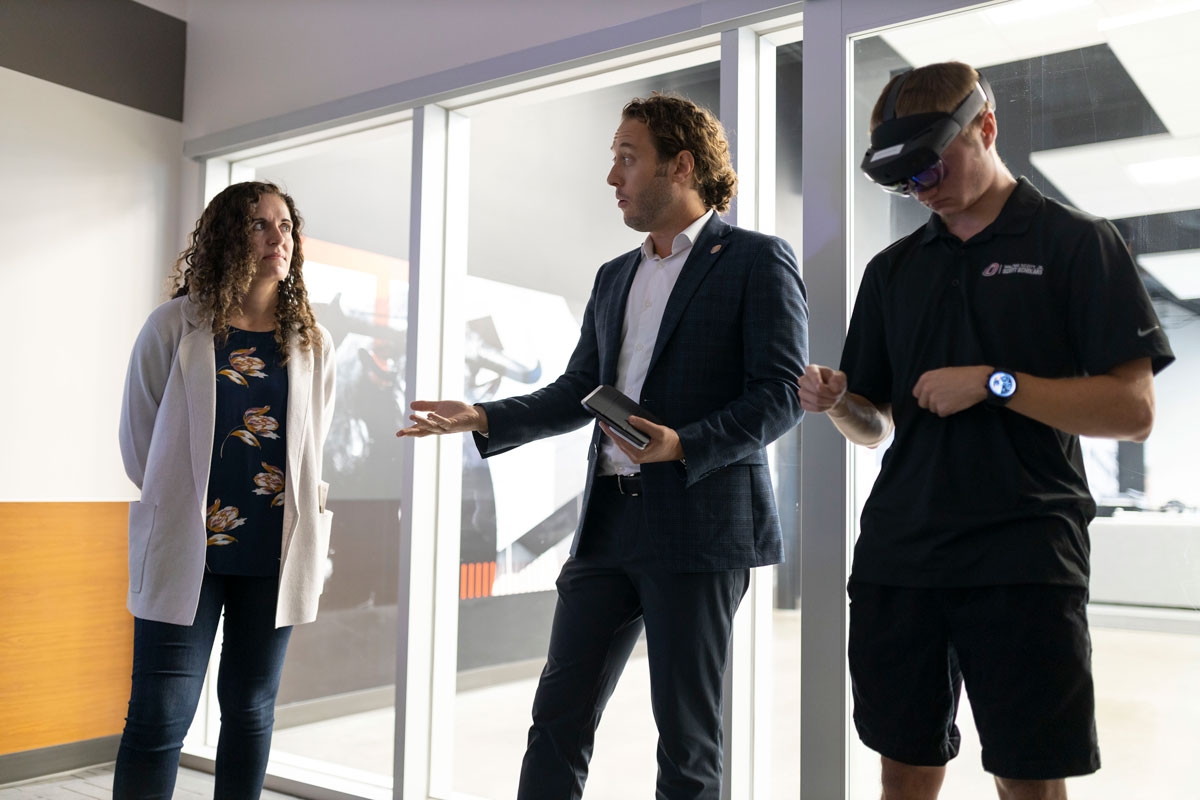 Earlier this month, a visitor donned a virtual reality headset at Omaha's campus and reacted as many often do.

"Wow," she said, picking up and putting down the assortment of virtual objects that populated the room. "This is nuts."

Said visitor also happened to be one of the nation's highest-ranking counterterrorism officials.

On Oct. 5, Christine "Christy" Abizaid, director of the National Counterterrorism Center (NCTC), paid a visit to NCITE. She met with center director Gina Ligon and toured the facilities, learning about NCITE's counterterrorism research, innovative technology initiatives, and workforce development programs.

Abizaid was sworn in as NCTC director in June 2021. She is the first woman to lead the U.S.'s counterterrorism enterprise. She has 14 years of national security experience, having previously served as the deputy assistant secretary of defense for Afghanistan, Pakistan, and Central Asia.

Abizaid also served as both the director for counterterrorism and senior policy advisor to the assistant to the president for homeland security and counterterrorism with the National Security Council. More recently, she served as an executive with Dell Technologies, leading supply chain assurance initiatives.

Abizaid began her visit with an executive lunch with Ligon before making the trek to NCITE's demonstration space to learn about academic research into emerging threats in the metaverse. There, she heard from professors Samuel Hunter, lead of strategic operations for NCITE, and Joel Elson, lead of information science and technology research initiatives.

As part of their research endeavors with NCITE, Hunter is leading a DHS-funded project on terrorism in the metaverse. Elson is developing tech tools to support decision makers in violence prevention roles.

Along with a team of student researchers, Hunter and Elson demonstrated for Abizaid the type of virtual reality technology that could pose a threat in the hands of terrorists. Through her headset, Abizaid observed a Maverick Landing that had been filled with virtual objects and symbols – red X's, green check marks, a radiation warning symbol, a graffitied wall.

Terrorists, Hunter and Elson explained, could use this type of tech to plan and execute attacks, leaving trails of virtual breadcrumbs or singling out rooms as targets with markings invisible to the naked eye.

Also concerning, they explained, is the potential for this type of technology to aid terrorist groups in recruiting, training, and indoctrinating new members. Within immersive worlds such as the metaverse, in which users can explore virtual versions of real-world locations, experiences can be more impactful (and more dangerous) than they would be on traditional digital platforms, the team explained to Abizaid.

After her virtual reality experience, Abizaid learned about NCITE's other important initiatives, such as its efforts to develop the national security workforce of the future with projects led by professors Matt Allen, Erin Bass, and Erin Pleggenkuhle-Miles – all three are faculty in UNO's College of Business Administration.

Back in Mammel Hall, Abizaid rounded out her visit learning about NCITE's groundbreaking militant and radical violent extremist leader lab. Doctor, lead of counterterrorism research initiatives at NCITE, shared elements of his work connecting leader experiences to their group's lethality and potential to transition to transnational threats.

Ultimately, the visit demonstrated for Abizaid the crucial work happening at NCITE and the center's key position at the cutting edge of the counterterrorism academic enterprise.
And the director was impressed.