UNO student goes all in on counterterrorism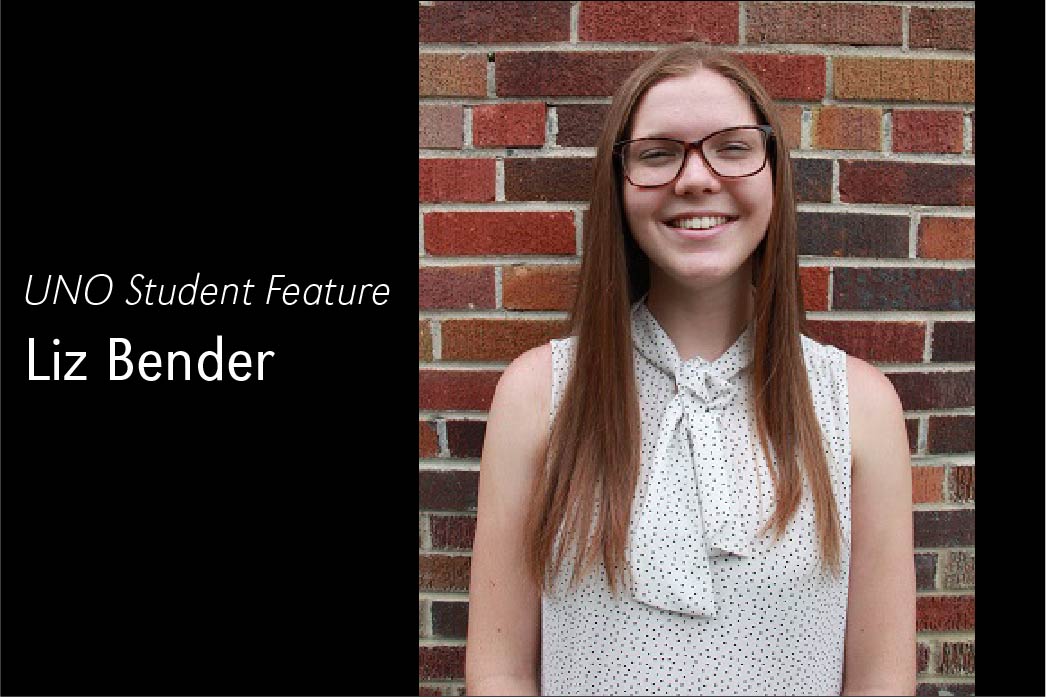 Guided by her gut, student finds career path
Liz Bender has intellect, drive, and curiosity — all important traits for any college student.
But gut instinct and exposure are what have led her, so far, down a career path for counterterrorism.
First, her inner compass took this suburban Kansas City native north for college at the University of Nebraska at Omaha, where she's now a junior.

"I vividly remember getting out of the car with my mom," she said, recalling a high school visit to UNO, "and saying, 'This is the one.'"

Next, the undecided student settled on a criminology major. UNO is home to one of the nation's top criminology and criminal justice programs.

Then, intrigued by the stories her roommate would tell about a student group called MISL, short for Malevolence, Innovation, Security & Leadership Lab, Bender tagged along and met Gina Ligon. Ligon is an industrial/organizational psychology professor who uses business models to study terrorism groups and now runs NCITE.

"I showed up to a meeting," she said. "Since then, I jumped on board."

And how.
I'm excited for what could come next.
- Liz Bender
Bender has been a standout student at UNO. As part of her political science minor, she followed professor Michelle Black, NCITE director of workforce development, on trips to the Middle East and Europe. Bender visited Oman for a political violence and terrorism class, which gave her "so much more of an understanding of the things you're reading about."

She traveled to Madrid as part of a UNO research project for NATO and is now working with Black on a project involving career development, training, and education for people in intelligence fields.

Black called Bender "a motivated, dedicated student" with "a high capacity to learn difficult concepts and apply them to action."

Bender also has tapped Clara Braun, a UNO criminology doctoral student who is tasked with helping NCITE's counterterrorism scientific research. Braun encouraged Bender to apply for a grant to fund undergraduate research.
Braun suggested Bender get an article on counterterrorism published, and Bender thought: I can do this? It "totally rocked my world."

These experiences and examples have shaped her path. Being exposed to so many women in the field has made her consider gender as another layer to her future studies. And she is considering graduate school.

"You can see yourself doing it because someone else is doing it," she said. "Now I can see myself doing something with academics or research in my future. Now it's like, OK: This is something I want to continue to do. I don't want to be done in two years."

Not only that, the people in Bender's orbit at UNO have demystified the subjects of terrorism and violence. She considers the seminal 2012 Sandy Hook shooting, when 26 people including 20 young children were killed, and the 2018 shooting at a high school in Parkland, Florida, that left 17 people dead, and wants to study motivations that lead people to commit violence.

For her grant-funded study, she will analyze the role of a catalyst event as motivator in past incidences of terrorism and violence.

Like many of her peers, Bender is busy. She juggles a full course load (15 credit hours), a full-time job (she is a nanny for two children under age 5), volunteer work (she walks dogs at the Nebraska Humane Society) and NCITE work. She is excited about her future, feeling secure in her path and knowing that thus far, her gut has served her well.

"I'm excited," she said, "for what could come next."