Launched and Working in a Pandemic
published: 2020/10/06
contact: NCITE Communications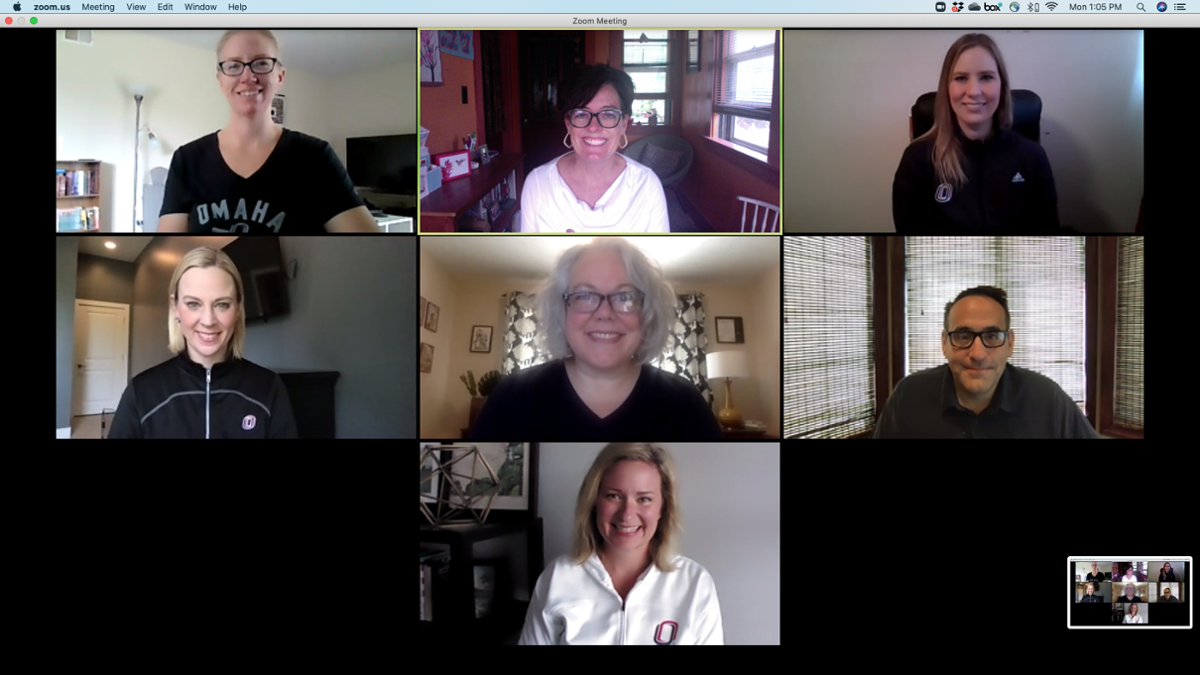 They hired a staff, entirely through Zoom virtual interviews. They held center and project launches, entirely remotely. They "opened" a counterterrorism research center without really opening any physical doors as both a pandemic hit and while a new headquarters is being built.
The National Counterterrorism Innovation, Technology, and Education Center is up, open and running, with research projects launched and one lap, a first quarter, under its 10-year federal grant now complete.
Dr. Jeffrey Gold, chancellor of the University of Nebraska at Omaha and University of Nebraska Medical Center, marveled at the center's quick, virtual creation and called it "a gem for UNO."
NCITE's birth and early development track with the COVID-19 pandemic. Within three weeks of the announcement, the city of Omaha had shut down, leaving its founders to do the only thing to be done in this historic time: Adapt.
One birthdate for NCITE could be in February, when the Department of Homeland Security formally awarded the $36.5 million grant. It was the largest ever federal grant received by the University of Nebraska system.
But the real origin dates back to 1995. That's when NCITE Director Gina Ligon, then a high school junior in rural Oklahoma, stepped out of her school bus to view the devastation wrought by domestic terrorist Timothy McVeigh. It was a pivotal moment, one that set her on a professional path to try to understand what forms a McVeigh. And stop it.
Ligon, an industrial-organizational psychologist, teamed up with Douglas Derrick, an IT Innovation professor, on an idea to locate a new DHS Center of Excellence in Omaha. Both UNO professors had prior experience working as academics in other DHS Centers of Excellence around the country. Both had the desire to shape a new center that would be agile and responsive and would marry the social and technical sciences. Complex problems require complex thinking and a creatively minded workforce that can get at issues from a variety of angles.
Inspiring students to apply their degrees to something bigger than themselves is the reason we are here.
- Dr. Gina Ligon
"One hope we had for our center was a true collaboration between the social and hard sciences," Ligon said. "Traditional degrees and thinking just don't cut it when it comes to problems as difficult as homeland security."
Workforce development is a big part of what NCITE aims to do through projects that will involve some 60 students across a consortium of 18 universities, including NCITE host UNO.
"Inspiring students to apply their degrees to something bigger than themselves is the reason we are here," Ligon said. "NCITE provides meaningful problems for our students, and the grant affords the resources they need to solve them creatively. My hope is that students will find their time working for NCITE as fulfilling—something they are eager to talk about over the dinner table and later on, about how their time with us shaped them."
Jeff Brownsweiger, NCITE's program manager supporting the DHS Office of University Programs, called NCITE's birth exciting.
His job is making the right fit for a seemingly odd couple: Academics and Homeland Security frontline workers. The first group has time. The second operates within a more dynamic environment, adapting as the situation changes.
"Folks don't know what each other is all about," said Brownsweiger, who has served in Homeland Security roles for the past 16 years.
Add to that the challenge of DHS itself, a newer federal agency with many different components as varied as the U.S. Coast Guard and Federal Emergency Management Agency.
Brownsweiger said NCITE can serve DHS by looking "at the challenges we need to face 10 years down the road."
Gold, the university chancellor, said NCITE's ability to launch successfully given all the challenges of this time and with successful federal recognition and support is "emblematic of what is required of any institution right now: The ability to keep the ship steady and actively moving forward despite the big waves."
NCITE's focus turns to the work: Creative solutions to real-world problems that will directly support counterterrorism professionals.