Campus and Omaha Life
Welcome to UNO and Omaha!
Housing
Your housing information will be sent directly to you prior to your arrival, as the housing differs depending on your program dates.
Food
Meals will be provided during some program activities and sessions. Program staff will assist with grocery shopping as needed. The Milo Bail Student Center, located on the UNO campus, is available for breakfast, lunch, and early dinner. We will also host catered meals and enjoy local restaurants when touring Omaha and attending events off-campus. Please let us know if you have specific dietary needs.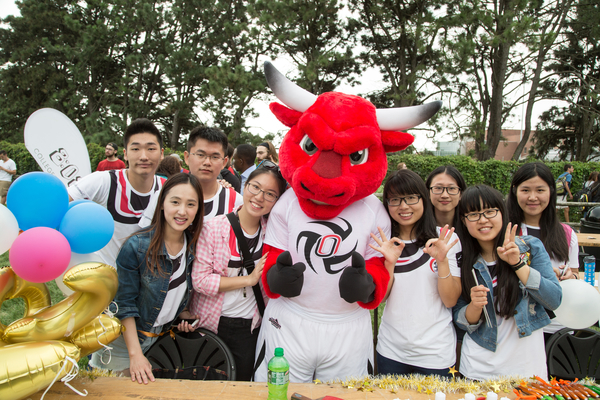 Students on the first day of classes with the UNO mascot, Durango
Money
The costs of food, housing, and academic materials will be covered by the program. You will also receive an additional small stipend to pay for snacks and cultural activities. Full details on financial arrangements will be provided during the orientation program.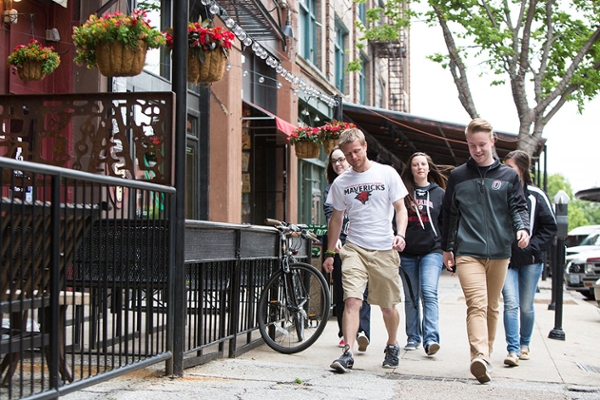 The Old Market, a popular shopping and dining district in downtown Omaha
Transportation
Many of your sessions will be held on the UNO campus, less than a ten-minute walk from your room. There are also shuttles that can transport you to campus as needed. Bus transportation will be reserved for program sessions held off campus. Omaha is very convenient for walking to many destinations and also has a city bus that is free for you as a UNO program participant (though connections generally only run every 30 minutes or 60 minutes, so you must plan carefully). We will also offer periodic transportation to nearby grocery stores, especially following your arrival.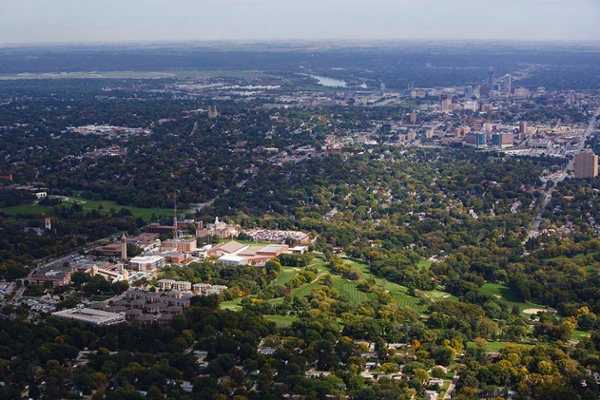 The UNO campus and downtown Omaha from above
Suggested Packing List

Above all, pack lightly! Among the items you may wish to include are:

Official Documents. Your passport and visa information, as well as two copies in case the original is lost (we suggest you also leave a copy at home). Prescriptions for medications, glasses, contacts, etc. International student identification (ID) card and or university student ID (we will provide you with a UNO ID upon arrival). Two extra passport photos.

Clothing.

It should be warm during your visit, with the potential for rain. The average high temperature in June is 28 degrees Celsius and the average low in 16 degrees Celsius, with temperatures warming throughout June. You should pack business casual clothing for classroom activities and most visits, one outfit that can get dirty for outdoor activities, as well as casual clothing for some off-campus activities in the evenings. You will certainly need formal wear for more official sessions (a suit is not required, though you are welcome to bring one), such as visits with local offiicals in Omaha and most of the Washington, D.C. program, including visits to federal agencies, Congress, and the final evaluation.

Remember, you can wash your clothes regularly while based in Omaha. A laundry machine will also be available at your housing location.

Dress shoes, casual shoes, and athletic shoes.

Consider a swimming suit and fitness clothing for those who choose to visit the UNO Wellness Center. A hat and sunglasses might be useful to guard against the sun during field trips.

Representing Your Country. Consider bringing a few photos of your family and your home to show people where you come from.
Daily Necessities. Any medication you take and personal items such as toothbrush/toothpaste, favorite shampoo, etc. You will have the opportunity to visit a store to purchase anything you need upon arrival in Omaha. You may wish to consider having locks for your luggage (though don't lock your bags in airline transit).
Web Resources
Here are some sites you may want to visit to learn more about UNO and Omaha:
University of Nebraska Omaha
City of Omaha
Omaha World Herald Newspaper
Omaha Visitors Bureau
Omaha Chamber of Commerce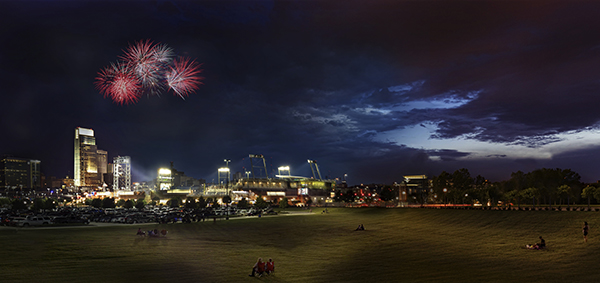 Fireworks in downtown Omaha