Program Overview
The University of Nebraska at Omaha (UNO) looks forward to hosting the Women in University Administration from South and Central Asia, a program of the U.S. Department of State. The intensive two-week program will consist of a mix of academic coursework, meetings with mentors, site visits, and cultural activities. An overview of the program can be found in the Program Schedule.

Your group has a Program Team to arrange your program, create content that is academically and professionally challenging, and provide you with enriching cultural experiences. Your comfort, health, and safety are their top priority.
UNO is located in Omaha, Nebraska. Omaha is a welcoming and vibrant metropolitan city, and was just named one of The 5 Best Big Cities in the US. There is always something happening, from community events to on-campus professional development opportunities. Housing for the program is at Sonesta Suites, just a short walk from the UNO campus. Learn more about UNO and Omaha by clicking on the respective links.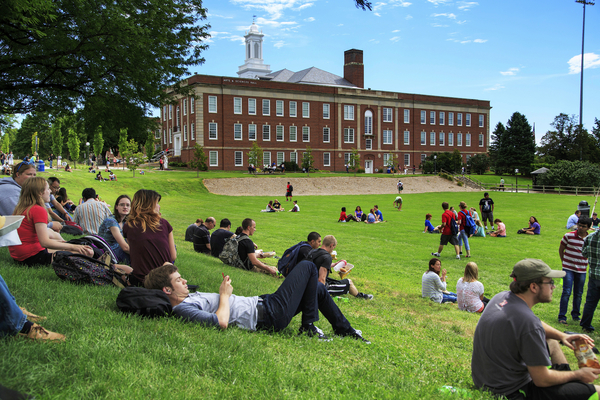 Students in the UNO Pep Bowl
Academic Component
UNO will provide women university administrators from South and Central Asia the opportunity to learn about the U.S., experience a professional environment where women administrators successfully contribute to the success of their institutions at international standards, overcome their personal and professional hurdles in advancing their careers, and rise through the ceiling glass of cultural hurdles and environment of working with male colleagues in their institutions. As part of their exchange visit, academic coursework will provide participants with academic and professional views from UNO faculty. This exchange visit will offer participants an opportunity to experience American urban and rural cultures through a number of site visits that will be appropriately arranged to meet the professional needs of the participants. This will serve them in their academic and professional careers, and foster mutual understanding among the US and their home countries. The focus of this program is to:
1. promote the knowledge of participants regarding the professional environment at American universities and how women have successfully managed to communicate and work with their colleagues;
2. enhance leadership, communication, and collaboration skills through content-rich classes in communication and leadership classes;
3. provide practical experience by providing opportunities to the participants to shadow UNO staff members in the participants areas of focus and expertise; and
4. offer participants opportunities to learn more about American culture and experience rural and urban lifestyle through cultural and historical site visits. These opportunities will include a trip to Mount Rushmore and a small rural community in Scottsbluff, Nebraska, and a final tour of the nation's capital, Washington DC.
Academic Coursework
All academic coursework will be conducted with the program objectives at the forefront. All activities will tie into the university courses, seminars, and site visits. Classes will allow time to strengthen English language speaking skills and will accommodate participants with different English language capabilities. The following courses will be provided to participants: Intercultural Communication, Professional Relationships and Ethics, Leadership Development, Management Strategies, Computer Coaching, and Professional Writing.
Mentoring and Professional Shadowing
UNO has a strong network of administrative professionals from a variety of disciplines and backgrounds. They volunteer their time and expertise to help international professionals of similar professional positions develop and practice their skills. Participants in this program will have formal and informal discussions with administrators of varying positions from diverse disciplines throughout their time at the University.
Cultural Program
The cultural component will provide participants first-hand experiences with the lessons learned in the academic residency. Participants will have opportunities to experience Midwest American culture, see many of Omaha's hallmarks, and learn about local history and traditions directly from local residents. Participants will meet U.S. citizens from diverse backgrounds, interact with administrators from other colleges and universities, and speak to student and civic groups about their experiences and life in their home countries. Through field trips and cultural events, the program will reveal aspects of U.S. education, business, politics, religion and race relations that together form the tapestry of American life. Participants will spend the final three days of their exchange program in Washington, D.C.for debriefing at the Department of State, as well as sightseeing and visits to culturally significant locations for women in America.