This project was originally published in the August 2018 issue of Governing magazine.
Story and Visualization by Mike Maciag
Millions of Americans reside along the coasts, near major rivers or other flood-prone areas of the country. Despite the risks and long-term ramifications of climate change and sea-level rise, their numbers continue to increase.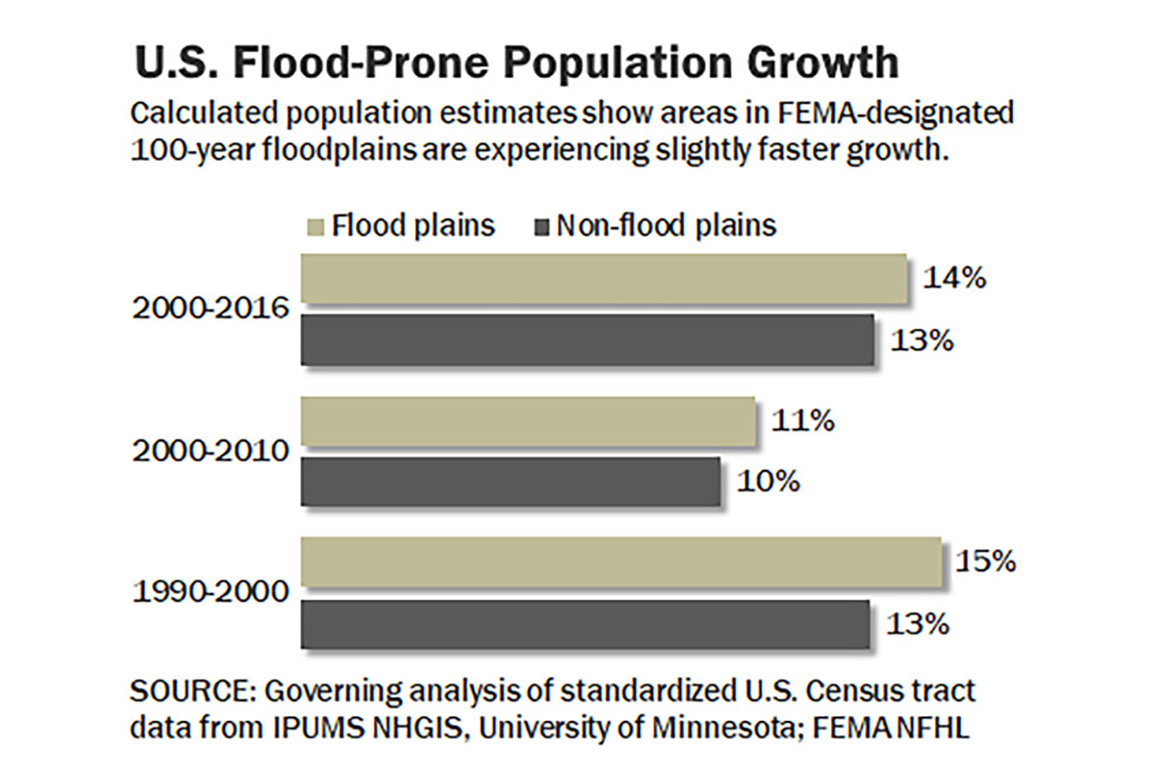 The Federal Emergency Management Agency (FEMA) identifies areas that have a 1% chance of being inundated by flooding in any given year, known as 100-year floodplains. Governing analyzed FEMA flood maps and census tract population estimates to gauge the amount of development occurring in these areas. Nationally, the number of Americans living in 100-year floodplains in 2016 increased about 14 percent compared to population estimates for the same geographic areas in 2000. That's actually slightly faster than other areas outside of flood zones, where the population increased 13%.
Using FEMA's National Flood Hazard Layer, we estimate just under 15 million Americans were living in FEMA-designated 100-year floodplains. (See methodology.) This is a significant underestimate of the population living in flood prone regions, however, as FEMA's maps are considered outdated in many jurisdictions and do not account for sea-level rise. Some other counties without digital mapping data were excluded from our calculations.
The Miami-Fort Lauderdale-West Palm Beach, Fla., metro area added approximately 181,000 residents to the 100-year floodplain over the period ending in 2016, the most of any region nationally, followed by Tampa-St. Petersburg-Clearwater, Fla; Houston-The Woodlands-Sugar Land, Texas; Orlando-Kissimmee-Sanford, Fla; and Cape Coral-Fort Myers, Fla. Much of steepest growth continues to occur in the southern Unitd States, as Florida and Texas collectively accounted for over half the national floodplain population growth since 2000.
County Floodplain Population Change: 2000-2016