The "Attic" is part of the Center for Management of Information Technology (CMIT) and employs undergraduate and graduate students who are interested in web/mobile software development to create technology solutions for university and community partners. The predominant clients for these projects are nonprofit organizations with limited resources. Occasionally the group takes on R&D work relating to data audits and in recent years AI/ML challenges.
Students working in the CMIT Attic are mentored by Dr. Deepak Khazanchi, CMIT full-time staff members, and experienced students to transfer the skills they learn in the classroom to real-world problems.
Highlights of the program include:
Undergraduate and graduate students from various IS&T and UNO programs working collaboratively in teams
Modified agile processes are utilized
Current technology stacks and cloud infrastructure are utilized
Include some students from other majors such as graphic design and communications
Training and skill development on the job
Safe and collaborative applied R&D environment
Outstanding track record of successful exit into internships, jobs, and graduate programs
Work in mobile development, web development, game development, graphic design, and animation
Research and technology support for cross-campus projects and business/nonprofit clients
More than 200 students have been trained and worked for the group since 2006 under Dr. Khazanchis supervision.
---
CMIT Attic Projects
Beating Breast Cancer Website
A collaboration with Dr. Robin Lally the Beating Breast Cancer website is designed in wordpress. The project was funded by a University of Nebraska Collaboraiton Initiative Grant.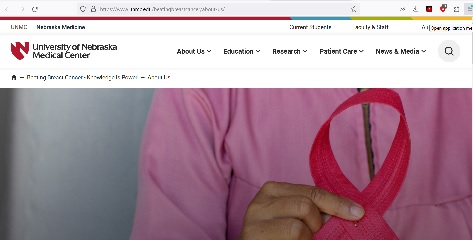 Stop Colon Cancer Website
A collaboration with Dr. Paraskevi A (Evi) Farazi the Stop Colon Cancer educaitonal website (https://stop-colon-cancer.com/) is designed in wordpress. The project was funded by a University of Nebraska Collaboration Initiative Grant.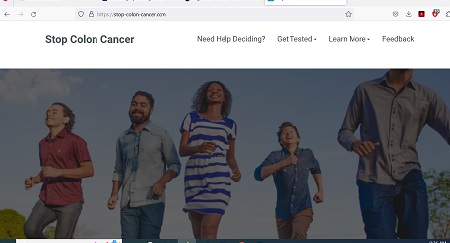 Love Blackbird Website
This wordpress site was designed and developed pro bono by our group. Tayor, Emalee and Becky are cancer survivors who inspired us by their commitment to life and living. This website work is dedicated to their preseverance despite enormous challenges. To quote their favorite Beatles song:
Blackbird singing in the dead of night
Take these broken wings and learn to fly
All your life
You were only waiting for this moment to arise
---
Stephen Center
This wordpress site was designed and developed by our group as a refresh for the Stephen Center and ato allow the employees to self0manage the web pages. "The Stephen Center has served homeless and low-income individuals in Omaha since 1984. The name Stephen Center was chosen in honor of the Apostle Stephen, one of the first Deacons of the church and a man of faith who committed his time to giving food and charitable aid to the poor. "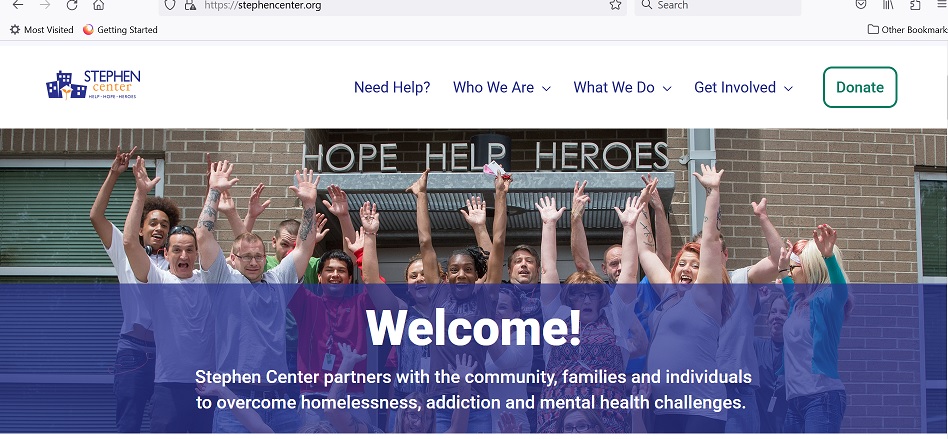 Zoodemic Game
Zoodemic is an educational gaming experience for elementary, middle, and high school students. It covers basic public health related to basic hygiene, epidemiology, and zoonotic disease prevention.
Students test their gaming skills by vanquishing multiple waves of viruses. Power-ups can be obtained by answering trivia. High scores are ranked via the leaderboard.
Students can also level up by obtaining codes after completing an online course in zoonotic diseases, in-person activities, or getting their influenza vaccination.
This project is a partnership between UNO CMIT/Attic and the COPH at UNMC.
---
mHealth Intervention Platform
This project involves the development of am-Health platform that allows researchers to choose customizable components to create and manage a research intervention. The platform focuses on creating intervention apps for self-management specifically targeting patients with multiple chronic conditions (MCC).
Patients with MCCs will learn evidence-based strategies (reducing symptom burden, increasing physical activity, monitoring physiological status) derived from cognitive-behavioral, motivational, and interpersonal models of self-management.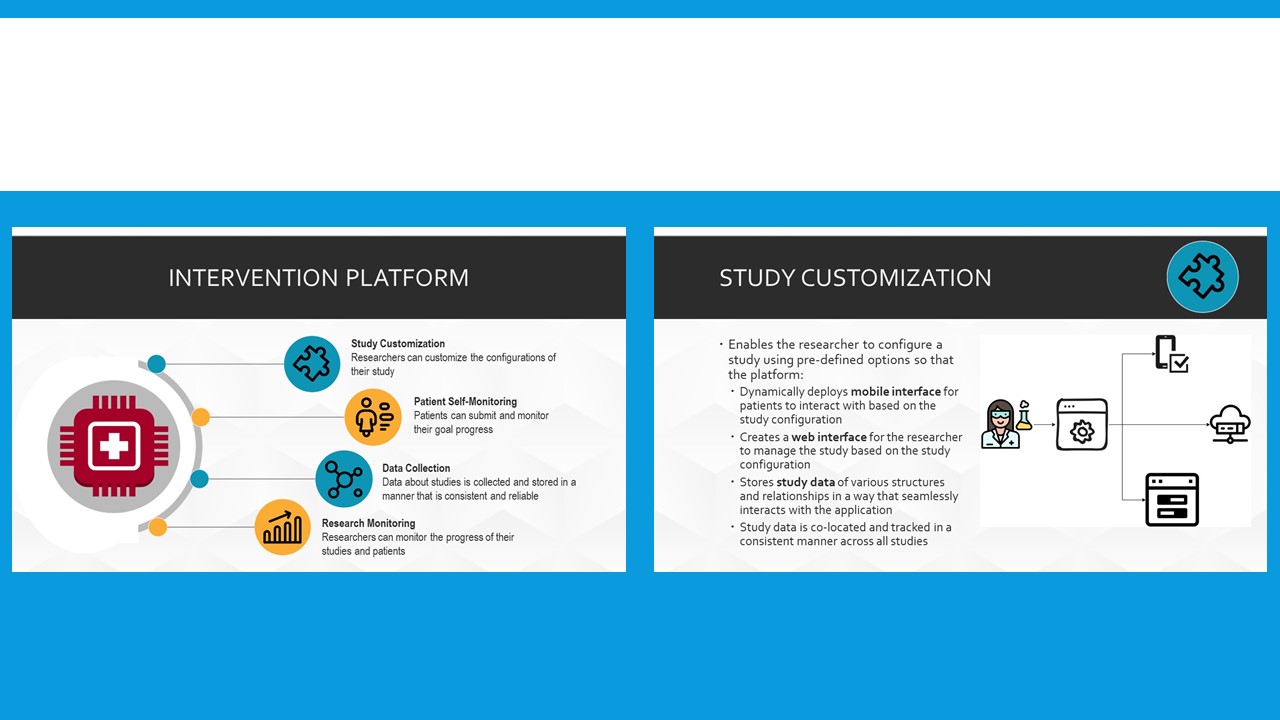 mhealth intervention platform
---
iPAD Galucoma App
Glaucoma patients with peripheral vision loss have in the past subjectively describe their field loss as "blurred/missing parts" or "no vision compromise."
Working with researchers at UNMC, our group developed an iPad app for patients to self-characterize perception within areas of glaucomatous visual field loss. More details about this research are available in [1]. The iPad app code is open source and made available by the researchers via github under GPL 3.0 license.
[1] Gagrani, M. et al. and Khazanchi, D. (2020; November). "What do patients with glaucoma see: A novel iPad app to improve glaucoma patient awareness of visual field loss." British Journal of Ophthalmology. 0:1–5. doi:10.1136/bjophthalmol-2020-317034.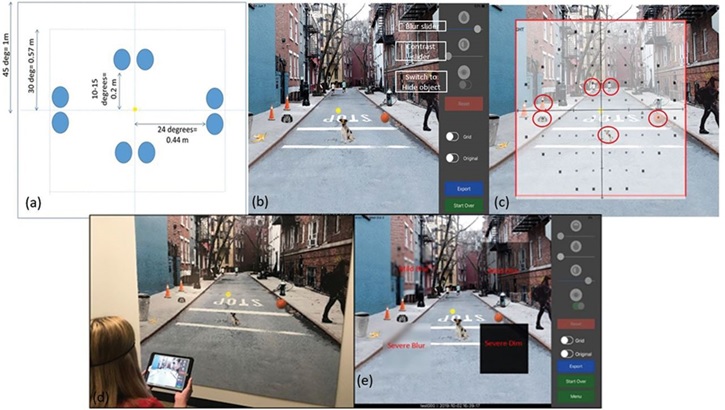 ipad Galucoma App
---
4Forces
The 4Forces app was developed as a partnership with the Strategic Air and Space Museum in Ashland, NE. Students can check out tablets while visiting the museum to "collect" parts from the planes on display.
Once they have collected enough parts, they can mix and match different airplane pieces to try and make a plane that flies as a way to learn about the four forces of flight: lift, drag, thrust, and gravity.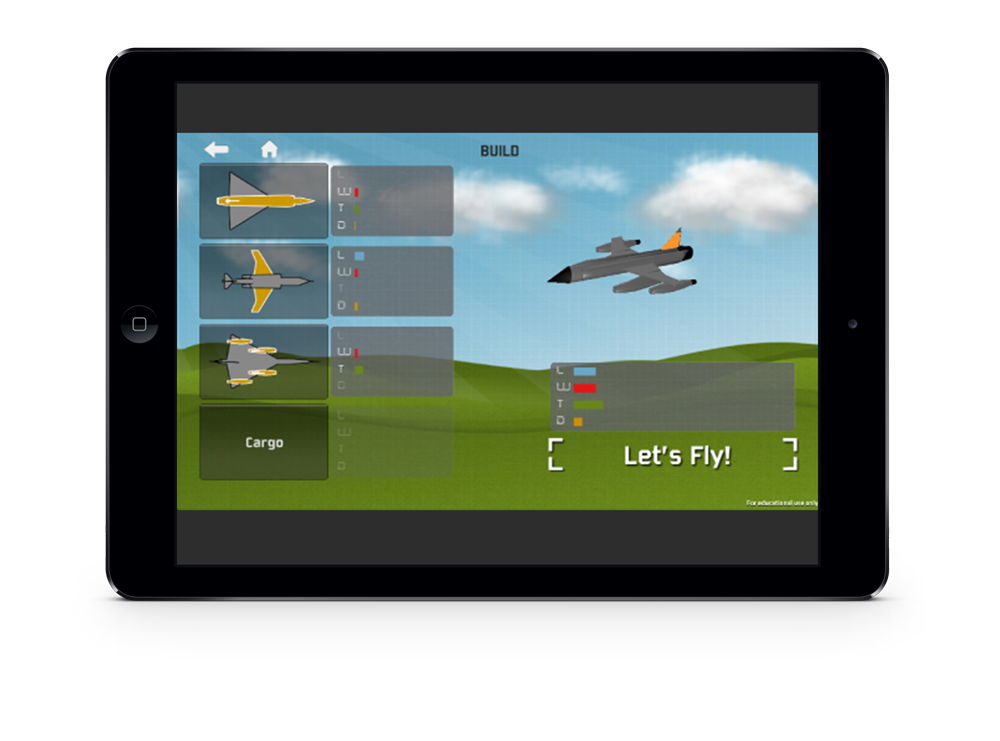 4Forces
---
Rheumatology Remedy Game
Rheumatology Remedy Stand bridges the gap between the required memorization of pharmacology concepts and relating them to pathophysiology and clinical presentations.
The game's goal is to help students apply pharmacologic content to high-yield clinical scenarios in Rheumatology. In the game, students manage patients' acute and chronic rheumatologic complaints and get paid for their efforts.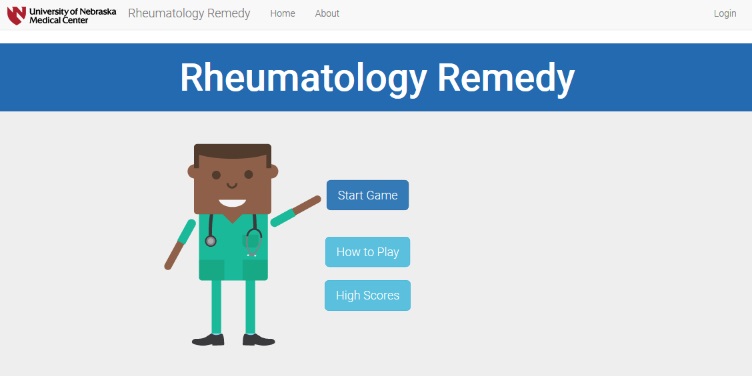 Rheumatology Remedy Game
---
Updated visual design, updated content, and guidance for making it easier for organization staff to update the website.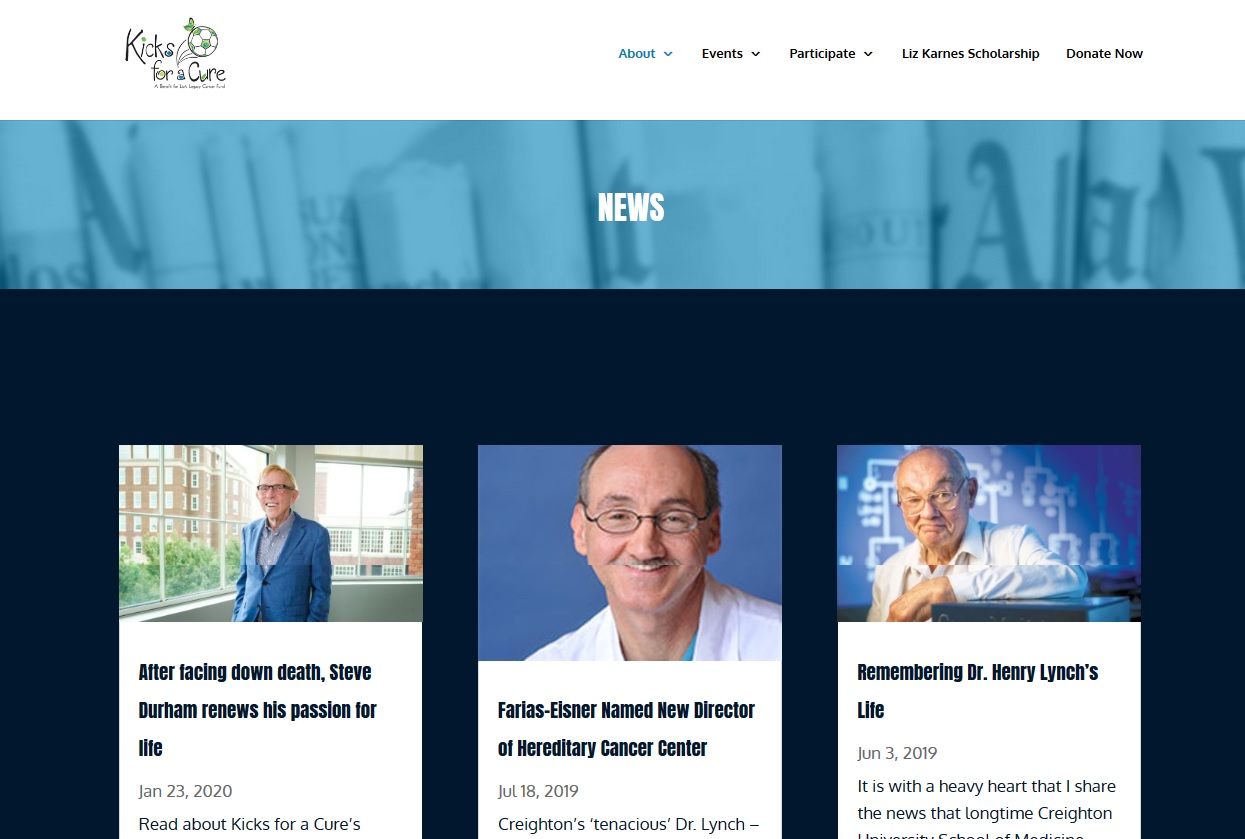 Kicks for Cure Website
---
Partnership 2020 Website

Interactive website development for "The Partnership 2020: Leveraging US-India Cooperation in Higher Education to Harness Economic Opportunities and Innovation" project.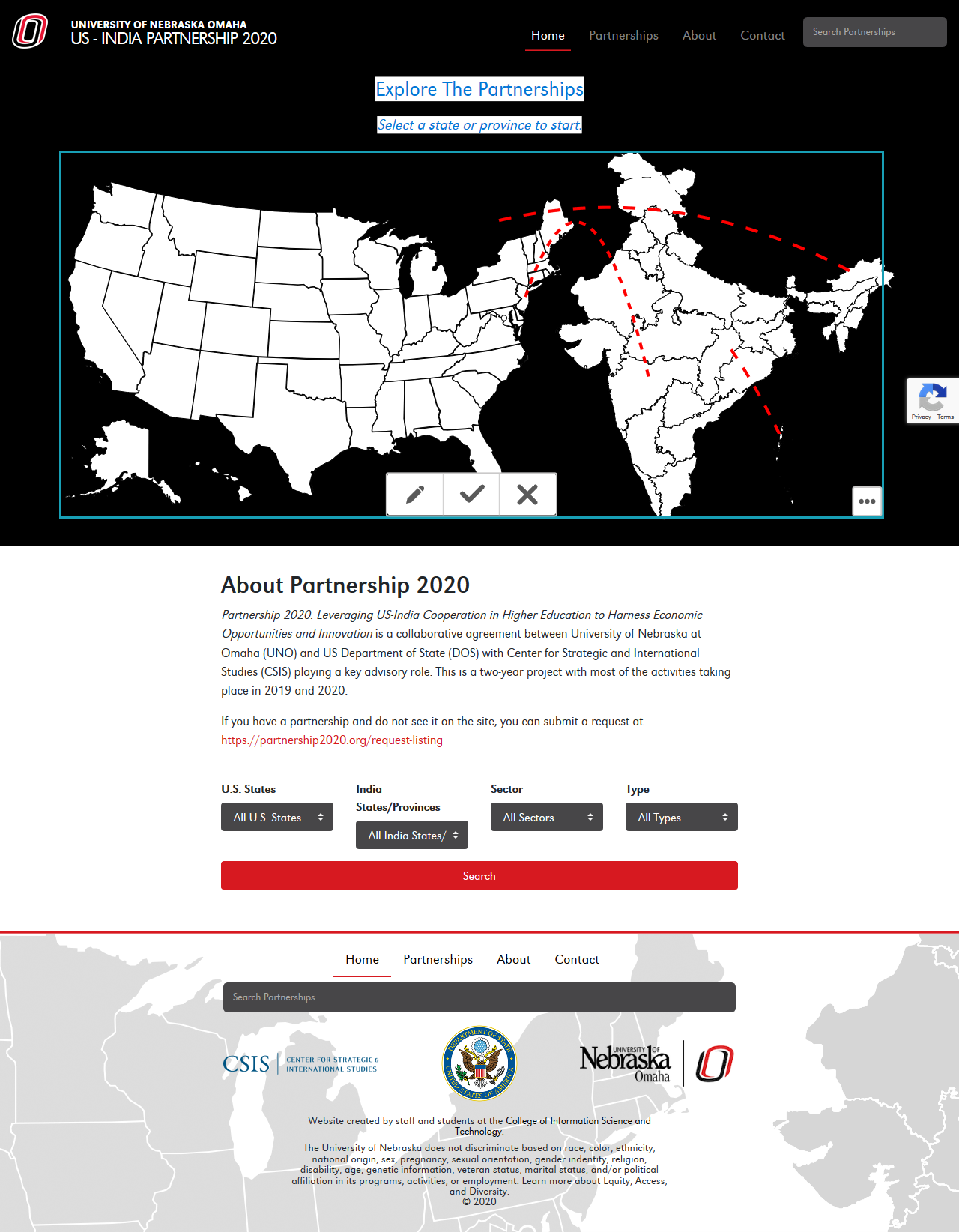 Partnership 2020 Website
---
TEMPL - Technology Empowered Language Learning
A flash-based web application to teach Russian, Spanish, German, and French vocabulary and conversation.
Integrates features of realia in a virtual setting
Uses TPR (Total Physical Response) as a foundation to implement self-directed lessons
Uses a contextually-embedded environment - a rich 3D interactive model of a Russian/Spanish/German/French cityscape emphasizing:

Language learning
Contextual learning of environment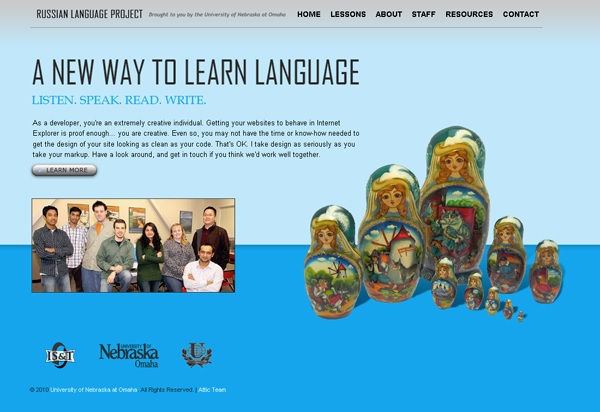 TEMPL
---
Show the O
Show the O is a campaign from the UNO Alumni association that encourages UNO graduates to share their pictures with a UNO flag. Visitors can see just how far UNO reaches around the world!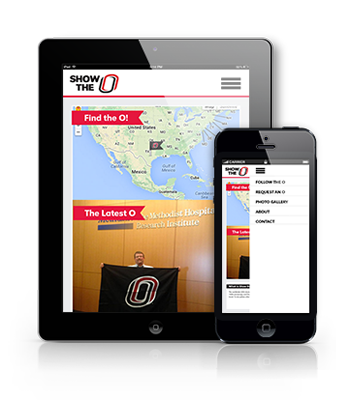 ---
Public Art Omaha
The Public Art Omaha website is host to a public art map of Omaha, and apps for iOS and Android devices. Our students built the database so art can be cross-referenced by artist, medium, location of the city, and more. The companion apps let users search for art "Near Me" and even submit new art by taking a picture on the go!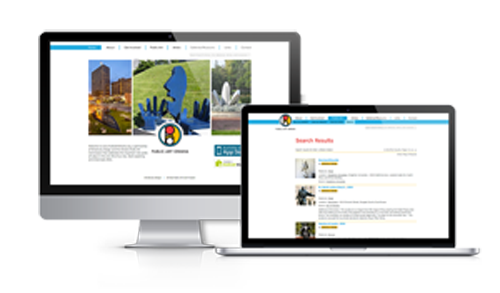 ---
Green Omaha Coalition
The Green Omaha Coalition website is a redesign into a WordPress platform. The site allows GOC staff to easily update content and share projects. The site has been coded to support Custom Post Types to help manage the GOC membership lists online.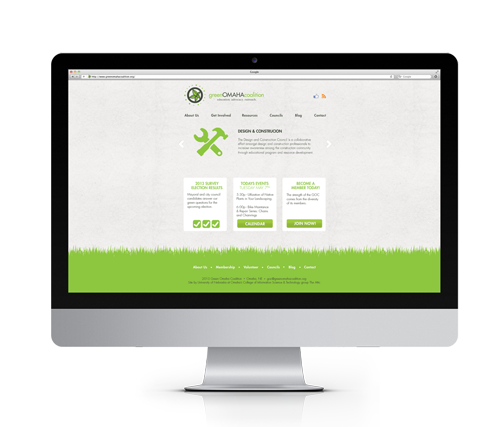 ---
MIS Tornado Game
The MIS Tornado game is a real-time strategy game that asks players to save as many survivors as possible in eight minutes. The game is actually a tool to talk about the complexities of information systems.
Though it was designed for UNO faculty to use during recruitment tours, it has been downloaded 400 times a month from gamers around the country!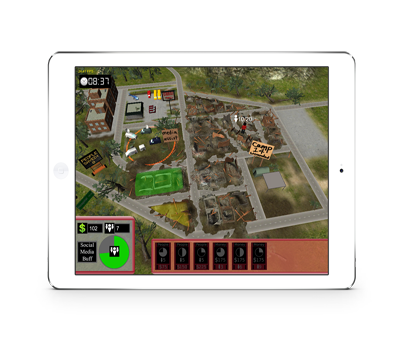 ---
IS&T Grants
The IS&T Grants project brings some internal award tracking to the college staff. This is one of several internal projects which let students learn about and support the day-to-day operations of the college.
Staff can use the site to keep track of grant submissions and awards, expenditure tracking, and keep on top of the data with customized reports.