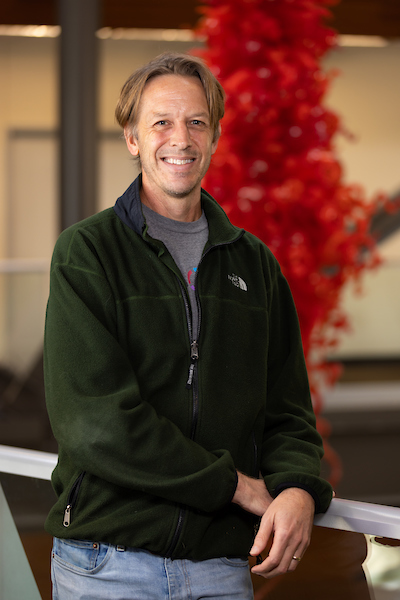 Matt Germonprez, Ph.D.
Professor
Mutual of Omaha Distinguished Chair of Information Science & Technology
Information Systems and Quantitative Analysis
---
email:
office:
PKI  174B
office phone:
personal website:
note:
This profile is pulling in data from Digital Measures. Postings on personal websites or social media do not indicate that the individual is speaking on behalf of UNO.
General Information
Biography
Matt Germonprez received his Ph.D. from the University of Colorado at Boulder in 2002. He started at UNO in 2011 after professing 10 years at Case Western Reserve University and the University of Wisconsin - Eau Claire. His teaching and research interests revolve around open source software.
Teaching Interests
Open Source SoftwareIT InfrastructureSystems DevelopmentIntroduction to Information Systems
Research Interests
Design Science Open Source ProjectsOpen Online Project Health
Service Summary
Matt Germonprez is currently co-director of the board of the Linux Foundation's CHAOSS project. Matt is also a dedicated member of university, college, and departmental communities.
Awards and Honors
AIS Paper of the Year, Scholarship/Research - 2011
JAIS Best Paper, Scholarship/Research - 2011
Paul Gray Award for the Most Thought Provoking Paper, Scholarship/Research - 2018
Rutgers University, School of Business, Camden Annual Research Award, Scholarship/Research - 2017
Education
BS, Iowa State University, Ames, IA, Biology, 1993
MS, Colorado State University, Fort Collins, CO, Information Systems, 1997
Ph D, University of Colorado - Boulder, Boulder, CO, Information Systems, 2002
Scholarship/Research/Creative Activity
Selected Publications
Germonprez, Raymond, Kendall, Ken, Kendall, Julie, Mathiassen, Lars, Warner, Brian, Young, Brett. 2017. A Theory of Responsive Design: A Field Study of Corporate Engagement with Open Source Communities, Information Systems Research.
Externally Funded Research
Open Source Community Health, Alfred P. Sloan Foundation via The University of Missouri-Columbia, Universities, 05/01/2020 - 05/31/2023