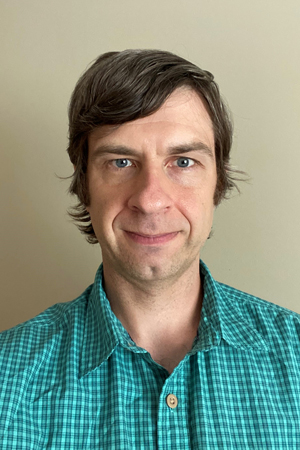 email:
office:
office phone:
areas of focus:
Mudstone sedimentology and stratigraphy
Paleoceanography & paleontology
Statistical data analytics and modeling
Additional Information
Education
B.S. in Geology, University of Nebraska-Lincoln
M.S. in Geosciences, Penn State University
Ph.D. in Geosciences, Penn State University
Courses Taught
GEOL 1010 Environmental Geology
GEOL 1180 Historical Geology
GEOL 2500 Geology Field Trip
GEOL 2500 Geology of Latin America (J-Term)
GEOL 3100 Invertebrate Paleontology
GEOL 3400 Sedimentary Geology
GEOL 4600 Applied Data Analytics in Geosciences
GEOL 4950 Senior Thesis
Current Research Projects
Impacts of past climate change in shallow marine environments
Mancos-Niobrara system in Colorado, Utah, and Wyoming
Mowry Shale in Wyoming
Sundance Formation in Wyoming
Investigation of significant carbon burial events in Earth's past
Determine cause of the "Late Coniacian Event," a period of extensive carbon burial in the western US in the Cretaceous and its impact to the ecology of phytoplankton
Statistical Data Analytics in Geology
Developing predictive models of carbon burial in past environments that can be used for petroleum exploration or to build models for carbon sequestration
Diversity and Inclusion in Geosciences
Developing new methods to make field work more equitable and accessible
Developing new teaching methods to engage a more diverse student body in geology and paleontology
Recent Publications
Lees, J., and Schueth, J. Taxonomic note – New Upper Cretaceous nannofossil taxa from the Turonian of New Mexico, USA. Journal of Nannoplankton Research, 38:81-82.
Hull, PM, …, Schueth JD, et al. (38 co-authors). 2020. On impact and volcanism across the Cretaceous-Paleogene boundary. Science, 367:266-272.
Schueth, JD, and Lees, JA. 2019. Pioneer nannofossil assemblages from the initial transgression of the Niobrara Seaway in the Late Turonian, San Juan Basin, New Mexico, USA. Marine Micropaleontology, 151:101771.
Schueth, JD, and Bralower, TJ. 2015. The relationship between environmental change and the extinction of the nannoplankton Discoaster in the early Pleistocene. Paleoceanography, 30:863-876.
Schueth, JD, Bralower, TJ, Jiang, S, and Patzkowsky, ME. 2015. The role of regional survivor incumbency in the evolutionary recovery of calcareous nannoplankton from the Cretaceous/Paleogene (K/Pg) mass extinction. Paleobiology, 41:661-679.
Schueth, JD, Keller, K, Bralower, TJ, and Patzkowsky, ME. 2014. The Probable Datum Method (PDM): a technique for estimating the age of origination or extinction of nannoplankton. Paleobiology, 40:541-559.
Clyde, WC, Wilf, P, Iglesias, A, Barnum, T, Bijl, PK, Bralower, TJ, Brinkhuis, H, Comer, EE, Huber, BT, Ibanez-Mejia, M., Jicha, BR, Krause, JM, Schueth JD, et al. 2014. New age constraints for the Salamanca Formation and lower Rio Chico Group in the western San Jorge Basin, Patagonia (Argentina):  Implications for the K/Pg extinction recovery and land mammal age correlations. GSA Bulletin, 126:289-306.
Hull, PM, Norris, RD, Bralower, TJ, and Schueth, JD. 2011. The role of ecology and chance in marine recovery from the end Cretaceous extinction: Nature Geosciences, 4:856-860.