Migratory Shorebird Research
The Rainwater Basin region of Nebraska is a distinct landscape defined by numerous geographically isolated wetlands. While the vast majority of these wetlands have been drained for agriculture, the area continues to attract large numbers of waterfowl and other wetland birds. Our lab has focused on studying the spring migration of shorebirds in the Rainwater Basin Region, with a special emphasis on the Buff-breasted Sandpiper, a species of significant conservation concern.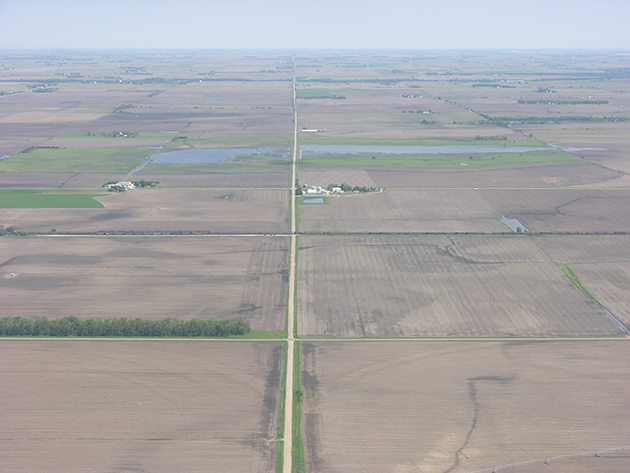 We started working on Buff-breasted Sandpipers in 2004 in collaboration with Joel Jorgensen. Joel had spent several years documenting the shorebirds of the Rainwater Basin and approached us about working on a graduate degree. During 2004 and 2005 Joel conducted the first systematic survey of Buff-breasted Sandpipers and his work documented the importance of this region of the species. Based on Joel's work, the Western Hemisphere Shorebird Reserve Network (WHSRN) designated the Rainwater Basin Region as a Landscape of Hemispheric Importance for shorebird conservation.
Many of the remaining wetlands in Rainwater Basin are now protected as part of the efforts to protect the millions of waterfowl the pass through the region in both spring and fall. Efforts by the U.S. Fish and Wildlife Service, Nebraska Game and Parks Commission, and private groups such as Ducks Unlimited have protected many of areas such as Waco Waterfowl Production Area and Spikerush Widlife Management Area shown in the photo above. In addition to waterfowl, over a million shorebirds might use these wetlands as well.
Birds use areas beyond these protected wetlands as well. In wet years wetlands that have been drained are used for rowcrop agriculture can temporarily re-emerge in what is know as sheetwater. Aerial views such as the one below give an idea of how many wetlands once covered the Rainwater Basin. While these sites are tilled and may be covered with standing corn or soybean stubble from the previous growing season, they can also attract thousands of migratory birds.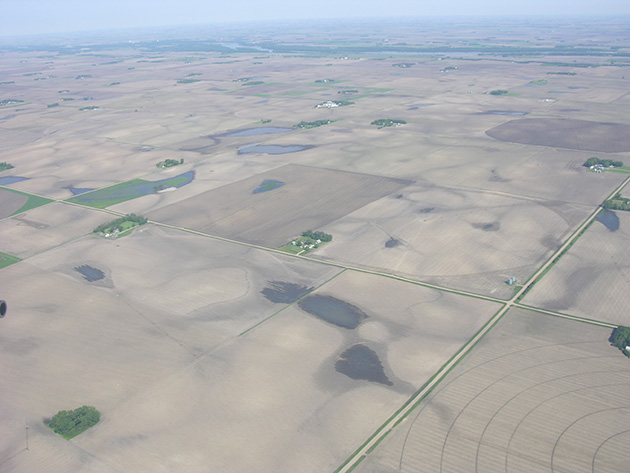 While most people equate shorebird migration with the wetlands of the Rainwater Basin, Buff-breasted Sandpipers are members of a fascinating group of shorebirds that rely primarily on uplands. While they do visit wetlands to bathe and drink, Buff-breasted Sandpipers are more likely to be observed in dry cropfields such as the one shown below. Buff-breasted Sandpipers, along with other "agripipers" such as American Golden-Plovers, Upland Sandpipers, and Baird's Sandpiper, are especially attracted to recently tilled fields.