Grassland Bird Research
Landscape-Level Management of Grassland Fragments
The widespread conversion of natural grasslands to agriculture means that most of the habitat for grassland birds that remains exists in relatively small, isolated fragments. This is especially true of the tall-grass prairie ecosystem of eastern Nebraska and Iowa.
Our lab has studied how the size of grassland fragments and the composition of the surrounding landscape influences grassland birds. This work takes place within grasslands in the area around Omaha, Nebraska. Study sites include publicly owned conservation lands, including Boyer Chute and DeSoto National Wildlife Refuges, privately owned grasslands, and conservation sites managed by non-governmental organizations. Since starting this work in 2002, the focus of the questions we ask has varied and expanded to include birds in tall and mixed-grass prairies in Missouri, central Nebraska, and the Nebraska Sandhills.
Estimating demographic parameters of grassland passerines of conservation concern
One of our current areas of research involves attempts to improve our understanding of the demographic parameters that influence population trajectories.
Effects of Urbanization on Grassland Birds
Throughout most of its former range, the tallgrass prairie has been reduced to small and isolated fragments. Many of these prairie fragments are associated with urban areas.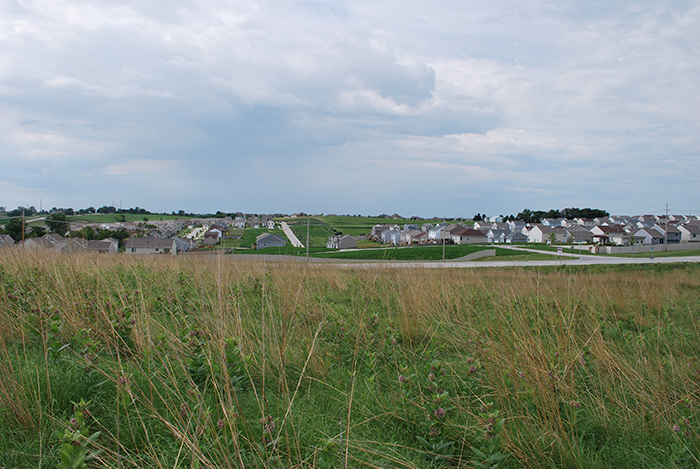 The Relationship Between Proximity to Wind Turbines and Stress Hormone Levels in Lekking Prairie Chickens
The Sandhills of Nebraska represents one of the largest, intact temperate grassland ecosystems in North America. Currently, there are efforts underway to develop some of these grasslands as wind farms to exploit Nebraska's potential for generating electricity from wind.