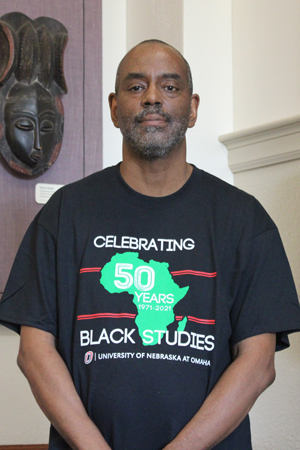 email:
office:
personal website:
Additional Information
Background
Before joining the University of Nebraska at Omaha in 2012, he taught Sociology and Africana Studies at James Madison University. Dr. Imani earned Doctorate and Masters of Arts degrees in Sociology and a Masters of Arts degree in Political Science from the University of Florida. Dr. Imani is on the editorial board for two journals, Critical Sociology and the Journal of Racial Pedagogy.
Degrees
BSFS International Politics (International Relations, Law, and Organization) 1989 Georgetown University Edmund A. Walsh School of Foreign Service
MA Political Science 1991 University of Florida
MA Sociology 1992 University of Florida
Ph.D. Sociology 1995 University of Florida


Research interests
Africa-centered critical and postcolonial theory and analysis
Spatially integrated social science involving Africana communities
Africa-centered social and political theosophy
Social simulation and cultural studies


Publications
This is a link to my bepress page which the university previously set up for us.
https://works.bepress.com/nikitah_imani/

My current regular courses
Africana Worldviews (BLST Core Requirement)
African Philosophy (Graduate and Undergraduate Level)
GLOBE (MCCT Graduate Level)
Pan-Africanism and Black Nationalism