Required engagement includes events such as TLC Community dinners, study hall hours, faculty meetings, and mid-term meetings. Through these events, TLC provides many opportunities for students to engage with other students, peer mentors, TLC faculty, and staff.
Failing to complete a requirement is akin to failing to complete classes, and is reported to the Buffett Foundation for consideration of scholarship renewal.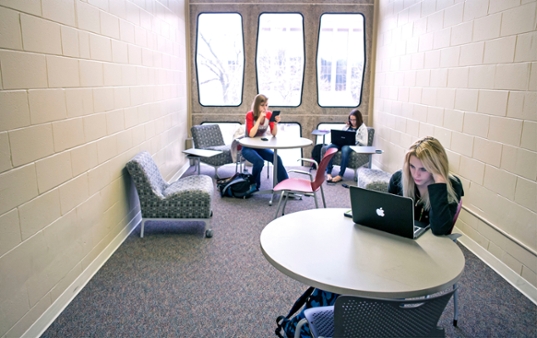 First-year Scholars
First-year scholars who are living on campus are required to live in University Village on the Dodge Street Campus in the Thompson Living Learning Community. First-year scholars have required courses during the fall and spring semester. There are also events and meetings that are required for first-year scholars to attend. For more information visit our first-year page.
Second-year Scholars
Second-year scholars have course requirements during the fall and spring semesters. There are meeting and event requirements for second-year scholars to attend. For more information visit our second-year page.
Midterm Meetings
All first-year and second-year scholars are required to meet with their TLC Specialist each semester for a mid-term meeting. For information about these meetings and to find required documents please visit the mid-term meeting page.
Peer Mentor & Mentees
First-year peer mentors are designed to help support first-year students navigate their college experience. Peer mentors will meet with their mentees throughout the first year of college. Visit the peer mentor - mentee page for more information on the peer mentor role.