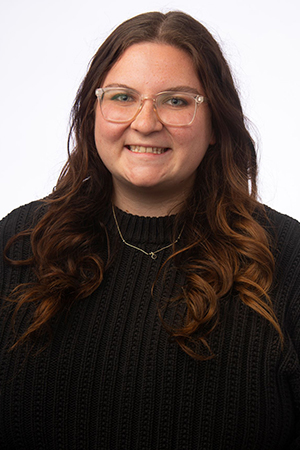 Morganne Grutsch
(she/her/hers)
TLC Specialist
Thompson Learning Community
---
email:
office:
office phone:
fax:
402.554.2345
Additional Information
About Morganne
Strengths: Restorative, Belief, Arranger, Communication, Individualization
After graduating Elkhorn South High School, Morganne started her college career at the University of Nebraska at Omaha. During her time at UNO, being heavily involved in a variety of student organizations really inspired a passion for Higher Education and feeling like she mattered on campus while pursuing a double degree program. Morganne often attributes her sense of belonging to the UNO Staff and Advisors that invested time and relationships in her.  In May 2020, Morganne graduated with a Bachelor of Science in Criminology & Criminal Justice and a Bachelor of Arts in Sociology with an emphasis in Pre-Law. 
Morganne has always held a passion for working with students and was able to do this in a variety of ways with new and prospective students during her time as a Student Coordinator in the UNO New Student & Family Programs office. While working as an Assistant Family Teacher at Boystown, Morganne was able to help teach youth appropriate social, academic and independent living skills and empower them to recognize their strengths. As an Admissions Counselor for the University of Nebraska Kearney, Morganne traveled across Nebraska recruiting students and building relationships with incoming freshmen.
When she isn't meeting with TLC Students or refilling her iced coffee, Morganne enjoys reading mystery novels, playing board games with friends and family, spending time outside, and getting excited about the next Marvel Movie! Morganne also spends time working on her Masters of Science in Higher Education Student Affairs, and serving as the Parent and Alumnae Advisor for her sorority Alpha Xi Delta.