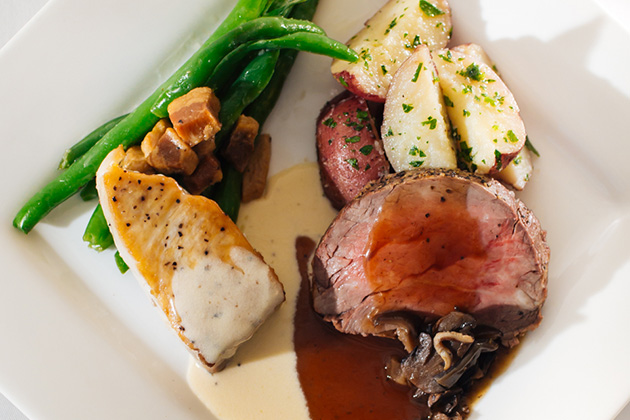 Choose from sit-down service, buffet style, and buffet station service
All menus are custom designed to suit your event's budget
Catering at the Thompson Alumni Center is provided exclusively by Catering Creations
Our Partnership
The Thompson Alumni Center's catering partnership with Catering Creations began in July 2015.
Catering Creations has been voted Best Caterer in the Best of Omaha Magazine reader survey over 10 years. Catering Creations also was awarded the Prestigious National ACE Award by Catersource Magazine as the Best Midwest Caterer.
Whether you are planning a large wedding reception or a small dinner party, Catering Creations' professional staff works with you from start to finish to make your event is a memorable occasion. Each detail, no matter how small, is taken care of, allowing you and your guests to relax and enjoy the event.
The Catering Process
Once you have reserved your event date and paid your deposit (if applicable) for a catered event, Catering Creations staff will contact you to begin planning your function.
Event producer can meet with you in person or help plan your event over the phone with email or via Zoom— whatever is most convenient for you.
Please note: UNO colleges and departments have access to a campus menu available upon request.
---
Weddings
Wedding clients can bring their own cake, nuts, and mints. The Catering Creations staff provides complimentary cake service if requested, which includes:
Cake Server
Cake knife
A complimentary bottle of champagne for the bride and groom
Toasting glasses for the head table
Neutral Décor for the buffet
Bowls and trays for mints and nuts
Also Included
Built into Catering Creations menu prices is an event producer to guide you through the planning process and professional wait-staff on-site from set-up through clean-up.
Also included:
Complete china place settings
Flatware
Table linens – White or Black
Napkins – Variety of Colors
Linens to cover additional tables – White or Black
Round mirror tiles and non-scented votive candles also can be used as centerpieces free of charge.
Other caterers charge extra for many of the items and services Catering Creations offers for free.
Guarantees and Cancellation
We require a preliminary guarantee of guest count ten (10) days prior to your event. A final guaranteed guest count (not subject to reduction after given) must be received no later than 4:00pm seven (7) days prior to your event. If the final guarantee is not received by this deadline, Catering Creations will prepare and charge for the number of persons estimated on the contract or actual number of attendees, whichever is greater. Guaranteed guest counts may not be reduced during the 10 days prior to your function, but on a best efforts basis, we will work to accommodate guest count increases if additional guests RSVP late. Setup and Floorplan should be confirmed with Catering Creations no later than 4:00PM, 7 days prior to your function. In order to make your event a success, final event details, menu, final guest count, etc. must be received ten (10) days prior to your event. Failure to provide this information in a timely manner may result in our inability to accommodate your requests. If changes are made during the 10 days prior to your event, Late Change Fees may apply. If your event is cancelled within ten (10) days of the event, the full event cost is due. With best efforts, if we find that expenses and preparations have not yet commenced at the time of your cancellation, we may be able to remove some items from the final bill, but this is not guaranteed.
Linen Tablecloths
Linen tablecloths and linen napkins are included in your menu price for food and beverage tables, 1 Registration Table and Guest Seating Tables for Meal Service (6 seats per table minimum). Linen tablecloths will be placed on your tables no later than the start of your reservation time listed on your Thompson Center contract. If you wish to have linens set out prior to this, an early set up fee of at least $75.00 will apply. Linens for Breakout Tables, Vendor Booth Tables, Cocktail Tables, Extra Registration Tables, Extra Tables in other Rooms outside of Meal Guest Seating Tables, or Linens to Accommodate Extra Social Distancing are not included in the menu cost. These can be provided at an additional $4.00 per linen. Black or White Tablecloths are available. A variety of Napkin Colors are available.
Event Staff
Event Staff for standard service is included in the menu price. Some service styles such as stations or custom menus will require additional staff for an added fee.
Food and Beverage
No outside food or beverages are allowed. No food, beverage, or alcoholic beverage products may be brought into Thompson Alumni Center by patrons or clients attending an event or meeting as all food and beverages consumed in The Thompson Alumni Center are provided by Catering Creations. Any changes or substitutions to the menus shown are considered Custom Menus and created at a possible added cost. All banquet menus and prices quoted are subject to change without notice. Please contact Catering Creations for current menus and price quotations and we will send you a catering proposal for your specific event. Dietary restrictions can be accommodated for an additional fee. All food, hosted alcohol and non-alcoholic beverage purchases are subject to a taxable 20% service charge and 7% tax. Service fee is NOT gratuity/tip.