Alumni Events & Engagement
Saying "I Do" at the Thompson Alumni Center

For 30 years, the William H. & Dorothy Thompson Alumni Center on UNO's campus has been one of Omaha's most popular banquet facilities and conference centers. Since its dedication in September 1981, the Thompson Alumni Center Center at UNO has hosted more than 1,000 weddings and/or receptions.
Its original purpose, says Steven Summers, alumni center director, was to provide event space and conference space for the UNO community. Over the years—and several expansions and renovations later—it has developed into a popular choice for weddings and for meeting space by many corporations throughout the metro.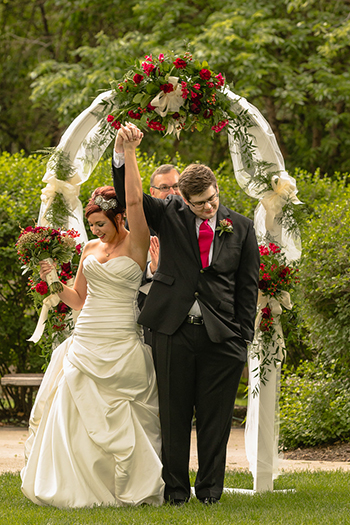 It is home to 50 to 60 weddings every year. Of the 52 weddings held at the venue last year, 80 percent of them had some type of affiliation with UNO, Summers says.
"I'd say the vast majority of our weddings have some type of alumni attachment or UNO attachment," he says. "There is just something special about coming back on campus to celebrate what to them is a huge milestone in their lives."
For Lauren Albert and Jared Rutledge, it was that UNO connection that drew them to book the space for their upcoming wedding in the spring of 2017. While the two both attended UNO at the same time for a period of years—they actually didn't meet until 2014 when they both found themselves working at Midwest Laboratories.
Rutledge, who graduated in 2012 with his bachelor's degree in biology, saw an ad for the Thompson Alumni Center Center while thumbing through UNO Magazine. "For something that is going to mean so much to us, we'd rather have a little tie in the place where we're going to get married," he says.
"The backyard area where the ceremonies are held is absolutely gorgeous," says Albert, who graduated with a bachelor's degree in elementary education in 2011. "It's the perfect size, it's just beautiful."
A complete remodel of the interior rooms and upgrades to the state-of-the-art audio and visual equipment was completed in March. Those features, along with the center's convenient and centralized location are among the reasons why AAA of Omaha hosts several travel shows and seminars in the building each year, says Vicky Hess, AAA Nebraska sales specialist.
"The Thompson Alumni Center Center provides us with the opportunity to invite people to UNO's beautiful campus, which is truly one of Omaha's greatest gems," Hess says.
The facility was voted Best of Omaha in both 2015 and 2016 and received the B2B (Business to Business) award for best banquet facility in Omaha in 2016.
"I really think it's our staff and our team members we have here. We are very dedicated to making sure that anyone who comes to an event, whether it be a wedding or corporate event or UNO meeting is treated with great guest service," Summers says.
It was the ideal setting for UNO graduates Austin and Alexa Gaule, who were married at the Thompson Alumni Center Center in June 2014.
"It was the perfect site for what we wanted," says Alexa. "Having spent the majority of our young lives at UNO, it just seemed like a really good fit for the ceremony and everything. We love spending time at UNO and we miss it greatly. We took pictures in front of the bell tower and all over campus right after the ceremony so we have a lot of great memories that we can hold onto."
Our Campus. Otherwise Known as Omaha.
The University of Nebraska does not discriminate based on race, color, ethnicity, national origin, sex, pregnancy, sexual orientation, gender identity, religion, disability, age, genetic information, veteran status, marital status, and/or political affiliation in its programs, activities, or employment. Learn more about Equity, Access and Diversity.
scroll to top of page