New student orientation is a two-part process for all incoming first-year students at UNO and consists of online orientation and enrollment advising. Completing your online orientation and enrolling in classes is just the beginning of your college experience at UNO. 
If you have limited, inconsistent or unreliable access to internet or a device (computer/tablet/iPad/smartphone), please email orientation@unomaha.edu or call 402.554.2677 for assistance.
---
Registering for Orientation
In your MavLINK account, click the Admissions drop down menu located on the left-hand side of the home page. Click the "Undergrad Orientation Signup" link. The registration form will pop-up in a separate window. 
Review your personal information and intended major before completing the form.
Follow the instructions for registration.
I'm ready to sign up for orientation!  
---
Online Orientation
Your orientation experience is completely facilitated online. This mandatory online orientation program will introduce you to success resources, academic expectations, and campus life at UNO. 
You must complete online orientation before meeting with your academic advisor and enrolling in classes. The online orientation should be completed at least one-week prior to your advising appointment.
How do I access my orientation?
• Within 48 hours after registering for orientation,

 
you will have access to online orientation via the

 
Student Success Community course

 
found

 
in your

 
Canvas
dashboard.
• 
The date provided to you during registration just indicates when you will gain access to the course in Canvas. After gaining access, you can complete the course any time that works with your schedule.
Orientation Instructions:
• Online orientation takes approximately 120 minutes to complete.
• It is divided into modules that include videos, written content, and a short quizzes.
•  You can complete your online orientation in multiple sessions, and any progress you make once you begin will be saved. Just log back into Canvas to pick up where you left off.
• After completing all of the required orientation modules, you
must
complete a survey and a comprehensive quiz. The quiz must be passed with a 70% or higher.
• Your orientation hold will be removed within one (1) business day of passing the comprehensive quiz.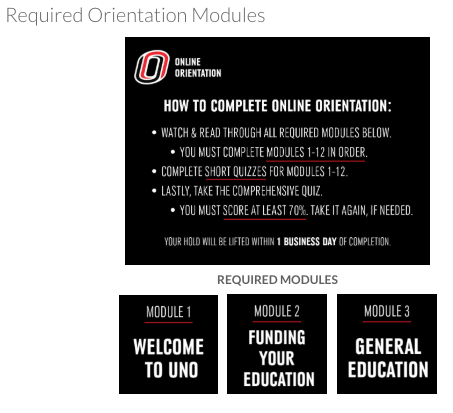 ---
Academic Advising & Enrollment
After your online orientation requirement is complete, you will need set up an advising appointment in order to enroll in your spring semester classes. During your advising appointment, your advisor will help you choose classes and set your schedule for the upcoming semester.
To schedule an appointment with your advisor, locate the appropriate Academic Advising office and phone number and give them a call. 
How do I change my major?
If you no longer plan to pursue the major you indicated when you applied for admission, a change of major request must be made in writing to the Office of Undergraduate Admissions at unoadmissions@unomaha.edu (include your name and NUID).  
To ensure that you are scheduled to meet with the appropriate advising team, please change your major prior to scheduling your academic advising appointment. 
---
Immunizations
You need to submit your immunization records to the Nebraska Medicine - UNO Health Center. See additional information about this process.
---
Family Resources
Our Family Resources website is your one-stop shop for the information about on-campus support you need along your student's college journey. Here you can sign up for our Maverick Family Newsletter, find important updates about campus operations, and more!
Check out our Family Orientation which is easy to navigate and available online 24/7. View short videos and a to-do list of next steps for family members and students.
---