By Lauren O'Malley
NCITE Graduate Assistant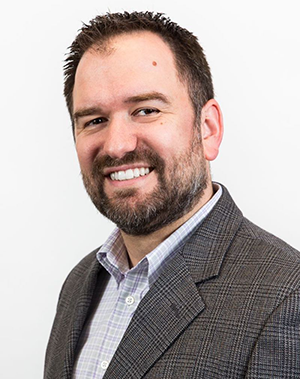 When Matt Allen and his wife Amanda packed up their Subaru with their two-year-old son and headed to Oklahoma for the holidays this past December, he felt struck by this first in many years — visiting family without catching a plane. That trip, Allen says, was one of the first times he realized Omaha could truly be home, something the NCITE lead of business strategy, assistant professor of management, and I-O psychologist never thought would happen.
Born and raised in southern California, just outside Disneyland, Allen's recent holiday trip to Oklahoma was not his first time in the Great Plains. After receiving his undergraduate degree from the University of California Riverside, Allen attended the University of Oklahoma, where he met Amanda.
After receiving his doctorate in Industrial Organizational (I-O) psychology in 2008, Allen and his wife moved to Washington, D.C., a place they would call home for the next 14 years. A job at the nonprofit consulting firm HumRRO, played a role in his decision to move. There, he worked with the military and federal law enforcement on several projects surrounding personnel selection and leadership that would ultimately influence policy recommendations.
He also began teaching statistics and research methods in human resource management programs at George Washington University and Georgetown University.
Examples of his work included looking at assessments that could predict whether someone would be a good soldier or not, identifying and selecting leaders for senior positions, and more. Part of his work even helped develop an assessment center—essentially a simulation—to identify and train senior leaders.
After several years of working as an external consultant, Allen wanted a different experience.
"As an external consultant, you get a lot of breadth but not as much depth," Allen said. "By the time a project gets to you, it's already been decided that's the direction they want to go. So, you don't get to do as much to conceptualize the problem. You don't get to look at it and say, what would we do for the solution?"
This, in part, influenced Allen's decision to leave HumRRO and work for the U.S. Department of Defense (DOD). There, the depth of his work focused more on internal policy. Now, as an internal consultant, he was able to be part of both the problem formulation and solution. Allen largely worked on the DOD's pre-employment testing and leadership programs. His expertise helped the DOD identify and select employees for several cybersecurity jobs.
When a management position opened at HumRRO, Allen returned to his former employer, calling it "the right opportunity at the right time. I was really wanting to grow as a manager and a leader."
"I like teaching, especially working professionals," Allen said. "I enjoy being able to apply the course concepts to their jobs."
Content with his career, adjunct teaching, and life in D.C., Allen thought he and Amanda would be in the nation's capital forever. Then Gina Ligon called. Allen had met Ligon during his grad student days at the University of Oklahoma. Now, as head of the DHS Center of Excellence for terrorism and targeted violence, she had a potential job for him.
At the time, NCITE was looking to hire five new tenure-track faculty in different disciplines. These positions would require moving to Omaha, being a professor at the University of Nebraska at Omaha (UNO), as well as being an NCITE researcher. Allen's expertise made him a strong candidate for the open management professor role, but the decision to move was not just his to make.
"My job was to determine whether the job was a good fit and whether it was good career move," Allen said. "And my wife's job was to determine whether we want to live here."
At first, Allen was not convinced the new role in Omaha would be a good fit. In his previous research and career, much of his work was driven by reacting to what others were doing, whereas NCITE would require him to be on the front end of identifying the problem to be solved. This was new territory for him.
After his visit to Omaha, NCITE HQ, and meeting the other faculty at the UNO College of Business Administration (CBA,) Allen's perspective changed. He wanted the job. And in the pandemic-fueled move to remote work, his wife was able to obtain a beltway job as senior consultant at the DCI Consulting Group, Inc., while working from Omaha.
Once the family moved, Allen quickly bridged the worlds of business and counterterrorism research. Business and terrorism are two worlds most would not think to merge, but NCITE is uniquely positioned in a business college for this very reason: to leverage students and faculty with diverse expertise to solve complex problems, something Allen is particularly drawn to.
"I'm much more of person who's drawn to problems and questions than I am to specific research topics," he said. "My research focus is still evolving. In the meantime, I'm going to do my best to answer questions and address hard problems that the Homeland Security Enterprise has."
Looking ahead, Allen is optimistic about the future of NCITE and the role students play in the counterterrorism research space. Incorporating DHS projects into the curriculum of his classes is a vital start to exposing students to national security problems and building the future workforce.
"I'm excited to take the skills we have in the College of Business Administration," he said, "and to figure out how they can be used to energize the NCITE mission."