Spring 2020 Genius of Warren Buffett Class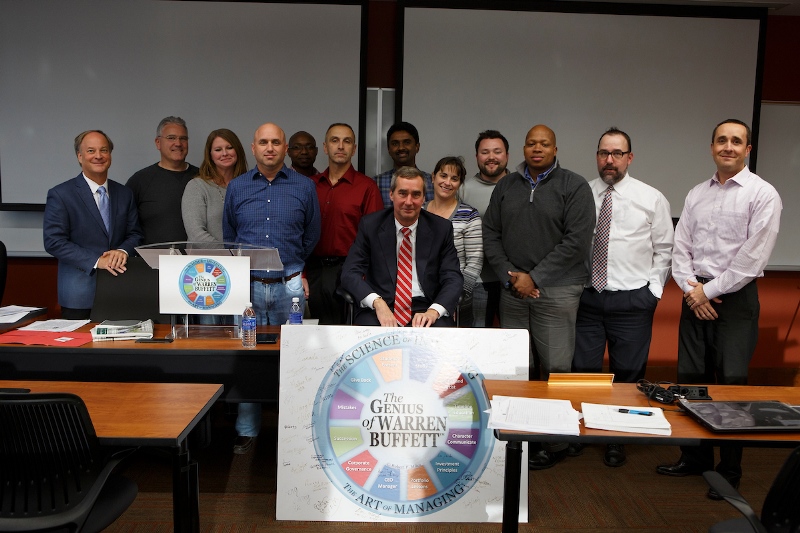 Spring Three-Day Course - 24 Hours
April 27, 28, and 29, 2020
Monday: 8 A.M. - 5 P.M.
Tuesday: 8 A.M. - 5 P.M.
Wednesday: 8 A.M. - 5 P.M.
Group Discounts available. Four or more receive 20 percent off current rate. (Limited seating all events.)
Register Now!
Plus! Berkshire System Summit: Thursday, April 30, 2020, 9:30  A.M. - 3:30 P.M.
See below for more information 
This course will NOT be available on the Internet.
---
Fall Three-Day Weekend Course - 18 Hours
October 3, 4, and 5, 2019
Thursday: 3 P.M. - 9 P.M.
Friday: 3 P.M. - 9 P.M.
Saturday: 8 A.M. - 2 P.M.
Enrolled UNO Executive MBA candidates receive 3 credit hours for this elective. Executives must complete a comprehensive Investment Research Report within 30 days of class end. Lifelong Learners from around the world are welcome to enroll in the spring 3-day course the week before Berkshire's annual meeting weekend or the fall 3-day weekend course the first Thursday, Friday and Saturday of October.  
---
Location
Mammel Hall
College of Business Administration
Executive MBA Classroom Suite 
6708 Pine St
Omaha, NE 68106
---
Certificate of Business Excellence
Upon successful completion, Lifelong Learners will be acknowledged for their pursuit of continued professional and personal development and will be presented with a Certificate of Business Excellence.