Explore an in-depth evaluation of the Oracle of Omaha's life, character, investment, management, business, and charitable career of one of the greatest business leaders of all time.
Lifelong Learners from across the globe, and students of any age and background with the desire to participate, learn and study the life of Warren Buffett are welcome to take advantage of this special course.

Designed for students of all ages:
Berkshire Hathaway shareholders
Senior managers
Entrepreneurs
Private Investors
Investment professionals
Association executives
Diverse Backgrounds
Representing six continents and over 40 countries, executives and Lifelong Learners come with a diversity of backgrounds and disciplines.
From executives, professionals, medical professionals, project management, sales, portfolio and wealth management, bankers, retirees, our Lifelong Learners are as diverse as their occupations.

---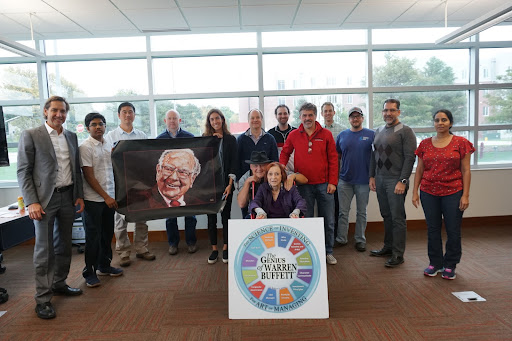 GOB Class, Fall 2019
Investment Challenge Contest
Learners will team up to present a two-minute investment idea that meets all of Berkshire's Acquisition Criteria. Other participants challenge each presenter with opposing views.
A panel of independent judges will determine the winner and award a $1,000 merit scholarship or University of Nebraska Foundation honorary donation.
---