Lifelong Learners from across the globe, and students of any age and background with the desire to participate, learn, and study the life of Warren Buffett are welcome to take advantage of this special course.
The course has been designed for students of all ages, including:
Berkshire Hathaway shareholders
Senior managers
Entrepreneurs
Private investors
Investment professionals
Association executives
Diverse Backgrounds
Representing six continents and over 25 countries, executives and Lifelong Learners come with a diversity of backgrounds and disciplines.
From project management, to nursing, sales, portfolio and wealth management, to bankers, our Lifelong Learners are as diverse as the occupations they hold.

---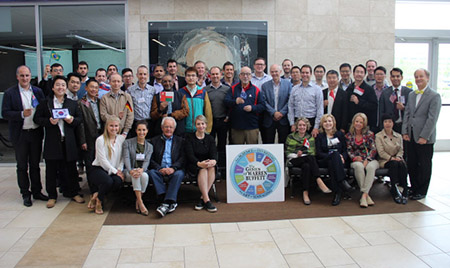 UNO's College of Business Administration (UNO CBA)
UNO's CBA is the only university in the world that offers a seminar dedicated to the in-depth and comprehensive study of the Oracle of Omaha. The course explores far beyond his investment methods and examining his management philosophies, corporate governance, mistakes, and philanthropy.
---
Investment Challenge Contest
Executive MBA candidates will team up to present a two-minute investment idea that meets all of Berkshire's Acquisition Criteria, and other participants will challenge the presenting individual or team on their thesis.
A panel of independent judges will determine the winner and award a $1,000 merit scholarship or University of Nebraska Foundation honorary donation.  
Contest participation is required for all Executive MBAs but is optional for Lifelong Learners.
---
Benefits and Goals of the Course
Better understand the unique characteristics of a business genius
Realize the important difference between the price of a stock and the value of the business
Become a more informed investor and allocator of capital
Be a better manager of people by developing the right corporate culture
Sharpen your communication skills both orally and in writing
Explore mistakes made by Warren Buffett and learn how to avoid the same ones
Uncover a business or stock that would fit into the Berkshire family of businesses