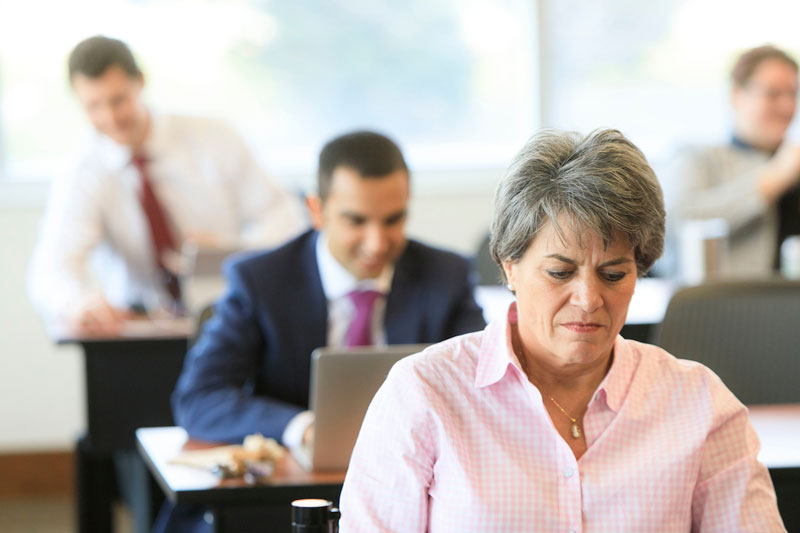 Unique Content
A two-part group capstone project provides a means to integrate new knowledge and apply it to real-world business concerns. All participants work on a comprehensive international business consulting project which serves as a thesis equivalent. Through it, classroom learning is applied firsthand to advancing the business interests of a sponsoring corporation, a State of Nebraska economic development target, or in furthering the goals of a grand marketing organization. As part of the project, all students will conduct field research overseas for 10 to 14 days, normally during June of the program's second year. Overseas travel and research costs are included in the program's tuition and fees.
Strategic Focus
The University of Nebraska at Omaha's Executive MBA program aims to provide the intellectual and applicable tools you'll need to manage a broad array of business functions in an integrated manner that advances your organization's best interests. Reflecting the dynamic and challenging nature of today's business environment, four unifying concepts have been incorporated into much of the Executive MBA course work: the impact of analysis, strategy, leadership and global commerce on business management and decision-making.
Tailored Curriculum
Our Executive MBA provides the foundational knowledge and skills you will need to perform and compete at the senior management and leadership levels of your organization. To be successful in today's hyper-competitive business environment, you must distinguish yourself by your performance and potential.
Noteworthy performance requires exceptional managements skills, a firm grasp of current and emerging business strategies and a broad perspective and understanding of the global business landscape - core learning objectives of the Executive MBA. Combined with demonstrated performance, your perceived potential unlocks doors to opportunity and advancement. 
Potential is enhanced by preparation and sustained by focused, life-long learning. The Executive MBA can be a major component of that paradigm, providing crucial preparation for future responsibilities and a clear demonstration of your potential and commitment to professional growth. The Executive MBA program includes three, 2.0-credit hour elective courses that allow focus on the subject matter you determine will help advance your professional interests and development. 

We offer a proven, effective supplement to your business and management experience; one that values your years of professional experience, recognizes the multiple demands on your time, and tailors its curriculum to address the issues that will affect you and your business interest now and in the future.
Relevant, Responsive Program
In dialog with our participants, the business community and college faculty, we identified opportunities to make our program even more responsive to the needs of future business leaders. Scheduling, instructional format and content enhancements have been revamped to ensure the University of Nebraska Executive MBA program offers aspiring business leaders and senior managers what they need to move forward with their careers. At the same time, we have been careful to preserve the business knowledge foundations and academic rigor that characterize quality graduate education.
Our Campus. Otherwise Known as Omaha.
The University of Nebraska does not discriminate based on race, color, ethnicity, national origin, sex, pregnancy, sexual orientation, gender identity, religion, disability, age, genetic information, veteran status, marital status, and/or political affiliation in its programs, activities, or employment. Learn more about Equity, Access and Diversity.
scroll to top of page