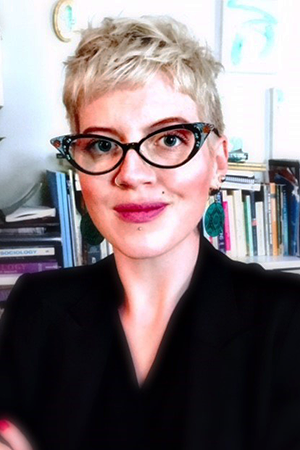 area of focus:
Gender and Sexuality, Feminist Theory, Qualitative Research Methods, Critical Pedagogy
Additional Information
Profile
Jenny Heineman is an Instructor at the University of Nebraska at Omaha and uses she/her pronouns. She joined UNO as full-time faculty in 2016 after receiving her PhD in Sociology from the University of Las Vegas, Nevada. Her academic and activist work focuses on labor rights, gender, sexuality, and feminist theory more generally. In 2014, she was awarded a $15,000 grant to study students engaged in sex work, which was the topic of her dissertation. In Nevada, she was the director of the Sex Worker's Outreach Project, a labor rights non-profit and sat on the board of the national organization of the same name. Additionally, she worked with the Nevada Public Health Alliance for Syringe Access, Amnesty International, the U.S. Department of Justice, National Geographic, and the Discovery Channel on issues related to sex work, sex trafficking, drug use, and homelessness. She currently chairs the Conflict, Social Action, and Change Division of the Society for the Study of Social Problems.
As a researcher and educator, her philosophies come from critical pedagogy and community-based research. She hopes to expand on her research interests in Nebraska by working with grass-roots labor organizations focused on the needs of sex workers.