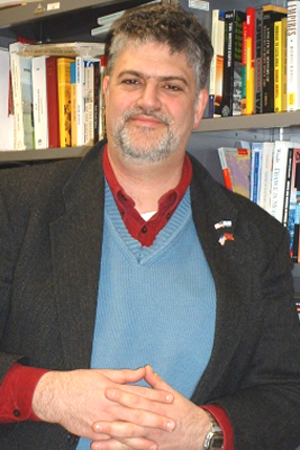 Moshe Gershovich, PhD (In Memoriam, 1959-2017)
Professor
Director, Natan & Hannah Schwalb Center for Israel & Jewish Studies
Israel & Palestine, Modern Middle East, Moroccan Politics
---
Additional Information
Education
Ph.D., Harvard University
B.A., Tel Aviv University
Background
A native of Israel, Dr. Gershovich earned a BA from Tel Aviv University (1982), and a PhD from Harvard (1995). He has published French Military Rule over Morocco: Colonialism and its Consequences, as well as numerous scholarly articles in journals such as Middle Eastern Studies, Journal of Military History, Maghreb Review, and Journal of North African Studies. Currently he is writing a manuscript entitled "Serving the Tricolor: Oral History of Moroccan Soldiers in French Uniforms." It's based on field research he conducted in Morocco between 1998-2000.
His teaching career started at MIT where he served as visiting lecturer between 1995-1998. Then he taught two and a half years at Al-Akhawayn University in Ifrane, Morocco. In the Spring of 2001, he started teaching at UNO.
Beyond his teaching, research and administrative responsibilities at the Schwalb Center and the Middle East Project Fund, since 2010 Dr. Gershovich has been serving as Study Leader for the Smithsonian Journeys trips to Morocco.
Frequently Taught Courses
Modern Middle East (HIST 2190)
Israel and Palestine (HIST 4730/8736)
U.S. and the Middle East (HIST 4800/8806)
Middle East Historiography Graduate Seminar (HIST 9200)
World Civilizations II (HIST 1010)