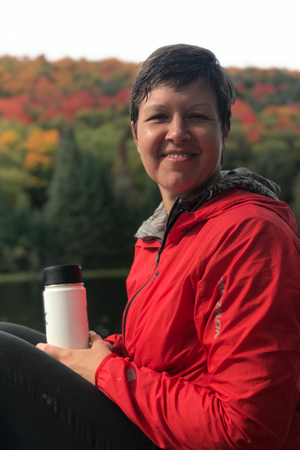 Dr. Sarah E. Nelson
Assistant Professor
Affiliate of Medical Humanities, Native American Studies
---
email:
office:
office phone:
personal website:
Additional Information
General
I am open to supervising students interested in pursuing a Master's degree in Geography; please contact me for more information.
Education
B.Sc. (Human Biology), University of Toronto
M.A. (First Nations Studies), University of Northern British Columbia
Ph.D. (Geography), University of Toronto
Research Interests
Oral ways of knowing and aging in Indigenous communities
Health services and older community members
Cultural safety in health care
Courses Taught
Health and Medical Geography
Human Geography
Medical Humanities
Publications
Nelson, S. & Rosenberg, M.W. (In press). Age-Friendly Cities and Older Indigenous People: An Exploratory Study in Prince George, Canada. The Canadian Journal on Aging, 41(2).
Commanda, C., McDermott, L., & Nelson, S. (In press). Ginawaydaganac: Algonquin teachings of the birch bark canoe: The canoe in Indigenous community revitalization and reconciliation. In B. Erickson and S. Krotz (eds.), The Politics of the Canoe: Activism and Resistance. University of Manitoba Press.
Hartt, M.D., Biglieri, S., Rosenberg, M.W. & Nelson, S.E. (Eds.) (2021). Aging People, Aging Places. Bristol, UK: Policy Press.
Nelson, S. & Wilson, K. (2021). Rights and Health versus Rights to Health: Bringing Indigenous Peoples' Legal Rights into the Spaces of Health Care Services. Political Geography, 85. https://doi.org/10.1016/j.polgeo.2020.102311
Nelson, S. & Wilson, K. (2021). Indigenous health organizations, Indigenous community resurgence, and the reclamation of place in urban areas. Special issue on Indigenous Peoples & Environment, The Canadian Geographer/Le Géographe Canadien. https://doi-org.proxy.queensu.ca/10.1111/cag.12618