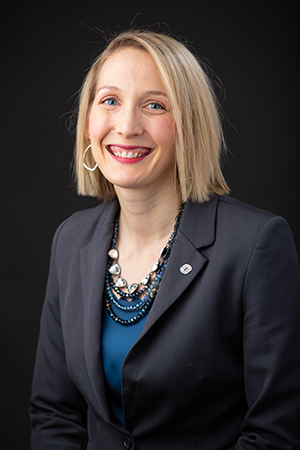 Rachel Tomcak
Assistant Dean for Student Success; Director of Advising
---
email:
office:
office phone:
Additional Information
---
Education
M.S. Academic Advising (Educational Administration emphasis) – Kansas State University

B.S.Ed. Community Health Education – University of Nebraska at Omaha
Areas of Advising
As an administrator, I am responsible for the oversight of the Arts and Sciences Advising Center and collaborate with the Dean, my office staff and all Arts and Sciences programs to assist with advising-related topics and concerns, including the hiring, training and development of advisors in the college.

As an administrator who also advises, I definitely specialize in and enjoy the more complicated matters, such as students wanting multiple majors, minors or degrees with possible program overlap questions, or students with atypical situations who need the help of an administrator. I work with any Arts and Sciences student who is nearing or who has applied for graduation, students doing the 3+1 program with Political Science and/or International Studies, and help first-year Arts and Sciences students of any major during summer orientation advising.
Favorite Thing About Advising Students
I enjoy building relationships with students and learning about ways we in Arts and Sciences can assist them with their personal and academic goals. I love it when students have an idea of what they like and need me to help them fill in the missing pieces, as putting puzzles together is pretty much my pie in the sky!
Hobbies
Well, I am married with two kids (a boy and a girl) so spending time with them is tops in my book. They will tell you that I'm definitely a health enthusiast. I enjoy activities that are good for me physically, socially, and mentally, and try to engage in each of those daily, getting up before anyone else in the house so I can get my day off to a good start! I like running, PiYo, weightlifting, HIIT exercises, and joined a soccer team last year for a fun challenge. I like reading all sorts of books, but tend to go between literary fiction, nonfiction, and mystery/thrillers. Whether it's my physical or mental activities, I need and like a lot of variety!