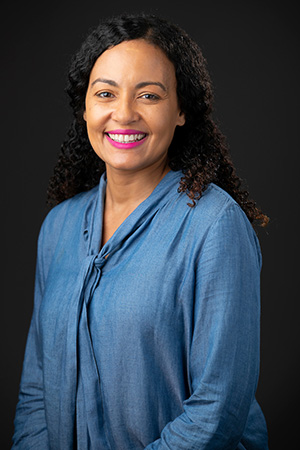 Jeannine Nyangira
Advisor/Internship Coordinator
402.554.5968
---
Additional Information
Education
M.A. English - University of Nebraska at Lincoln
B.A. Christian Education - Wheaton College
Areas of Advising
Advises current and prospective Arts and Sciences students.
Communicates internship opportunities to students.
Works with faculty to identify internship opportunities
Works with the community to build relationships between organizations and students for pathways to internships/volunteer opportunities.
Represents the college in various presentations
Favorite Things About Advising Students
I love connecting people with the information they need!
Sometimes students don't know about all of the great resources UNO has. I love it when a student gets excited about a resource that may end up changing their life.
Hobbies
I was born in Kenya, raised in Nebraska, and then lived in other states for 25 years. I returned to Nebraska in 2019, since I missed my family. I love hanging out with them, especially my nieces and nephews. I'm also the aunt of many crazy Nebraska dogs!
After living for many years outside Nebraska in places without Runza, Amigos, and Valentino's, I'm making up for lost time and visiting those places A LOT.
I love working out - especially yoga. And I'm an unashamed Trekkie, so if I'm watching TV, it's very likely Star Trek. Although when football Saturdays roll around, you can find me screaming for the Huskers!