Clay Stevens, Research Software Engineer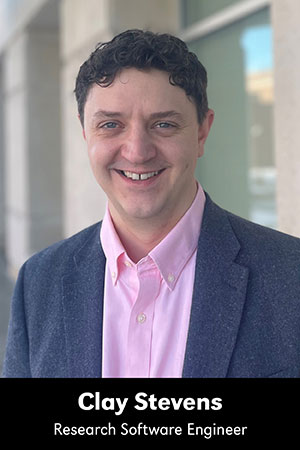 I am the lead software engineer and technology team manager for the Rural Transit project. I work with transit agencies across the state to maintain and expand the web portal they use to report and receive funding to help make transit options affordable and available for all Nebraskans.

Education and Credentials

PhD (in progress), Computer Science, University of Nebraska-Lincoln (expected 2022/2023)

M.Sc, Computer Science, Trinity College Dublin (2010)

BA, Philosophy, University of Nebraska-Lincoln (2006)

BS, Cognitive Science, University of Nebraska-Lincoln (2006)
Publications
J. Soundy, C. Wang, C. Stevens, and H. Chan, "Game-theoretic analysis of effort allocation of contributors to public projects," 30th International Joint Conference on Artificial Intelligence (IJCAI-21), Virtual Event, 2021.
C. Stevens, J. Soundy, and H. Chan, "Exploring the efficiency of self-organizing software teams with game theory," 43rd IEEE/ACM Int. Conf. on Software Engineering, New Ideas and Emerging Results (ICSE-NIER '21), Virtual Event, 2021.
M. Alhanahnah*, C. Stevens*, and H. Bagheri, "Scalable analysis of interaction threats in IoT systems," 29th ACM SIGSOFT Int. Symposium on Software Testing and Analysis (ISSTA '20), Virtual Event, 2020. (*Joint first authors)
C. Stevens and H. Bagheri, "Reducing run-time adaptation space via analysis of possible utility bounds," 42nd IEEE/ACM Int. Conf. on Software Engineering (ICSE '20), Seoul, Republic of Korea, 2020, pp. 1522-1534.
J. Keeney, C. Stevens and D. O'Sullivan, "Extending a knowledge-based network to support temporal event reasoning," 2010 IEEE Network Operations and Management Symposium (NOMS 2010), Osaka, Japan, 2010, pp. 631-638.
C. Stevens, C. Lyons, R. Hendrych, R. S. Carbajo, M. Huggard and C. McGoldrick, "Simulating mobility in WSNs: Bridging the gap between ns-2 and TOSSIM 2.x," 2009 13th IEEE/ACM Int. Symposium on Distributed Simulation and Real Time Applications (DS-RT), Singapore, 2009, pp. 247-250.
What are your research interests?
My research revolves around improving the process of designing and developing high-quality software by providing better analysis tools and by better understanding how software teams work, in both the private and public sector. Many of the best practices in software engineering are driven by corporate trends or require expensive development software, and I would like to make the discipline more scientific and more widely accessible.
How do you stay on top of the latest trends in your field?
Luckily, there's a wealth of material published online about the trends in software engineering, although some of the various blogs aren't particularly informative. I tend to follow a few websites from leaders in the software engineering field, as well as reading academic papers published in the top software engineering conferences and journals.
Why Omaha?
I am a life-long Nebraskan (minus a few years here and there), so Omaha provides everything I could want! It's close to family, has lots of job opportunities and great schools for the kids, and is a vibrant and safe city. It's a community and a state I love, and I'm happy to give back through my work with CPAR.
Favorite holiday?
St. Paddy's Day! I lived in Dublin for a year, so I love the annual chance to relive my time abroad.