To coincide with Nebraska's new Support the Arts license plates and to unite dancers and creative communities across the state despite the isolation being felt due to COVID-19, UNO's The Moving Company created a virtual showcase performance: Connecting Creative Communities Across Nebraska.
---
What is Connecting Creative Communities Across Nebraska?
With the help of dancers across the state of Nebraska, the Virtual Showcase incorporates many unique performances into one unified video production, and we have received video submissions from dancers across the state. Dancers have performed their interpretations in an arts or cultural location specific to their area of Nebraska, connecting various creative districts throughout the state.
To design a unified yet creative performance, the directors of The Moving Company have created a collection of shapes to incorporate into the dancers' interpretations using the theme: Connecting Creative Communities Across Nebraska.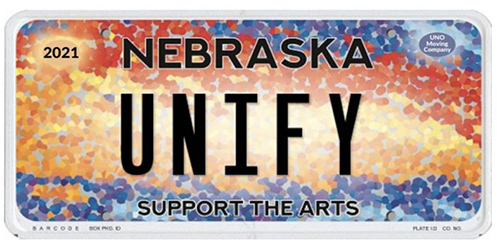 ---
More video submissions:
Winnebago, Nebraska
Winnebago Schools
Lincoln, Nebraska
Lincoln Irish Dancers
University of Nebraska-Lincoln/Hye-Won
CK Dance Academy
Omaha, Nebraska
Chrysalis Studio of Dance
Omaha Academy of Ballet
Pear Tree Performing Arts
Lindy Hop at the Hot Shops
La Fuerza: Omaha South High School
Adair Academy
Omaha International Folk Dancers
African Culture Connection
Kearney, Nebraska
Encore Performing Arts
University of Nebraska - Kearney
Papillion, Nebraska
Kidz in Motion
Grand Island, Nebraska
Heartland School of Dance
The Dance Company
Elkhorn, Nebraska
The Basement Dance Studio
Gretna, Nebraska
Dance by Design
Broken Bow, Nebraska
Elite Dance Conservatory
Hastings, Nebraska
YMCA School of Dance
T'Dance Studio
Plattsmouth, Nebraska
Studio M Dance Company
Chadron, Nebraska
Consuming Fire Dance Studio
Fremont, Nebraska
Julie's Creative Movement
Wayne, Nebraska
Wayne Dance Company
Crete, Nebraska
Crete Dance Academy
Auburn, Nebraska
Auburn Dance Academy
McCook, Nebraska
FOr Dancers Only
---
Questions? Contact Danielle Laurion at dlaurion@unomaha.edu or 402-517-0698.