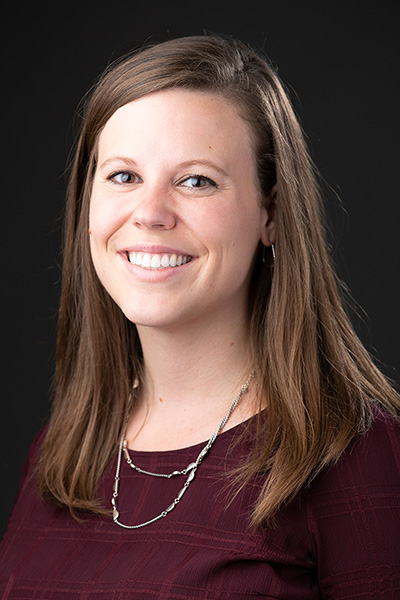 Dr. Michaela Schenkelberg
School of Health and Kinesiology
---
email:
office:
HK  207U
office phone:
note:
This profile is pulling in data from Digital Measures. Postings on personal websites or social media do not indicate that the individual is speaking on behalf of UNO.
General Information
---
Education
BS, University of Nebraska at Omaha, Omaha, NE, Exercise Science, 2011
MPH, Kansas State University, Manhattan, KS, Physical Activity, 2013
Ph D, University of South Carolina, Columbia, SC, Exercise Science, Health Aspects of Physical Activity, 2019
Scholarship/Research/Creative Activity
---
Selected Publications
Schenkelberg, Michaela, Rosenkranz, R, Milliken, G, Dzewaltowski, D. 2015. Social Environmental Influences on Physical Activity of Children With Autism Spectrum Disorders., Journal of physical activity & health, 12, 5, 636-41.
Saunders, R, Schenkelberg, Michaela, Moyer, C, Howie, E, Brown, W, Pate, R. 2019. The translation of an evidence-based preschool physical activity intervention from in-person to online delivery of professional development to preschool teachers., Translational behavioral medicine.
Pate, R, McIver, K, Dowda, M, Schenkelberg, Michaela, Beets, M, Distefano, C. 2018. EASY-An Instrument for Surveillance of Physical Activity in Youth., Medicine and science in sports and exercise, 50, 6, 1216-1223.