Louis Blumkin was a philanthropic leader and U.S. Army veteran who always put others first.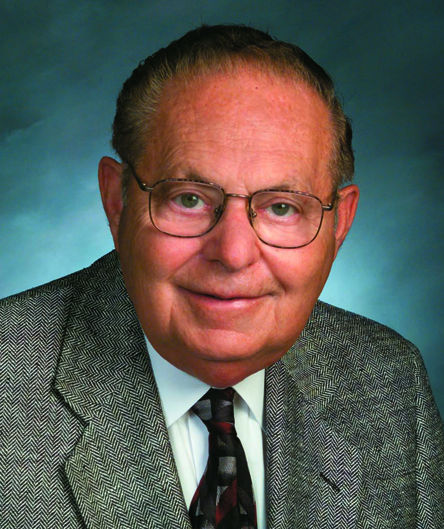 Louis Blumkin, a decorated World War II veteran, philanthropist and retail visionary, was born in June 1919, the only son of the late Rose Blumkin, founder of the Nebraska Furniture Mart, and her late husband, Isadore. Louis Blumkin's life was dedicated to the wellbeing of his community, which he served until shortly before he passed away in 2013 at the age of ninety-three.
According to his friend Sam Fried, Blumkin epitomized the word "mensch" and was a true "man of valor." In 1945, Louie witnessed firsthand the atrocities of Hitler's Third Reich as he helped liberate the prisoners at Dachau. He was among the thousands of American and Allied forces who liberated prisoners from Nazi slave labor and concentration camps across Europe in 1945. The arrival of Allied servicemen like Blumkin was the symbol of hope for which survivors in the camps had been waiting.
During the war, Blumkin landed on Omaha beach with the Third Armored Division under General George S. Patton. His battalion was later sent to relieve troops at the Battle of the Bulge. For his service in the U.S. Army, Blumkin received a Purple Heart, European Theater Medal, Good Conduct Medal and four Bronze Stars. After the war ended, he aided displaced persons in reaching Italy. Later, Blumkin and his mother provided employment at the Nebraska Furniture Mart to a number of Holocaust survivors who settled in Omaha.
Blumkin received an honorary doctorate from Creighton University, helped fund Holocaust and Genocide Studies at UNO, as well as Parkinson's disease research at the UNMC. In 1984, the National Conference of Christians and Jews cited Blumkin for distinguished service in human relations. His charitable foundation supports the Rose Blumkin Jewish Home, the Henry Doorly Zoo, Mahoney State Park and the Ronald McDonald House, among other causes.
The establishment of the Sam and Frances Fried Holocaust and Genocide Academy, along with the Louis and Frances Blumkin Holocaust and Genocide Studies Professorship at UNO, is a permanent testament to his generosity and kindness.