College of Arts and Sciences
Rachel Goettsch 
Rachel Goettsch is pursuing a Bachelor of Science in English and environmental science with concentrations in language studies and geography & planning, a Bachelor of Arts in music with a concentration in entrepreneurial studies, and a certificate in Teaching English to Speakers of Other Languages (TESOL), all of which she is set to complete by May 2023.
Throughout her academic journey, Goettsch has embraced a variety of enriching opportunities, including studying abroad in Seoul, South Korea during the summer of 2022, serving as the president of the UNO Geography Club, and completing several internships, including a remote music management position based in Los Angeles.
These experiences have reinforced her passion for the fields of data analytics, music management, computer mapping, and international business. Goettsch is currently exploring a range of local and international career paths that will allow her to combine her diverse skill set and pursue her varied interests post-graduation.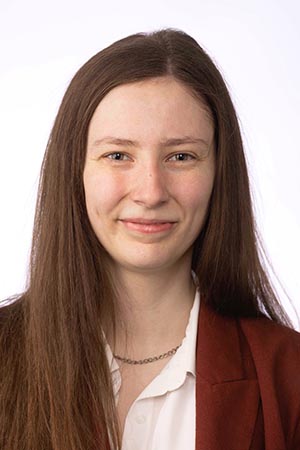 College of Business Administration
Morgan Dickey 
In May of 2023, Morgan Dickey will receive a bachelor's degree in Business Administration with a concentration in human resources management and secondary concentrations in finance and management & leadership.
Dickey has held leadership roles in multiple student organizations at UNO, including SLAM, HRA, and PC3.
She is a part of the CBA Scholars Academy and is the recipient of several awards, including UNO Student Employee of the Year (2021), Distinguished Student in Human Resources Management (2022), Outstanding Student in Human Resources Management (2023), and Outstanding Student in Management & Leadership (2023).
Upon graduation, Dickey will work as an Associate Talent Acquisition Advisor over the internship program at Valmont Industries.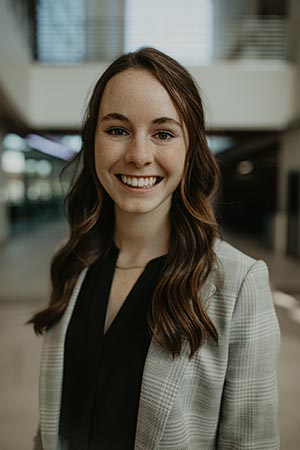 College of Education, Health, and Human Sciences
Vanessa Chavez Jurado 
Vanessa Chavez Jurado will graduate this May with a degree in elementary education and an endorsement in English as a second language and a minor in leadership and public policy.
She served as the Vice President of Student Government, President of the Teacher Education Diversity Organization, and co-founder of First Forward, a student organization dedicated to supporting first generation college students.
Chavez Jurado participated in internship programs in Washington D.C. over the summer and fall of 2022, including the Congressional Hispanic Caucus Institute congressional internship program. She hopes to gain experience in the classroom and later return to D.C. to work in education policy.
Chavez Jurado is grateful for the constant support and encouragement of her family, mentors, and the Goodrich Scholarship Program faculty and staff.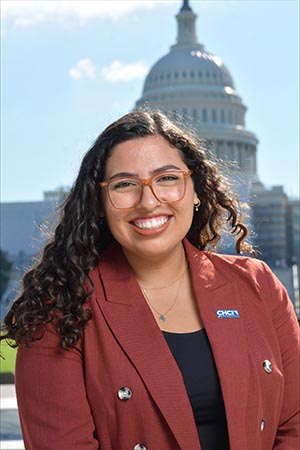 College of Communication, Fine Arts and Media
Christine Robino 
Christine Robino will graduate in May 2023 with a Bachelor of Music in music education. Ms. Robino has played the oboe as a devoted member of the Symphonic Wind Ensemble, Heartland Philharmonic Orchestra, and the woodwind quartet/trio.
In 2020, she began playing oboe in the 43rd Army Band where she continues to serve her community through music.
She credits any successes to her professors in the School of Music, the Goodrich Program, and the support of her family and friends.
Upon graduation, she will continue sharing her passion for music as a music teacher in the Omaha Public Schools.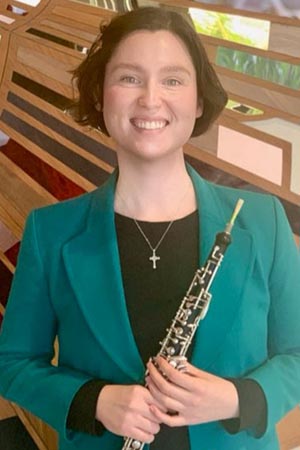 College of Information Science & Technology
Zander Gibney 
Zander Gibney (he/him) is receiving a Bachelor of Science degree in IT innovation with minors in theatre and screenwriting.
Zander is a recipient of the Walter Scott Jr. Scholarship and the University Honors Program Distinguished Scholarship. Zander gave campus tours, redesigned Nebraska Medicine's discharge instruction process for non-English-speaking patients, starred in the theatre department's productions of Macbeth, Into the Woods, and many other shows, (and even found time to take classes).
Zander is honored by the awards he is receiving at graduation. After graduation, Zander is continuing his education by pursuing a Master of Fine Arts degree in acting at the Royal Birmingham Conservatoire in Birmingham, England.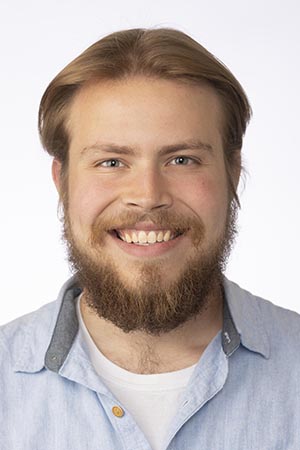 College of Public Affairs and Community Service
Erin Wendt 
Erin Wendt (she/her) graduated in December 2022 with a Bachelor of Science in emergency management with concentrations in natural disasters and planning & preparing for urban hazards.
She also received minors in geography and political science. During her time at UNO she worked a part-time job, completed an internship at the Nebraska Department of Natural Resources, and was an Event Coordinator for Maverick Productions, helping plan and facilitate large- and small-scale events such as the spring concert in 2022, social media giveaways, and Fall Festival.
As a first-generation college graduate, Wendt attributes her success to the support from her family.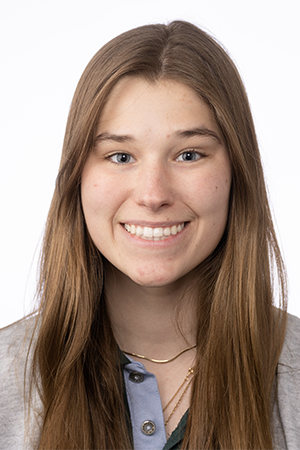 College of Public Affairs and Community Service - Division of Continuing Studies
Channon Butler 
Channon Butler is graduating with a bachelor's degeree in multidisciplinary studies with a minor in sociology. She plans to get a master's degree in social work.
She would like to thank her family and friends, especially her husband, for all their support. She has found it rewarding going back to school at her age.
She hopes in earning her degree, she will be equipped to help people.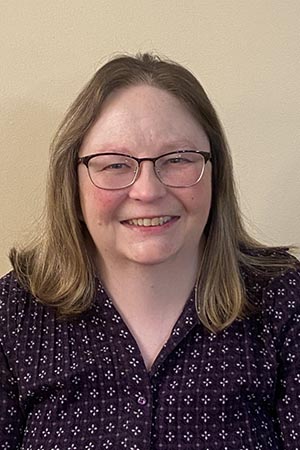 UNL - College of Engineering
Emery Gigantelli 
Emery Gigantelli, a native of Omaha, Nebraska, is set to earn a bachelor's degree in construction management with a minor in business administration in May 2023.
Emery actively participated in a number of distinguished organizations at UNO, including the Associated General Contractors of America, Sigma Lambda Chi (an international construction honor society), and Women in Engineering.
Through his involvement in these groups, Emery fostered valuable professional relationships and honed his leadership skills.
Post-graduation, Emery plans to remain in his hometown of Omaha, Nebraska and will continue his career as an assistant project manager at Miller Electric Company.