Grace Thede
Grace Thede is a four-year letter-winner for the Omaha women's soccer program. She's been an integral part of the Maverick defensive unit and logged over 4,257 minutes on the back line for Omaha. Thede has played in 55 career games, starting in 53 of them.
Over her tenure, the Mavericks have recorded 25 shutouts while she totaled one goal and three assists. Thede scored her first career goal against South Dakota in the spring of 2021 helping Omaha to a 1-0 win. The Omaha native earned her first Defensive Player of the Week accolade after the victory.
Grace is a four-time member of the Summit League Academic Honor Roll and Commissioner's List of Academic Excellence. She boasts a 4.0 GPA, which helped her earn Academic All-League and CoSIDA Academic All-District honors this season. A 2022 graduate, Grace majored in Medical Humanities with minors in Psychology and Women and Gender Studies.
Serving others comes naturally for Grace. She was committed to helping others both locally and globally during her time as a Maverick. She was key to Omaha Athletics Snow Day with the Mavs event where student athletes helped serve local elementary school kids, blessing them with gifts around the holiday season.
The Omaha defender also made her mark in the community by cleaning local parks to leading soccer camps for local youth. One of Grace's most impressive contributions came from her work with Football for the World. A nonprofit organization with a mission to increase access to soccer for kids from low-income communities, while empowering young females to play the sport. Grace's involvement in Football for the World stretched across the globe.
The desire to share her passion for soccer to young women not only opens opportunities for their futures, but plants seeds of empowerment and enrichment, paving the way for future generations.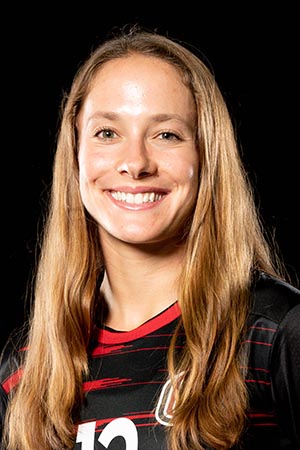 Nolan Sullivan
Nolan Sullivan is a four-year member of the Mavericks. He has been in a leadership position since his sophomore year, wearing the alternate captain A in his second and third seasons with the program before donning the captain's C this year. Nolan is a four-time member of the NCHC Academic all-conference team and was a NCHC distinguished scholar athlete all four of those years. Nolan is the embodies the Maverick mindset every day on and off the ice – earn respect, work hard, bring enthusiasm, take initiative, choose courage over comfort and TEAM FIRST.
On the ice, Sullivan has played in 131 career games in a Maverick sweater. He has registered 15 points so far this season which is just two away from tying his career high, set in the 2019-20 season. To date, Nolan has scored 20 goals and tallied 25 assists for 45 career points. He graduated in the fall of 2022 with a 3.82 GPA and a major in Business Administration. Sullivan has been tabbed as the Mavericks NCHC Sportsmanship Award nominee for 2022-23.
Off the ice, Nolan has been a SAAC member since freshman year and is also a MLK Elementary volunteer. Volunteering includes going in for visits monthly as well as attending field trips when possible, to be a positive male influence in the lives of many young boys living without father figures. Nolan has a great relationship with Isaac Barchus, Omaha Hockey's team plus-1. Isaac battles Candle Disease and you can regularly see him on the shoulders of Nolan after a team win singing the Omaha Fight Song in the lobby surrounded by fans.