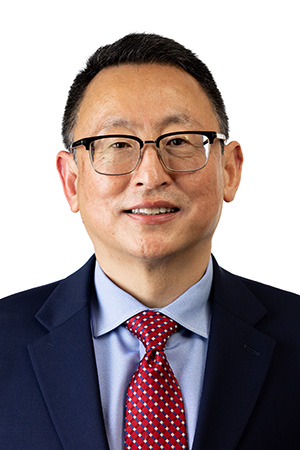 Ni (Phil) He, Ph.D.
Senior Vice Chancellor for Academic Affairs
---
Additional Information
About Ni (Phil) He
As senior vice chancellor, Professor He provides leadership for UNO's six colleges and library; guide academic initiatives within the university's strategic plan, including oversight of all scholarship and research activities, advances global initiatives; and support student success. This includes leading UNO's commitment to programmatic, pedagogical, and scholarship excellence across undergraduate, graduate, professional, and online programs.
Prior to this position, Professor He has served in a wide array of senior positions at Northeastern University, including Vice Provost of Faculty Diversity, Vice Provost for Faculty Affairs, Vice Provost for Graduate Education, Associate Vice Provost for Graduate Education, Associate Dean for School of Criminology and Criminal Justice.
He is a UNO alumnus, and is one of the first students in the university's history to earn a doctorate in criminology and criminal justice. Professor He brings more than a decade of academic leadership experience.
Some of He's accomplishments include the development of interdisciplinary degree programs; expanded opportunities for faculty to be recognized for their accomplishments and engage in administrative decision making; a commitment to experiential learning opportunities like Northeastern' s cooperative education (co-op) program; and a focus on global partnerships.
A professor of criminology and criminal justice, Professor He began his career at the University of Texas-San Antonio in 1998 before joining the faculty of Northeastern University in 2003. In addition to serving as Vice Provost, Professor He has also served as an associate dean for the School of Criminology and Criminal Justice and associate vice provost for graduate education, all at Northeastern.
In his time as a vice provost, Professor He began an initiative to double the percentage of tenure and tenure-track faculty from underrepresented groups; expanded the focus on supporting faculty excellence through nominations for external honors and awards; launched five new interdisciplinary doctoral degree programs, 33 new master's degree programs, and developed 72 new graduate certificate programs; and significantly increased national recognition for dozens of Northeastern academic programs through platforms like U.S. News and World Report.
Professor He is the author of three books on criminology and criminal justice as well as more than 30 peer-reviewed articles. Additionally, he has been a guest speaker at locations such as the U.S.-Asia Law Institute, Xiamen University in China, and Harvard University. Professor He earned his bachelor's degree from Xiamen University and a master's degree from Western Illinois University before earning his doctorate from UNO.