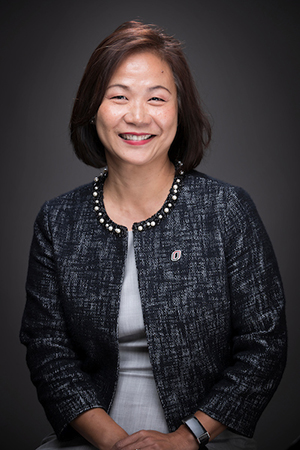 Joanne Li, Ph.D., CFA
Chancellor
University of Nebraska at Omaha
---
Additional Information
Background
Prior to assuming the role of UNO's chancellor, Dr. Li served as the dean of the Florida International University (FIU) College of Business from May 2017 to June 2021.
At the time of her candidacy to become UNO's chancellor, it was the largest business school in the state of Florida with 11,000 students and the largest producer of master's degrees in business in the nation, along with the No. 2-ranked International Business program in the nation and the No. 1-ranked real estate research program in the world.
Additional FIU College of Business achievements under Dr. Li's leadership includes improving the college's graduation rate from 29% to 70%, an average 20% year-over-year growth in its Chapman Graduate School, and a growth in reserves from $3 million when she became dean to $18 million at the time of her departure. An effective fundraiser, giving during her leadership totaled $12.5 million.
Prior to joining FIU, Li was dean and professor of finance at the Raj Soin College of Business at Wright State University, near Wright Patterson Air Force Base in Fairborn, Ohio. She also has served as chair of the Department of Finance at Towson University, and associate professor in the Sellinger School of Business at Loyola University of Maryland.
Education and Expertise
A first-generation student, Dr. Li earned her Ph.D. in finance with support discipline in econometrics and a Bachelor of Science (Summa Cum Laude) from Florida State University in Tallahassee, Florida.
She is a Chartered Financial Analyst (CFA), Association for Investment Management and Research/CFA INSTITUTE (since June 2001).
Her areas of expertise include corporate governance, executive compensation, investments, and international finance.
Engagement and Recognition
Dr. Li is a highly engaged leader and scholar who lends her experience and expertise to a wide array of causes and organizations, including:
Member, CNBC Financial Wellness Council
Immediate outgoing President, Council of Chinese American Deans and Presidents – 2018 to present
Influential Business Women of 2020, South Florida Business Journal
Member, European Foundation for Management Development (EFMD) Global Network Americas Advisory Board
Founding Member, Women in Business Education-A Global Community to Champion Women in Business Academia
Personal
Dr. Li is a native of Hong Kong. She is married to Frank Stalla, CFA, and has a daughter who is an undergraduate at the University of Virginia.