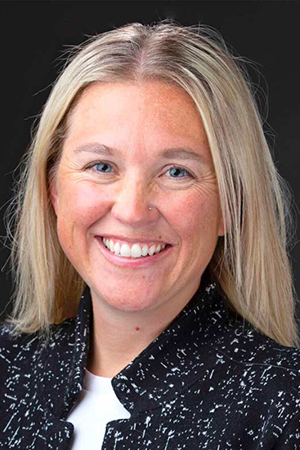 Jaci Lindburg, Ph.D.
Associate Vice Chancellor for Innovative and Learning-Centric Initiatives
---
Additional Information
About Jaci Lindburg
Jaci Lindburg. Ph.D. is Associate Vice Chancellor of Innovative and Learning-Centric Initiatives at UNO. This role – and the division serving under Lindburg's leadership – sits at the intersection of academics, technology, and workforce development, uniting the institution's educational mission, technological capabilities, and student support initiatives to develop and execute digital learning experiences designed to meet the needs of current and prospective students, faculty, and staff.

Prior to this role, Lindburg spent three years in service as Assistant Vice President for NU ITS at the University of Nebraska and Director of Digital Learning at UNO. Within NU ITS - a division serving the Kearney, Lincoln, and Omaha campuses - she serves as Chief Academic Technology Officer in addition to leading IT Strategy, which includes strategic planning, reporting, project management, digital accessibility and communications. As Director of Digital Learning at UNO, Lindburg leads a team of instructional designers, instructional technologists, online learning specialists, and classroom technology engineers to form a robust support environment for faculty who teach online and with technology.

Lindburg has worked in higher education for 15+ years and has a background in creating and coordinating undergraduate leadership programs and facilitating and developing online education initiatives at institutions including Saint Louis University, Washburn University, McKendree University, and now the University of Nebraska. She holds a B.A. from Hastings College, a M.Ed. from Doane University, and a Ph.D. from Saint Louis University. Her 2010 qualitative dissertation was entitled: The Role of Social Experiences in the Adjustment and Acclimation Process of Community College Transfer Students. 

Lindburg is a member of UNO's Women's and Gender Studies faculty in the College of Arts and Sciences, as well as an affiliate faculty member in UNO's Counseling Department in the College of Education, Health, and Human Sciences. Lindburg frequently teaches courses including Gender and Leadership, Student Development Theory, The Student in Higher Education, and Digital Learning Policies and Practices.

Lindburg has given more than 30 invited or selected presentations over the last decade, including delivering several national and international keynote addresses. In the fall of 2020, she received an external grant from the Women Investing in Nebraska philanthropic organization to lead NU system-wide efforts to advance the adoption, utilization, and transparency of Open Educational Resources (OER), and served as Principal Investigator of a research study looking at the longitudinal impact of OER at Nebraska. She has been honored with the 2017 "Lead From Where You Are Award" by the MOR IT leadership organization, as well as being chosen as the 2016 Outstanding Academic Affairs Professional, the 2015 Disability Scholar, the 2012 Annuit Coeptis Emerging Professional, the 2011 Outstanding New Professional, and the 2010 Disability Ally, all by the ACPA (College Student Educators, International) organization. 

A sixth-generation Nebraskan, Lindburg grew up in rural Scotts Bluff County, Nebraska, and graduated from Scottsbluff High School in 2001. In her free time, she loves to read, write, golf, and travel. Her favorite destinations include Prague, Boston, the Pacific Northwest, and Southern California. She loves to spend time with her family - her husband, Lane, and her two kids Palmer (10) and Luke (8), and regularly volunteers her time within the Westside School District in Omaha.