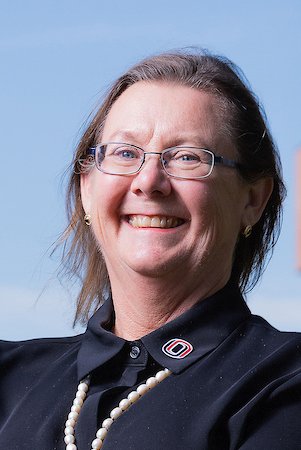 Deborah Smith-Howell, Ph.D.
Senior Advisor to the Chancellor
---
Additional Information
About Deborah Smith-Howell
Deborah Smith-Howell is Senior Advisor to the Chancellor.  Smith-Howell served as Associate Vice Chancellor for Academic Affairs & Dean for Graduate Studies at the University of  Nebraska at Omaha (UNO) from 2007-2021. She joined Academic Affairs as Assistant Vice Chancellor in 2004 and has also served as Interim Chief of Staff (June 2021-December 2021) and Interim Sr. Vice Chancellor for Academic Affairs (June 2022-December 2022).
Smith-Howell is a Professor of Communication. She joined the university in 1989 as a faculty member in the then Department of Communication where she coordinated the university's basic public speaking course. From 1996 to 2004, she was department chair and the founding director of the School of Communication. 
As Senior Advisor to the Chancellor, she assists with strategic planning, facilities planning, and leadership development as well as special projects. As Dean for Graduate Studies she had administrative oversight of UNO's Office of Graduate Studies which includes the academic governance as well as student support for UNO's 3000 plus graduates students enrolled in master's and doctoral programs. 
As Associate Vice Chancellor and senior advisor to the Sr. Vice Chancellor, she was responsible for community engagement, including UNO's Service Learning Academy, academic program development and review, academic strategic planning, and facilities planning.   
Her previous responsibilities in Academic Affairs have included oversight of UNO's academic learning communities including the University Honors Program and Thompson Learning Community, general education/dual enrollment, curriculum development and review, the Center for Faculty Excellence, academic program assessment, and university honors and awards.   
She received the then Chancellor's Commission on the Status of Women Outstanding Achievement Award in 2004 and the UNO Chancellor's Medal in 2009.    
She received her Ph.D. from the University of Texas at Austin. Her areas of specialization and research are communication education, presidential rhetorical, media coverage of the presidency, civic participation, and community engagement in higher education.
She has published in the Journal of Communication, Political Communication, Communication Education, and Metropolitan Universities Journal.  She is the co-author (with Roderick P. Hart, Sharon Jarvis, and William P. Jennings) of Political Keywords:  Using Language that Uses Us, Oxford University Press, 2004.