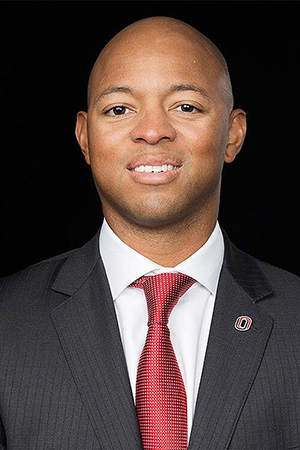 Adrian Dowell
Vice Chancellor, Athletics
---
Additional Information
About Adrian Dowell
Adrian Dowell was named the Vice Chancellor / Director of Athletics by UNO Chancellor Joanne Li, Ph.D., CFA on Nov. 15 and officially began his duties with Omaha on Dec. 1, 2021.

Prior to Omaha, Dowell served as the Assistant Vice President/Associate Athletic Director after originally joining the Creighton University staff in 2014 as the Assistant Athletic Director and Senior Director for Development. In that role, Dowell most notably guided the department's external affairs and oversaw the Athletic Development Office including all fundraising efforts for the athletic department consisting of Jaybacker annual giving, endowment, capital, and planned giving programs.

Prior to his stint at Creighton, Dowell worked at West Virginia University on the Mountaineer Athletic Club staff—the fundraising organization for WVU Athletics. He worked at WVU for over five years and served his last three as a Major Gifts Officer / Director of Development.
Dowell also worked at the NCAA National Office in Indianapolis before beginning with WVU. He was a member of the Division I Men's Basketball staff which is responsible for the administration of the NCAA Basketball Tournament and the Final Four. Dowell earned a Bachelor of Science degree in health & human performance - sport management from Roanoke College where he was a student-athlete and captain of the men's basketball team. 

He also received a master's in business administration and a master's in sport administration from West Virginia University in 2011.

A native of Salem, Virginia, Dowell currently resides in Omaha with his wife Stephanie and their three children Lauren Grace, Paige, and Adrian III.