RECAP: A Conversation with the NYPD's Rebecca Weiner
On Nov. 1, NCITE hosted a discussion with Rebecca Ulam Weiner, deputy commissioner of intelligence and counterterrorism with the NYPD. Weiner spoke with NCITE's Seamus Hughes about the current threat environment and the NYPD's response to it.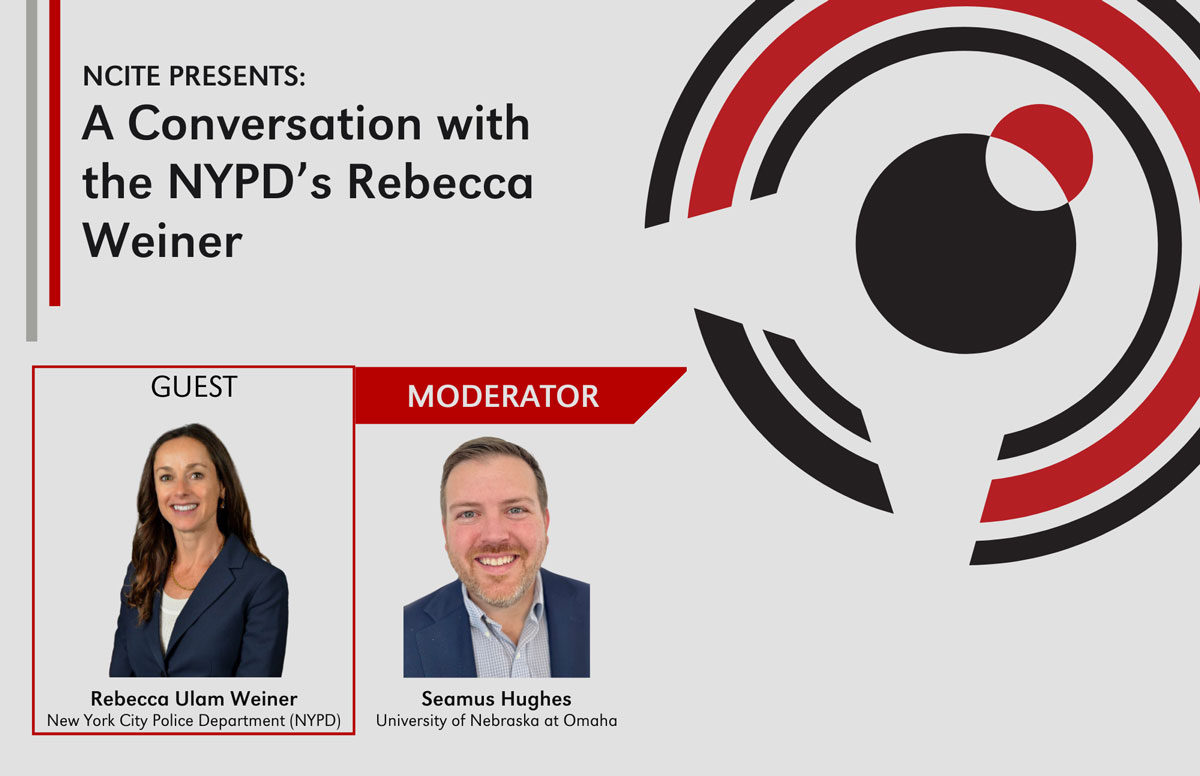 In her 17 years with the New York City Police Department, Rebecca Ulam Weiner has witnessed significant changes in the threat environment of the U.S.'s most populous city.

A largely external threat landscape has given way to a more homegrown one. Threats are driven by an increasingly diverse array of ideologies. Bad actors have access to technology that makes it easy to push extremist narratives.

And what's true in New York City, Weiner said, appears to be true for the whole country.

On Nov. 1, Weiner, deputy commissioner of intelligence and counterterrorism with the NYPD, covered these issues and more in a wide-ranging discussion with Seamus Hughes, NCITE senior research faculty and policy associate.
Among the highlights:
On the NYPD's position as local law enforcement in a broad and diverse threat environment
"The threats we're contending with really are borderless. Whether that is international terrorism or domestic violent extremism, the transnational element has been absolutely key to understanding the threat and to developing the partnerships necessary to deal with it."
On the impact of Hamas' attack on Israel on Oct. 7
"What's become interesting over the last four weeks is that all of those vectors – whether it's the lone actor, the Al-Qaida/ISIS-inspired, conspiracy theory-driven, anti-government extremist, or RMVE – all of them have been galvanized and energized by what happened on Oct. 7."
On the recent spike in antisemitism in the U.S. and abroad
"I think that the mainstreaming or normalization of antisemitic rhetoric – but not just antisemitic, Islamophobic, and hateful speech, not just online, but in popular culture – has been building over the last several years ... and that's obviously a real concern."
Watch a full recording of the discussion above and on our YouTube channel.
---
About Rebecca Weiner
Deputy Commissioner Rebecca Ulam Weiner oversees the New York City Police Department's Intelligence & Counterterrorism Bureau, managing investigative, analytical, operational, and engagement efforts across the domains of counterterrorism, counterintelligence, criminal intelligence, infrastructure and event protection, cyber threat intelligence, and geopolitical risk. She develops and implements policy and strategic priorities for the Intelligence & Counterterrorism Bureau and publicly represents the NYPD in matters involving counterterrorism and intelligence.
Prior to assuming command of the Intelligence & Counterterrorism Bureau, Deputy Commissioner Weiner oversaw the NYPD's counterterrorism operations and analysis section, developing an internationally-recognized intelligence and threat analysis program. She also served as the first representative of local law enforcement on the Office of the Director of National Intelligence's National Intelligence Council, where she focused on transnational crime and terrorism. Deputy Commissioner Weiner previously served as assistant commissioner for intelligence analysis, legal counsel to the Intelligence Bureau's Intelligence Analysis Unit, and team leader for the Middle East and North Africa, overseeing intelligence collection and analysis related to threats associated with those regions.
Prior to joining the NYPD in 2006, Deputy Commissioner Weiner was an international security fellow at the Harvard University John F. Kennedy School of Government's Belfer Center for Science and International Affairs; a biotechnology consultant at the Organization for Economic Cooperation and Development; and a science and technology research associate at the Council on Foreign Relations.
Deputy Commissioner Weiner graduated magna cum laude from Harvard College in 1999 with a Bachelor of Arts in History & Literature, and cum laude from Harvard Law School in 2005 with a juris doctorate. She is an adjunct assistant professor at Columbia's School for International and Public Affairs, a member of the Council on Foreign Relations, a board member of the Leadership in Counterterrorism Alumni Association, and she was admitted to the Bar of the State of New York in 2006.