'What happens when this gets in the hands of terrorists?' NCITE demonstrates metaverse tech in D.C.
In May, NCITE students and faculty traveled to Washington, D.C. to demonstrate the malevolent potential of virtual reality technology for intelligence professionals at the National Counterterrorism Center (NCTC).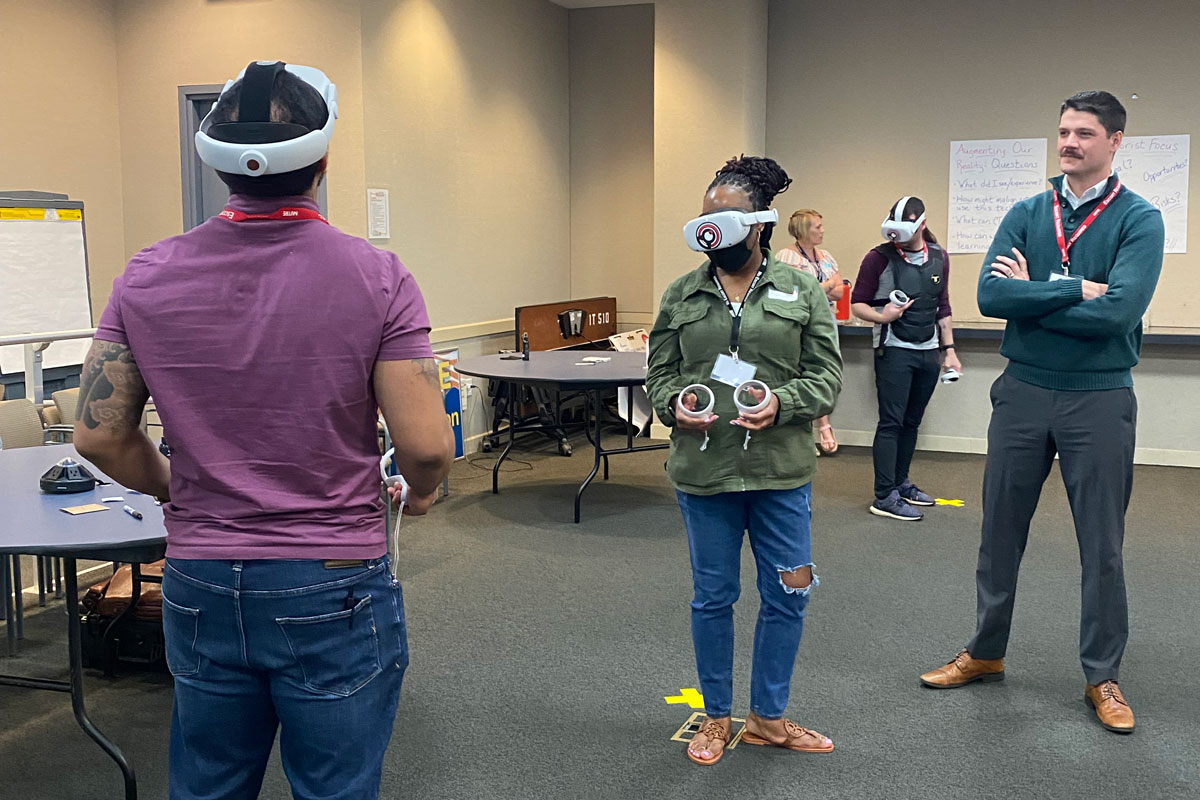 NCITE experts, including Austin Doctor, right, traveled to Washington, D.C. to demonstrate metaverse technology for the National Counterterrorism Center.
By Ben Battafarano
NCITE Student
If you ask certain tech entrepreneurs, they will tell you that virtual and augmented reality technology has the potential to revolutionize daily life.
The metaverse – a catch-all term for the AR/VR world – can enhance remote communication and expand access to immersive experiences. Imagine, the advocates say, how it could change a business meeting, therapy, or a day at school.
But researchers at the National Counterterrorism Innovation, Technology, and Education (NCITE) Center think about the metaverse – and its potential – a little differently.
In December 2021, NCITE researchers Sam Hunter, Joel Elson, and Austin Doctor were walking down the office hallway after a meeting, and Elson brought up the new VR and AR technology he had recently ordered. All three recall the conversation vividly.
"We sort of looked around, like, well, this is really exciting, but what happens when this gets in the hands of terrorists and violent extremists and those with malign intent?" said Doctor. "Joel, his eyes got big and wide, and (he) was like, 'Yeah ... we should talk about that.'"
That spark of an idea spawned a project that has become one of NCITE's marquee research endeavors, yielding peer-reviewed articles, media mentions, and, most recently, a high-profile demo tour in the nation's capital.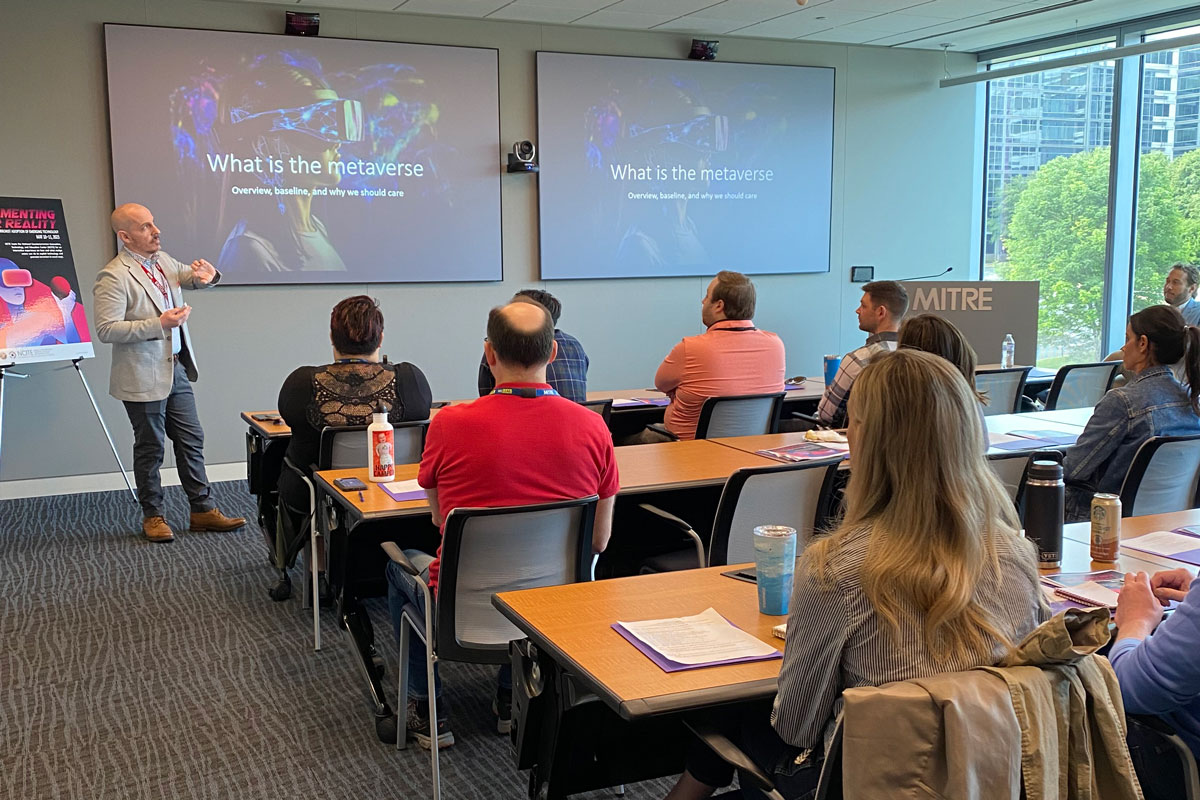 Embarking on the 'metaverse roadshow'
In May, Hunter, Doctor, and Elson traveled to Washington, D.C., to conduct a workshop on metaverse technology with 22 intelligence professionals from the National Counterterrorism Center (NCTC). The trip took place over two days, in which the trio and three students facilitated presentations and live demonstrations of AR/VR technology.
One of the students, Madison Scott, said it was thrilling to meet the professionals and hear about their careers.
"There were a couple of people, when I found out what their jobs are and who they are, I was just kind of, like, starstruck," she said.
The three lead researchers all contribute unique perspectives to NCITE's work. Hunter is an industrial and organizational (I-O) psychologist, Doctor a political scientist, and Elson an expert in information technology (IT). All three are on the senior leadership team at NCITE: Hunter as head of strategic operations, Elson as the head of information science and technology research initiatives, and Doctor as the head of counterterrorism research initiatives.
After the 2021 hallway conversation, the trio drafted a piece on their initial thoughts for the academic journalism site The Conversation. Feedback was swift. The trio was quickly asked to brief Congressional staffers in Washington, D.C. on the current and potential dangers of the metaverse.
In December 2022, during a similar briefing, they were invited to D.C. by the National Counterterrorism Center (NCTC) to demonstrate the technology to the center's intelligence professionals. The so-called "metaverse roadshow" was designed to give counterterrorism practitioners hands-on experience with the technology to better communicate its potential for malign use.
The tour also served as a professional development opportunity for the three accompanying NCITE students: I-O psychology master's student Madison Scott, I-O psychology Ph.D. student Alexis d'Amato, and IT Innovation freshman Jack Rygg.

The plausibility illusion
Scott's VR demonstrations involve two scenarios: one in which the user can practice using various weapons at a firing range, and another in which the user is being actively attacked in a cityscape. Both incorporate a haptic vest strapped tightly to the user's torso. When a user is "shot," the vest provides a vibrating pressure in the location where the bullet would have hit.
While the graphics aren't especially realistic, the combined visuals, sound effects, and haptic feedback are sufficiently immersive to make the situation feel real.
Scott described some unexpected reactions during an extra demonstration for officials over the lunch hour. At least one participant yelled in shock while confronting virtual "terrorists" in the second demo.
This reaction is a result of what is known in psychology as the plausibility illusion, when the sensory information a person receives is real enough that they experience the scenario as they would if it were actually happening.
Part of the training that terrorist groups like ISIS provide online involves physiological desensitization through graphic depictions of violence. With more immersive VR and AR technology, the impact of this training gains a new level of effectiveness.
"The physiological response that you have when you're immersed in a virtual setting doesn't leave you once you take it off," d'Amato said. "I like to explain it like a nightmare – when you wake up from having a nightmare, your heart is racing, and your stomach might have dropped ... then for the rest of the day you're kind of in a mood."
Some of the participants were former and current military personnel, and several lunged and dropped to the ground during Scott's demonstrations. In the firing range demo, the user is able to choose from a variety of weapons, including pistols, semi-automatic guns, and grenades.
"I had one person who quite literally threw the controller," Scott said. "They were like, 'Well, I've been taught that like, grenades are just, you gotta get rid of it.' And so they actually let go of it because they thought it was a grenade ... their brain had made that switch."
Rygg said the opportunity to travel to the nation's capital and see the National Mall was exciting, but he said facilitating the demos was the best part of the trip.
"That was a cool feeling, that I was an expert on this information, and they were listening to me and taking notes and being aware of what I was saying," he said.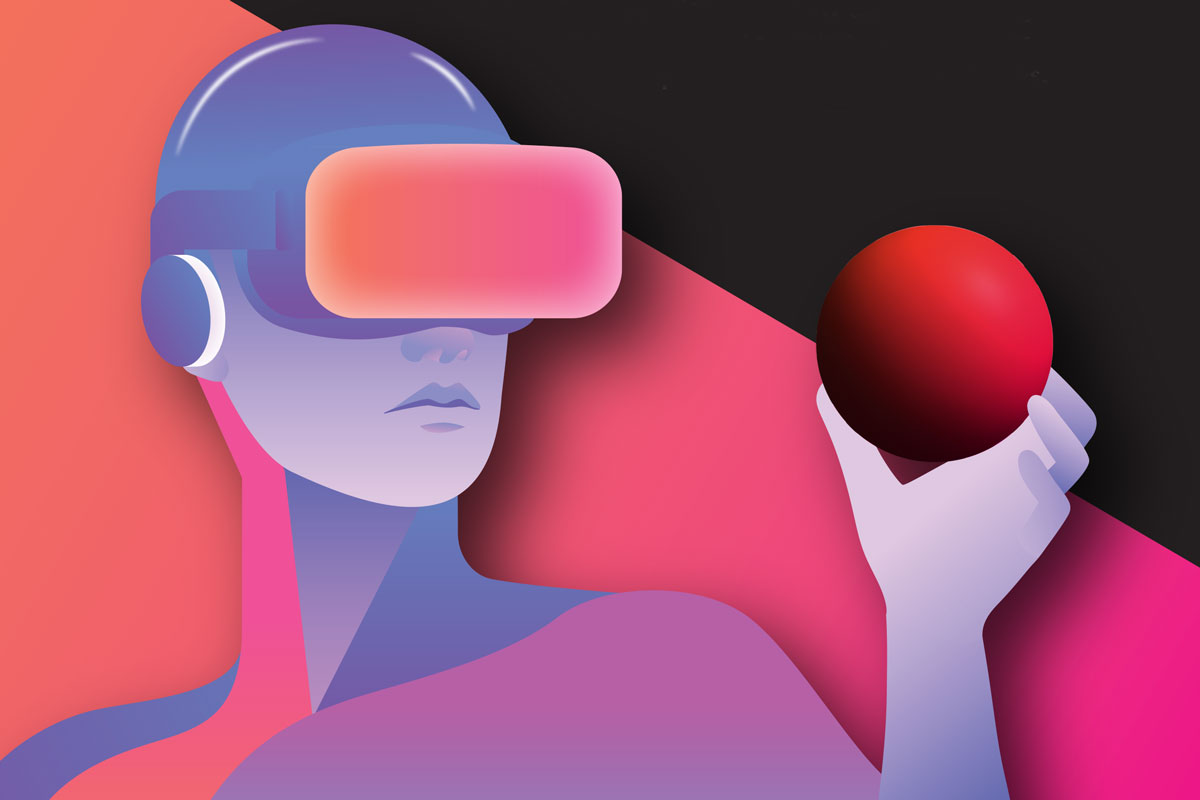 Anticipating the latest threats
NCITE's metaverse project, led by Hunter, is focused on exploring the potential threat landscape that may emerge as these technologies become integrated more seamlessly into our everyday lives. The most potent current threats the team is investigating involve the metaverse's potential for radicalization and recruitment from afar.
"International terrorists are already experimenting with the metaverse, which will only continue to shift the boundaries beyond the traditional terrorism landscape," said NCTC Director Christy Abizaid, who visited NCITE and demoed the metaverse tech in October 2022. "NCTC greatly values our collaboration with academia, including with institutions like NCITE, that provide a unique perspective enabling us to explore new ways to anticipate these emerging capabilities."
Scott said the project has helped shape her future plans.
"I loved working on this project," she said. "I'm thinking about going and getting an IT Innovation master's after this ... I'm very blessed for such a really cool team to be able to work with."
It's an experience Hunter was glad to share with his students. As a graduate student at the University of Oklahoma, Hunter spent a week in D.C. working and sharing research in a secure facility. He says the experience profoundly shaped his research interests and was ultimately an important steppingstone toward working at NCITE.
"And, so, to bring students as a faculty member, you know, 20 years later was a great recap ... to be able to give back like that," he said.
Elson says that the students' involvement in the project was crucial to its success.
"Having those individuals working together with students at every grade level – that's a unique win," he said.
VR and AR usage is still new, and the metaverse's doubters are many. But Hunter, Doctor, and Elson all emphasize the importance of maintaining vigilance about the threats of new technologies.
"We want to be so careful about not being Chicken Little," said Doctor. "But it exists and will likely have a growing role in social, political, and economic life. We believe that, conditioned on those things, there are plausible threats that are going to emerge from the metaverse that are not currently present in an unblended reality."
Doctor recalls the initial hallway conversation that started the metaverse project and points to NCITE's interdisciplinary expertise as the reason it is so well-positioned to dig into the issue.
"I don't know of any other research shop in the country that has intentionally structured itself around that model to provide the opportunity for that type of organic discovery and analysis," he said.
The roadshow, he said, "felt like we were doing what we are here at NCITE to do."