'Ideology matters': NCITE shares expertise at agriculture threats symposium
NCITE expert Michael Logan presented at a conference on threats facing the agriculture sector hosted by the FBI and Nebraska Farm Bureau. "We know that ideology matters," he said. "Ideology is an important motivation for target selection."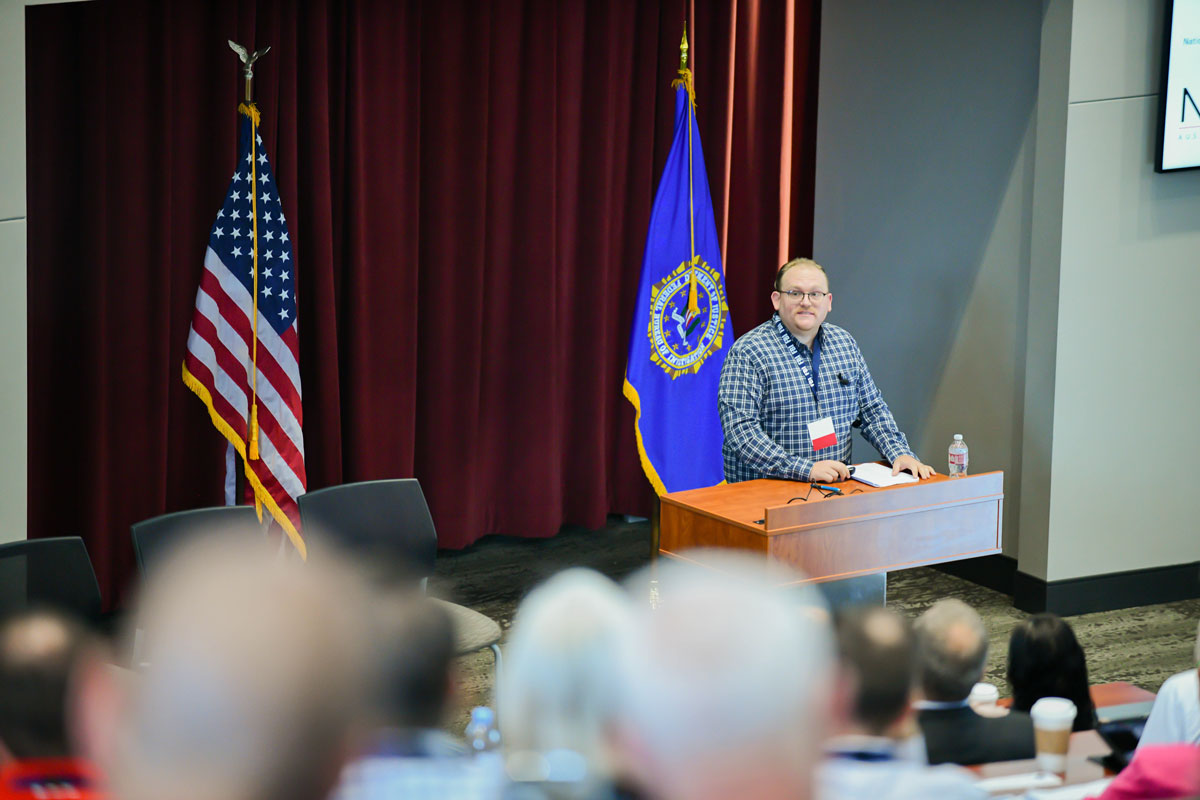 NCITE PI Michael Logan speaks to an audience at a recent symposium on threats to the agriculture sector. Photo courtesy FBI Omaha.
LINCOLN — The largest piece of critical infrastructure in the United States is underfoot.
And too little attention is being paid to the catastrophe that would occur, law enforcement and agriculture experts in Nebraska said recently, if a largescale attack or many sustained smaller ones were to occur within this important sector – agriculture.
"Nine meals from anarchy," Gene Kowel, the special agent in charge of the Federal Bureau of Investigation's Omaha field office told an audience of 400 attendees at a recent symposium on threats to agriculture. He was referring to a measure of how societies can devolve after serious interruptions in the food supply.
Nebraska Gov. Jim Pillen, whose hog operation is one of the largest in the U.S., told the audience, "We have not taken food security seriously."
Held in Nebraska, a top beef and corn producer for the U.S., and sponsored by the FBI and Nebraska Farm Bureau, the two-day event was designed to spotlight a sector of U.S. critical infrastructure that many say is overlooked.
Facing threats, foreign and domestic
But who would attack agriculture? And why? And how?
The White House in 2021 pointed to a Russia-based criminal network as the likely source of a cyberattack on the world's largest beef processor, Brazil-based JBS, which runs meatpacking operations in Nebraska. The attack cost $11 million, according to news reports. It threatened food supply chains and inflated food prices that had skyrocketed during COVID-19 shutdowns.
Experts at the agriculture symposium pointed to China as a potential actor given the country's recent hostile actions toward the U.S. and its financial interest in unseating the U.S. as the world's top food exporter.
Domestic ideological groups, too, pose a threat, NCITE researcher Michael Logan told the audience. During a 30-minute presentation on motivations for attacking agriculture, the assistant professor of criminal justice at Kennesaw State University discussed how ideologies, and the goals and capabilities associated with holders of those ideologies, are key factors in target selection.
Calling agriculture "a system of systems," given the highly complex nature of food production, Logan's research on terrorist targets gives some indication of where on the production chain potential attacks might occur. Attacks upstream or downstream in food production, from planting to consuming, can have widespread effects given how interconnected ag is.
The traditional definition of agroterrorism centers around the deliberate introduction of a disease agent into the food chain to undermine social stability and generate fear, Logan said. Observers, he said, should take a broader view of the ag threat environment, examining groups' beliefs, goals, and capabilities.
'Ideology matters'
"We know that ideology matters," Logan said. "Ideology is an important motivation for target selection. Operational goals matter. Specific capabilities to these actors matter."
Ideologies point to potential motives for attackers, and Logan outlined four main types of ideologically driven violent actors:
Racially/ethnically motivated violent extremists
Animal rights violent extremists
Environmental violent extremists
Anti-government/anti-authority violent extremists, to include anarchists and militia-violent extremists
Ideological extremists, he said, are generally driven by the following goals:
To punish for revenue, retaliation, or to weaken a perceived enemy's population.
To coerce into behavioral change by drawing attention to the ideological cause, showing an opponent's vulnerability, or provoking some kind of government backlash.
To boost status of the ideological group by acquiring physical resources, increasing recruitment, or increasing external support.
To diminish the enemy's capability by harming security forces, disrupting activity, etc.
Goals, capabilities, target types, and attack types vary by ideology, Logan said. Using federal descriptors for ideological groups, he explained racially/ethnically motivated and anti-government/anti-authority violent extremists tend to seek larger returns for attacks, chiefly accelerating societal collapse or causing chaos. Those attacks, Logan said, would be aimed earlier in the supply chain, in production and processing. And these groups, he said, would be highly capable, using explosives and sabotage of physical targets and cyber for technological ones.
Although there haven't been such ideological attacks on ag, Logan said growing concern over recent attacks on the power grid show an increasing appetite to hit critical infrastructure to spark chaos.
Earlier this year, a Florida man and Maryland woman were federally charged with plotting to attack substations to destroy the city of Baltimore. The Florida man had founded the neo-Nazi group Atomwaffen and previously had served a federal prison sentence for plotting to attack a nuclear plant in Florida.
"They want to create this large-scale panic and societal disruption," Logan said.
In contrast, animal rights/environmental groups tend to be more interested in direct action and are more likely to choose easier targets in distribution and consumer markets using tactics such as arson and hacking in smaller-scale attacks.
"Their capabilities are much slower," he said.
He cited an international animal rights group that took credit for shutting down a Michigan mink farm in 2022 by sabotaging vehicles.
"Animal rights/environmental (groups) are not worried about causing societal disruption," Logan said. "They're more worried about that direct action – causing direct and immediate harm to the enemy. They wanted to close this mink farm."
Hardening the ag sector
Logan cautioned the audience, which included law enforcement, to be aware of emerging trends, including an increasingly militant protest movement and a growing eco-fascist movement that blends elements of environmental militancy with racially/ethnically motivated ideology. Logan said more "target hardening" is needed for critical infrastructure – namely, ag.
"We can't stop ideologies," he said. "But what we can do is create more hardened targets. What can we do better to protect targets in the physical-cyber realm?"
The FBI, for one, is trying to prepare potential targets to detect and deter criminal activity.
"We are laser-focused on protecting the ag sector," Kowel said.
And ag producers are well-aware of vulnerabilities, said Mark McHargue, president of the Nebraska Farm Bureau.
"We have robots out in our fields working. We have drones that are scouting our fields and spraying our crops." he said. "All of that technology comes with the ability of bad actors to manipulate data."
Considering this system of systems with transportation, grocers, equipment manufacturers, and certainly consumers, he said, "trillions of dollars are at risk."
Nebraska's corn and soybean fields, its cattle ranches and hog farms, help feed the world. There might be no more critical sector than that.