NCITE announces upcoming move to Scott Technology Center
The move will allow NCITE's interdisciplinary mix of faculty, students, and staff — currently split between two other on-campus buildings — to work under one roof.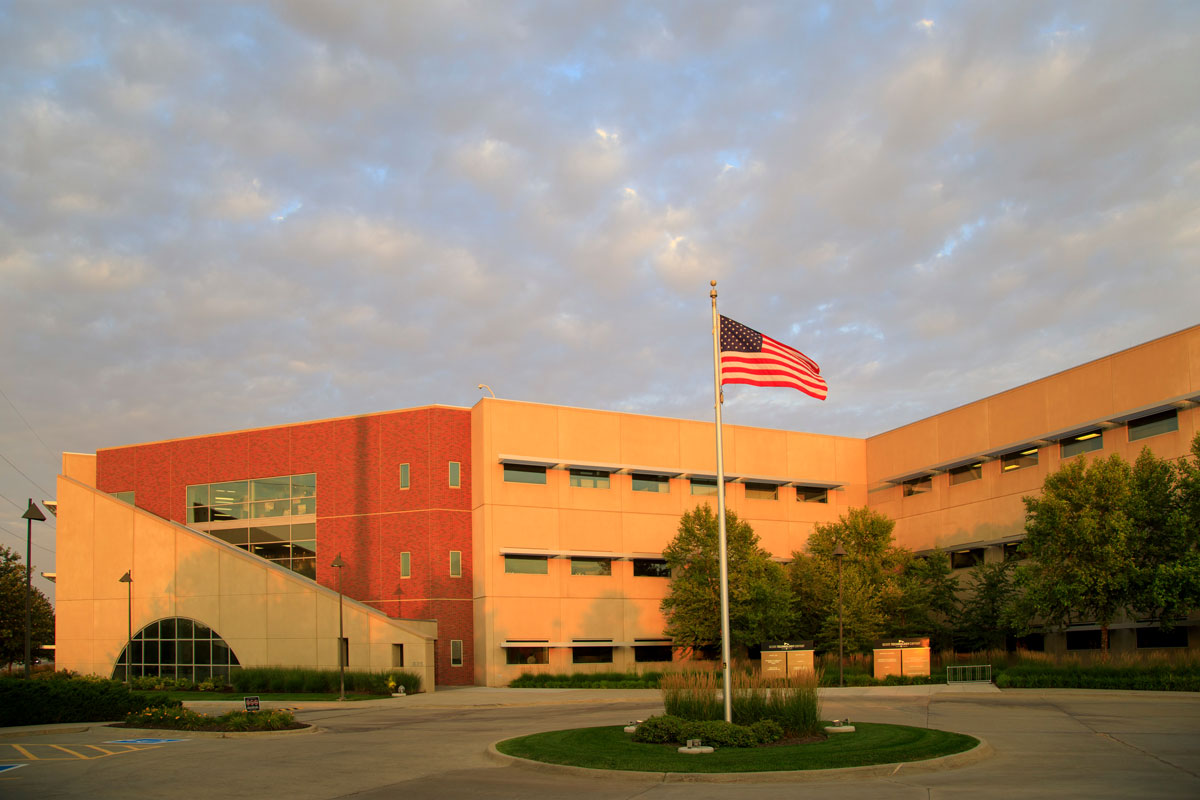 NCITE plans to be moved into new offices in the Scott Technology Center, 6825 Pine St., by Labor Day 2023.
The National Counterterrorism Innovation, Technology, and Education (NCITE) Center will have a new home this fall at the University of Nebraska at Omaha.

The growing research consortium, an academic Center of Excellence for the U.S. Department of Homeland Security (DHS), is moving into the Scott Technology Center, 6825 Pine St. The move will allow NCITE's interdisciplinary mix of faculty, students, and staff — currently split between two other on-campus buildings — to work under one roof. The facility provides space for events and research labs, security, and enough room to accommodate the 3-year-old NCITE, which is growing by every measure.

"I am thrilled," said NCITE Director Gina Ligon, who is the Jack and Stephanie Koraleski Professor of Collaboration Science. "This innovative, collaborative space will welcome all academic disciplines and those motivated to solve national security challenges. Plus, the proximity to industries in the building exposes students to future jobs right here on campus."

The move will free up space at NCITE's two current locations: Mammel Hall, home to the College of Business Administration, and Maverick Landing, where several hundred students also live above event, office, and public café space.

Both locations have served NCITE well. Mammel Hall provided beautiful office space and support in the Rod Rhoden Business Innovation Center wing that opened in 2021. The NCITE suite at the business college was an effective incubator, growing NCITE from an organization with a $3.6 million budget in its first research year beginning July 1, 2020, to one poised to be awarded $16 million yet this year. There are over 50 faculty in the NCITE consortium, with 16 at UNO. Staff has grown from four to 11 — a figure that is likely to increase. And the number of students NCITE funds in graduate assistantships and undergraduate hourly positions now numbers 34.
The new NCITE home in the Scott Technology Center allows NCITE students a unique environment where they may cross paths with other security-oriented building tenants such as the National Strategic Research Institute, the U.S. Air Force's tech developer Kessel Run, and the advertising firm Interpublic Group of Companies.

Moving NCITE students and research lab spaces to this innovative building underscores UNO Chancellor Jo Li's vision of UNO as a workforce development hub for Omaha.

"UNO's NCITE Center of Excellence is an asset to the state of Nebraska that brings innovative, cutting-edge research that helps our DHS partners better understand and solve emerging national security challenges," Li said. "By moving NCITE into a more collaborative space like Scott Technology Center, we increase its ability to grow and create innovative solutions like never before."

NCITE's growth is credited to demand, capability, and vision. NCITE's primary customer, DHS, needs cutting-edge research in counterterrorism and keeps increasing funding for NCITE to provide it. DHS recently increased the federal contracting vehicle NCITE has used in addition to its grant from an original $5 million to $35 million. Early on, UNO and state leaders envisioned using NCITE's seed grant from DHS to build a permanent research bench in Omaha. NCITE was able to add five full-time tenure-track faculty in 2021 who have greatly increased NCITE's ability to manage work outside that original grant: $36.5 million over 10 years.

UNO Senior Vice Chancellor Phil He said NCITE's growth reflects a demand for high-quality, relevant research, and NCITE's model of providing that with a strong, interdisciplinary mix of UNO experts will help the university grow its name in security studies.

The move places NCITE's unique mix of experts in a business and tech hub that sits on UNO's Scott Campus. Founded in 2002, the Scott Technology Center provides space for businesses to operate and collaborate, develop tech startups, and provide workforce development in conjunction with UNO. It is part of a bigger, secured innovation campus that includes a data center used by the U.S. Department of Defense.

NCITE will initially occupy space on all three floors of the building, later consolidating into a primary headquarters and workspace on the third floor in February 2024.

The integration of NCITE just makes sense, said Ken Moreano, executive director of Scott Technology Center.

"It's academic, it's national-security focused, and it's innovative," said Moreano. "We are excited to welcome this Center of Excellence to our established technology center where leaders from academia, national security, and industry can come together to address the great challenges we face. NCITE's presence fulfills the vision our founder, Walter Scott, Jr., had for this campus which was an environment for collaboration, innovation, and community impact."

NCITE hopes to occupy the new space before Labor Day with plans to welcome the public and news media once the full space is available early next year.
---
ABOUT NCITE
The National Counterterrorism Innovation, Technology, and Education Center, or NCITE, is a federally funded research consortium focused on counterterrorism and terrorism and targeted violence prevention. Based at the University of Nebraska at Omaha, NCITE includes 50+ researchers at 29 academic partners from the U.S. and Europe.
ABOUT UNO
Located in one of America's best cities to live, work, and learn, the University of Nebraska at Omaha (UNO) is Nebraska's premier metropolitan university. With more than 15,000 students enrolled in 200-plus programs of study, UNO is recognized nationally for its online education, graduate education, military friendliness, and community engagement efforts. Founded in 1908, UNO has served learners of all backgrounds for more than 100 years and is dedicated to another century of excellence both in the classroom and in the community.