STUDENT SPOTLIGHT: Anthony Roberson
Anthony Roberson's education in I-O psychology has given him the tools to serve in a leadership role with NCITE's STEM Innovation Fellows program.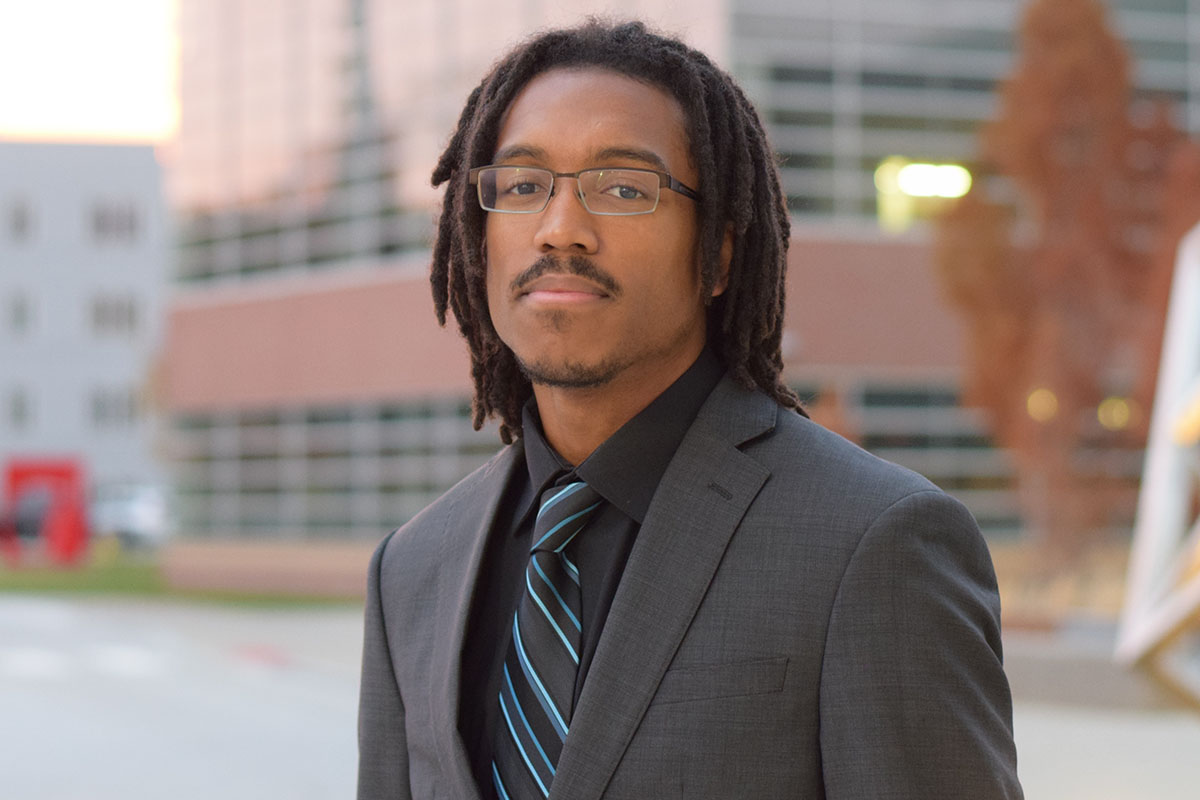 As a student of industrial and organizational psychology, Anthony Roberson is being trained in making sure organizations are consistent and thorough in recruiting and retaining new members.
It's a skillset that's equipping him well to serve in a leadership capacity with NCITE's STEM Innovation Fellows program, which is currently accepting applications for its second cohort. New fellows will begin at the center in August.
"I'm involved in making sure that our measurement tools are adequate in examining how well the students are progressing through the program – and how they're progressing as potential DHS professionals down the line," said Roberson, a junior research associate with NCITE and fourth-year Ph.D. student in I-O psychology.
NCITE's STEM Innovation Fellows program is a nine-month graduate assistantship that offers students full tuition, benefits, and a graduate assistant salary. Students enrolled in the program have the opportunity to work at NCITE, conducting research that's relevant to the Department of Homeland Security mission priorities while supporting the center's operations staff.
Applicants must be enrolled as a UNO master's student in a STEM discipline – Biology, Biomechanics, Computer Science, Cybersecurity, Economics, Geography, IT Innovation, Management Information Systems, Mathematics, or Psychology.
As one of NCITE's junior research associates, Roberson focuses on workforce development for the center. In his role with the STEM fellows program, he works with Courtney Sklenar, NCITE's education programs and events manager, to select program applicants and brainstorm professional development opportunities, such as networking events and skill development workshops. Roberson also meets with the fellows monthly to ensure they're satisfied with the program and realizing it to its full potential.
It's a job that complements Roberson's academic research interests, which include diversity, equity, and inclusion initiatives, as well as employee and leadership development within organizations.
A native of Montclair, New Jersey, Roberson was initially drawn to the field of I-O psychology after an experience working with the New York Red Bulls, a professional soccer club. While working with the team, he became interested in the dynamics of leadership selection and turnover, which eventually led to him embarking on a Ph.D. program in I-O psychology at Penn State University.
Roberson came to the University of Nebraska at Omaha from Penn State in the fall of 2021, following Sam Hunter, who left Penn State to become NCITE's lead of strategic operations and a professor of I-O psychology.
"I feel like the STEM fellowship program is right up my alley because it gives me an opportunity to help individuals develop," Roberson said. "We're not only providing them with unique experiences, but also helping them leverage those experiences."
The goal, he said, is to help more students understand how various STEM disciplines can be applied to counterterrorism and homeland security work. It's a discovery he himself has made through his time at NCITE.
"I was initially nervous coming to work in the counterterrorism space," Roberson said. "But through my experiences here – meeting with DHS officials and working on projects like the STEM fellowship – I feel very passionate about the work that I'm doing."