My year in Covid-19, While Living in Four Countries
UNO undergrad supports the launch of NCITE during the pandemic while traveling the world.
published: 2021/08/10
contact: Erin Grace - National Counterterrorism Innovation, Technology, and Education (NCITE) Center
email: egrace@unomaha.edu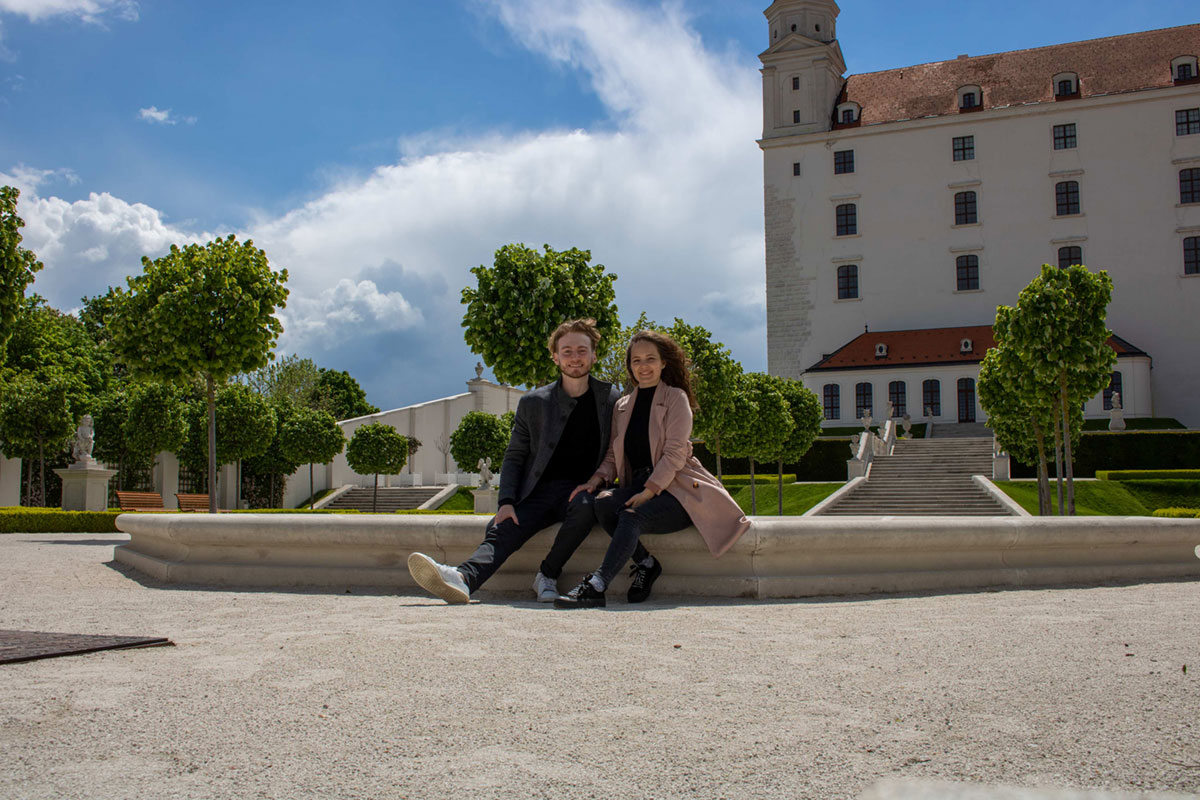 My NCITE story crosses many international borders.
During what has to be one of the strangest – and for many, the hardest – years in recent history, I was working for a new Department of Homeland Security research center from a handful of different countries.
I was in Greece in January of 2020 when the first troubling signs started. Just fresh into a semester abroad program, I was helping UNO professors Gina Ligon and Doug Derrick finalize a grant application to become the next DHS center of excellence. I had designed an early version of the NCITE logo and other graphics. In March 2020, I was on a day trip in Greece, five hours from where I was staying, when the U.S. government raised all travel warnings to their maximum level. I had to rush back. UNO canceled the study-abroad program and, against my wishes, I had to go home. I understood but was devastated.
I went from strolling the ancient streets of Thessaloniki to hunkering in my childhood basement bedroom in an Omaha suburb, rarely leaving the house. I was used to working remotely, but not this remotely. We lived on video calls and email just as the NCITE center was getting started. I was glad to be around family and felt lucky to be safe, but this wasn't exactly the great adventure I had dreamed of.
I began my junior year at UNO completely online, taking classes and working for the NCITE communications team. It wasn't lost time. I redesigned the logo from my bedroom basement and on Zoom. I designed many NCITE communications materials. I helped plan NCITE's first public events, online of course. Aside from one photoshoot ­– in masks and quickly – I never worked side-by-side with my NCITE colleagues in 2020.
That's also because I got to resume international travel. Yes, during some of the bleakest months of the pandemic, I decided to leave. I left Omaha at the end of October, returning to Europe to be with a young woman I had met in Greece. We settled into Croatia first, as no other nation would let us both enter due to the pandemic. We spent three months in a third-floor apartment in the seaside city of Split. The silver lining of online life allowed for such an opportunity as I could keep taking classes and working remotely. Croatia is known for sunny beaches and beautiful cities, but Covid-19 kept us stuck in a place like I was in Omaha. We were hunkered indoors as the country began to tighten restrictions. All nonessential shops and restaurants started shutting down one month after my arrival until I left in late January 2021. People went out only for necessities and in masks. When my NCITE colleagues would ask what Croatia was like, it was hard to tell them: We were indoors in Croatia like they were in Omaha.
With my 90-day visa running out, we left Croatia for my girlfriend's native Slovakia. I rode 9 hours to Trnava, Slovakia in a crowded bus while masked the whole time. This resulted in a miserable ride where I felt claustrophobic and car sick. Slovakia was even more shut down with an added 8 p.m. curfew. While good news was happening back home – a vaccine had been approved and people were starting to get vaccinated – Slovakia and the majority of European nations were significantly more behind in vaccine distribution. Furthermore, as a young American, I would be the last in line to receive the vaccine there.
We stayed in Slovakia from the end of January until the end of May. We finally saw restrictions begin to lift toward the last couple of weeks of our stay. I continued attending my UNO classes online and working for NCITE, but now I got to leave the apartment and explore Trnava. An old, beautiful wall hid the old city away from sight with brick roads weaving between large majestic stone constructions. This was more like the adventure I'd hoped to have.
When it was time to return to Omaha, we learned going back was not easy. One complication was bringing my girlfriend. Because she was from Slovakia, U.S. pandemic regulations meant we could not just fly to the U.S. Rather, she was required to stay 14 days in a country outside a geographic region including most EU countries called Schengen. Another complication was my own exit. I had overstayed my 90-day Schengen visa through the allowance of a Slovak emergency order related to Covid-19. After 20 stressful minutes of trying to convince the customs agent that this emergency order did exist, I was eventually let through.
But there was an upside to all of this: a stay at a country that would take us, the Dominican Republic. We tried tasty, authentic food wandered the beaches, and swam in the ocean. Even better, my family met us there toward the end of our stay. When I jumped on NCITE video calls, there were palm trees in the background.
We arrived in Omaha in early June to a much different place than it had been a year ago when we were sequestered at home. I got vaccinated and went into an actual office, NCITE's new headquarters at UNO. Mask requirements were dropped. I got to see my friends and colleagues in person. Life is slowly shifting back to normal. While I may not have been able to fully experience each country due to respecting the pandemic's limitations, making the journey was the right choice and well worth it!