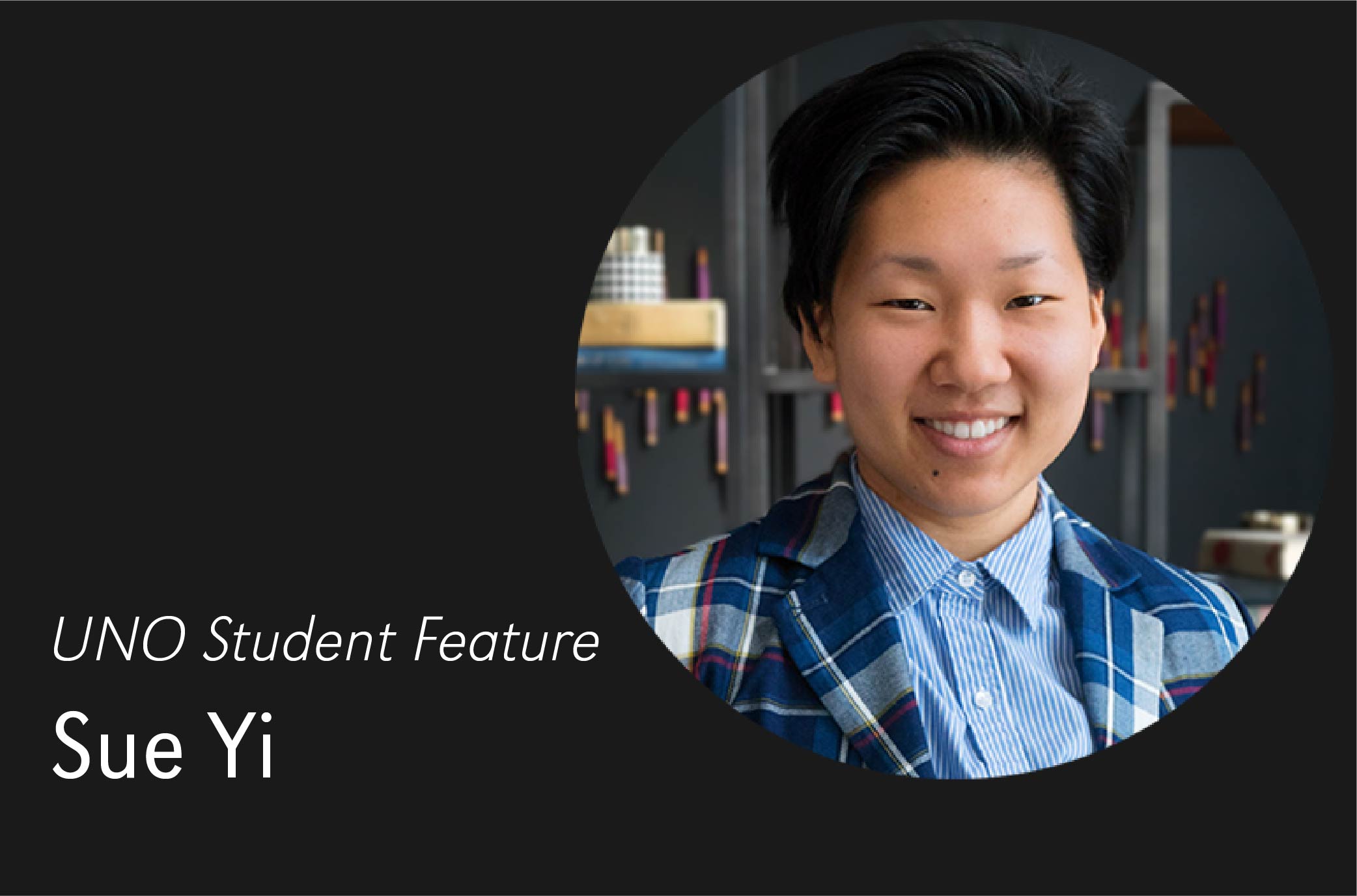 Like a lot of college students, Sue Yi started in one major and graduated with a degree in another.
The Bellevue, Nebraska, native began in creative writing at the University of Nebraska at Omaha and finished in IT Innovation, a field where she is currently enrolled as a master's-level candidate in NCITE's ITIN Fellows Program. The program currently pairs four master's-level students, including Yi, with NCITE projects so that student innovation has a real, tangible bearing on helping the Homeland Security frontline. The idea is to turn innovation into products sooner through the master's program than later in a doctoral one. And it gives students like Yi hands-on experience working on real-world problems.
At a glance, it may seem that Yi's educational journey is bookended by polar fields — the right-brained creative world and the left-brained IT one. But as an innovator, particularly in the counterterrorism space, Yi has to rely on her creative and technical abilities. She needs both domains, just as counterterrorism professionals do, to sift through complicated problems and solutions.
In her NCITE role, Yi is paired with the Mapping Militants project, which is based at Stanford University and led by NCITE researchers Martha Crenshaw of Stanford and Iris Malone of George Washington University. Crenshaw, a veteran terrorism researcher with four decades in the field, created Mapping Militants a dozen years ago. The project identifies militant groups and traces their associations and shifting relationships. These relationships are mapped and explained in group profiles. It's a valuable tool for those in national security, policy, and research. But it could be better, and that's where Yi comes in.
Yi's job is to help improve the visual representations and make it easier for Mapping Militants users to understand these groups. She's building front-end design and back-end code for a vast number of militant groups: more than 115, with 712 unique relationships. That involves updating the project's legacy technology with something more vanguard. Crenshaw said the past direction of the Mapping Militants website programming had been frustrating and the collaboration with Yi has been "educational, encouraging, and productive."
"She's given us a lot of new ideas," said Crenshaw, adding that Yi has been dedicated, knowledgeable, and creative.
Doug Derrick, NCITE director of innovation and transition, created the ITIN Fellows Program to offer students an immersive and hands-on experience with Homeland Security problems and solutions. He said this program can draw students from a variety of majors and educational interests to pair passion with technology. He said this nexus is where innovation and novel thinking happen, and Yi is a great example of that.
"You have a student who is creative, with diverse interests and acute technical acumen," he said. "She can speak the language of liberal arts and the technical one of ones and zeroes. That's a rare combination. She has this innate desire to explore – a common trait of innovation."
For Yi's part, the experience has been rewarding. She likes the autonomy, the challenge, and the sense she's participating in something bigger than herself. This work also is creative, something that Yi values. It has reinforced her inner drive to live a creative life.
She has designs on being a writer and sees value in building her contacts and experiences through this program. She finds time to write as much as she can, focusing on her passions of supporting the BIPOC (Black, Indigenous, people of color) and queer communities. She is working on a personal memoir and exploring publishing opportunities. She hasn't ruled out more grad school – a Master's in Fine Arts, for example. Yi knew she wanted to be a writer since high school but pursued the technology field in college. Between undergrad and grad school, Yi has worked as a software consultant.
Her current field of IT Innovation stresses the importance of creativity. That's evident in the project. Yi is trying to make timelines, maps, relationships, and profiles interesting, interactive, and most of all, informative for a broad audience. Her interface is a work in progress, she said, showing a slide of lines and nodes that give at-a-glance relationships between militant groups. She is testing different visualizations to see which ones work best with different audiences.
"Thinking about how to go about depicting this information was the biggest barrier," she said. "Really, the best way to go about this really complex information is to have different types of visualizations."
The experience is interesting, to be sure, but it also offers Yi these rewards: a growing professional network, the satisfaction of earning researcher trust, and the importance of the end result.
"It's one of the most rewarding and honorable things to be granted to me," she said.
In turn, she is able to flex her creative muscle in this domain.
"I think the great thing about creative people is that they're very adaptable and can often use their resources to learn what they need (to do) to excel in creative ways."
Yi graduates in May with her master's degree and this plan: She wants to take some time to hike and camp and, of course, write.