Chaos and devastation of Oklahoma City bombing etched in his mind
OKC bombing a horrific reminder of dangers of domestic terrorism
published: 2021/04/14
contact: NCITE Communications - NCITE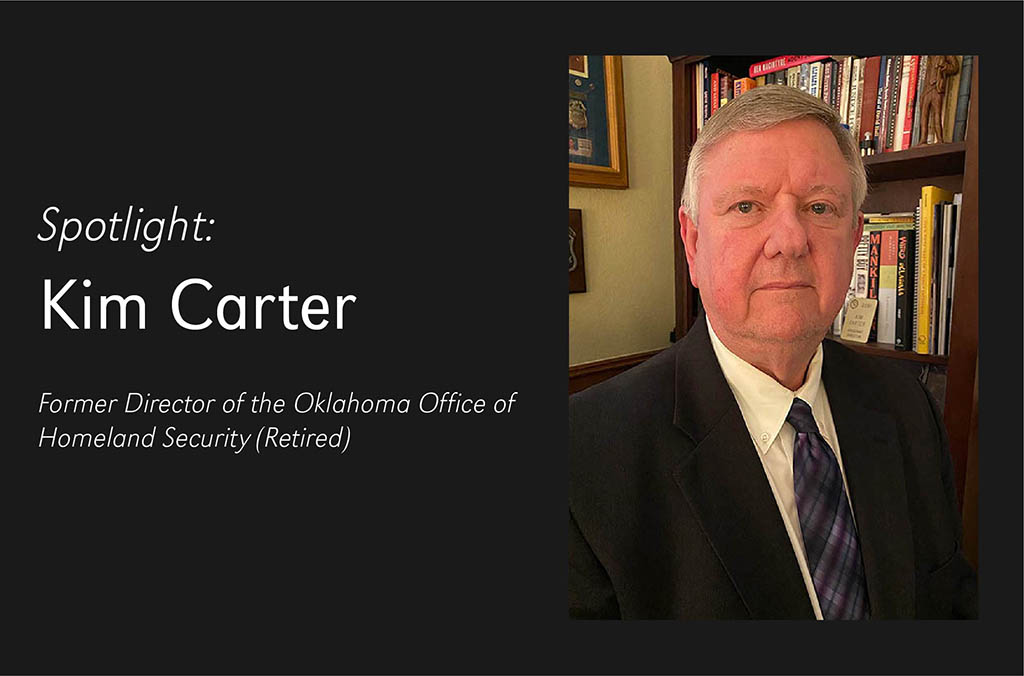 That Wednesday morning in April 1995, Kim Carter was at work in Oklahoma City, five miles from downtown, when he heard the blast. The floor shook and the windows rattled violently inside the Oklahoma State Bureau of Investigation building where Carter, a former Oklahoma City cop, worked as assistant director of investigations.
"Never heard anything like it before," Carter said, figuring that something must have gone wrong in the building's small fingerprint lab.
Then he looked out the window.
"I see a plume of smoke rising from downtown," he said.
The next 30 minutes was a blur. Carter hopped in an unmarked OSBI vehicle with three other OSBI agents and drove south toward the smoke, as bits of news filtered in through the radio. An explosion in downtown Oklahoma City. The Alfred P. Murrah Federal Building. A ruptured gas line?
Terrorist attack was the furthest thing from his mind.
Carter sped. He jumped curbs, took alleys, and got to the site as quickly as he could. It took his breath away.
"You had to stop and take a gasp," he said of his first look at the Murrah building, a place Carter had been in many times during his career. A building in which many of Carter's federal law enforcement partners had offices.
This was no ruptured gas line. This was the work of a bomb. Carter remembered photos of Beirut, Lebanon, years earlier when 241 Marines were killed in the bombing of their barracks. The scene before him was chaos. Ambulances, doctors, nurses tending to so many wounded. Neighboring buildings damaged. At one point, firefighters and other rescuers ran out of the Murrah shell under the mistaken notion there was a second bomb.
Carter found the Oklahoma City police chief and offered help from the OSBI. He found FBI agents who were saying it could be the work of terrorists from the Middle East. Maybe they would shut down airports. It wasn't outside the realm of possibility. Just two years before, a terrorist attack on the World Trade Center in New York City had killed six people and raised the specter of transnational terrorism. Those convicted were born in Middle Eastern countries. Carter disagreed.
"I think this is going to be 'Bubba and the boys,'" he'd said, referring to prior investigative work he'd done involving a hotbed of anti-government, anti-Semitic and racist activity occurring in a white separatist community near the Oklahoma-Arkansas border.
"I had spent many hours reading their literature. I kind of knew the mindset," Carter said.
He wasn't wrong. Ninety minutes after the blast, an Oklahoma Highway Patrol trooper had pulled over a 1977 yellow Mercury Marquis with no license plate. Inside was a decorated Army veteran, 26-year-old Timothy McVeigh.
McVeigh's connection to the crime, what would later be described as the worst domestic terrorist attack in United States history, did not come for a few days. But McVeigh was in jail on illegally carrying a concealed weapon. The eagle-eyed trooper had spotted it bulging under his windbreaker.
The investigation was massive, grueling.
"We sent fingerprint technicians to the homes of some of the families who lost babies so they could fingerprint their toys," Carter said. "It was so sad, and it scars people for a long time."
Nineteen children were among the 168 people who had died in the blast. Carter said many people in Oklahoma City and across the state knew someone who died in the blast. The official death and injury counts did not also account for the emotional aftershocks of that terrorist attack.
Carter's role then was to help federal agents streaming into Oklahoma City from across the nation get their bearings. Agents of the Oklahoma State Bureau of Investigation worked side by side with their federal partners until the investigation led by Merrick Garland, then a top Department of Justice official who is now U.S. attorney general, concluded.
"It was a very large investigation, a very complex investigation," Carter said. "But you saw the result. It speaks for itself."
McVeigh was convicted on 15 counts of murder and conspiracy in 1997. He was put to death in 2001. Co-conspirator Terry Nichols is serving 161 consecutive life terms in an Oklahoma prison.
Carter had begun his law enforcement career in 1978. His degree in journalism helped him know how to ask questions and seek the truth. He spent four years as an Oklahoma City police officer, then 26 years at the OSBI, running the intelligence office there and later serving as the agency's assistant director of investigations.
In 2007, he joined the Oklahoma Office of Homeland Security as the program manager for information-sharing programs and was instrumental in creating the Oklahoma Information Fusion Center in 2008. In 2011, Oklahoma Gov. Mary Fallin appointed Carter as her Homeland Security advisor, which also made him the director of the Oklahoma Office of Homeland Security. Carter was reappointed as the Homeland Security advisor for current Gov. Kevin Stitt, a position he held until his recent retirement in September 2020.
Throughout his 42-year career, Carter said he tried to raise alarms about domestic violent extremism. After the 1995 bombing, Carter said domestic extremism "never went away," but was pushed underground because of the focus placed on such groups by federal, state, and local law enforcement agencies. Then came Sept. 11, and "all of a sudden we didn't care about domestic extremism anymore."
The Department of Homeland Security was created to coordinate information and intelligence sharing. After 9/11, there was a big focus on international terrorism.
"You could not get them interested in or even discuss domestic terrorism," Carter said. "I would go to these national meetings, we'd meet with the new secretaries of Homeland Security. I would bring up this point, 'Don't overlook domestic terrorism.' I had people tell me, 'Please quit bothering the secretaries.'"
He understood. The 9/11 attack was not the work of domestic terrorists and represented the opening of a whole new front in national security. But the shifted focus, he said, "let the world of domestic terrorism grow unfettered."
Countering domestic violent extremism is fraught with its own challenges, he said. First, Americans have constitutionally protected rights, including civil liberties and privacy. Holding extreme ideas is not illegal. The U.S. can't and shouldn't be the thought police. Second, it can be hard to find the line between holding extreme beliefs and acting violently on them.
Carter mused about the big change over his career in confronting any kind of terrorism: technology and speed. In his early law enforcement days, he said, radicalization was slow. You had to stumble across an ideology and write to some address for what was often a poorly produced newsletter that would come periodically through the mail. The internet and social media combined have made for much faster radicalization.
"Today, you just log onto any one of these social media sites or do a quick search on Google," he said. "You're immediately hooked up to like-minded people. And they feed off each other. Light speed."
Carter said NCITE can play an important role in helping understand the online radicalization process. Indeed, several NCITE projects are looking at just that: King's College London is leading a project examining transnational influence between jihadist and right-wing extremist groups. The University of Oklahoma is combing microblog data to see how extremists communicate and facilitate radicalization. The University of Central Florida is looking for linkages between extremist views and violence.
Carter said one of the best law enforcement tools to deter terrorism is one as old as time: witnesses. DHS has used an "if you see something, say something" campaign that Carter says works. Citizens often ask how they can recognize suspicious activity, and Carter said his favorite piece of simple advice to answer this question is "If what you are seeing makes you go 'Huh,' then you probably should report it to authorities."
NCITE has several projects looking at how to shore up and strengthen the National Suspicious Activity Reporting Initiative, of which See Something, Say Something is a part. One of these projects is looking at how the best people to spot something suspicious are friends and family members, who face barriers in reporting. A project led by Chapman University and the University of Maine will dig into what those barriers are and how to overcome them.
"The only way we're going to prevent a lot of these events is to convince people to report suspicious activity," he said.
Carter issued an invitation to visit Oklahoma City and see its stirring memorial of empty chairs and museum to the bombing. The museum, he said, tells an important story that boils down to two words: Never forget.
"For those who forget history, we're doomed to repeat it," he said. "I encourage anyone in this profession to come here and look at that museum and realize the impact of it. If you've never lived through an April 19 event, a Sept. 11 event, you can't imagine the magnitude of what it causes."